kaha lani #115, ocean view, ground floor, steps to beach & coastal bike path.
1 Bedroom(s) | 1 Bathroom(s) | Sleeps 4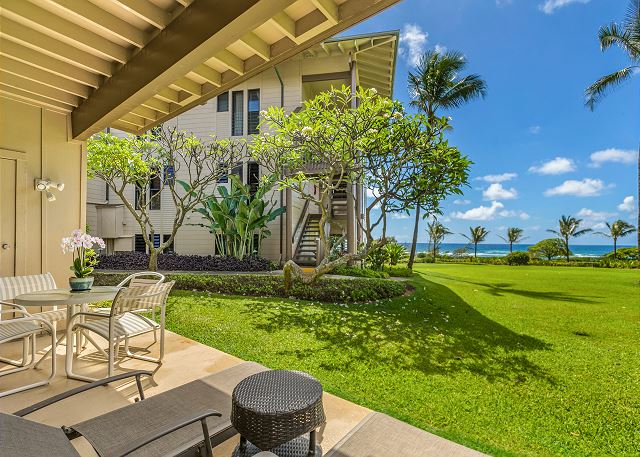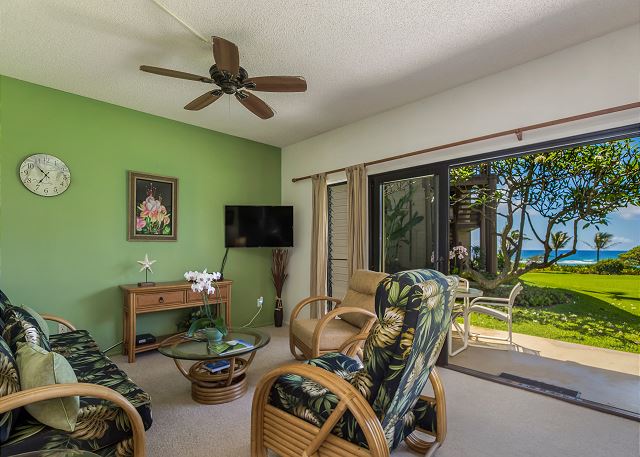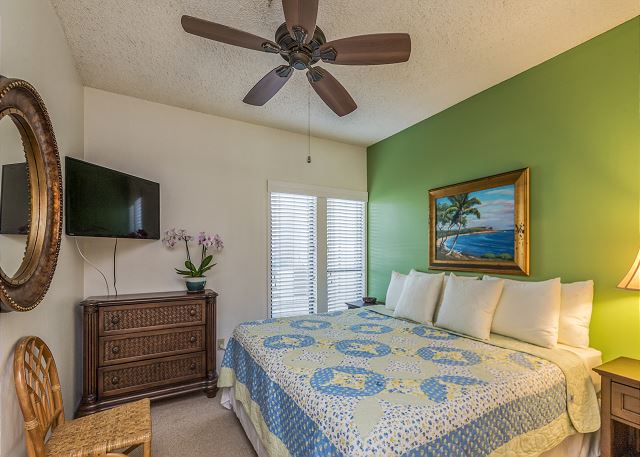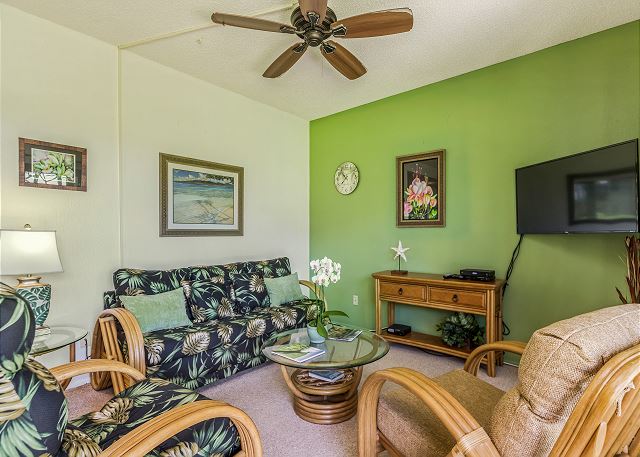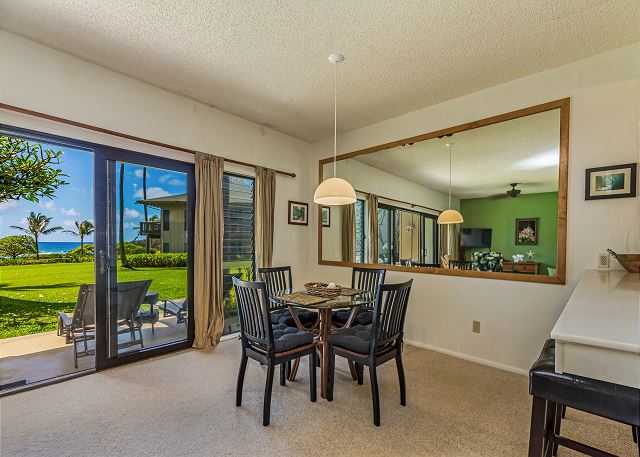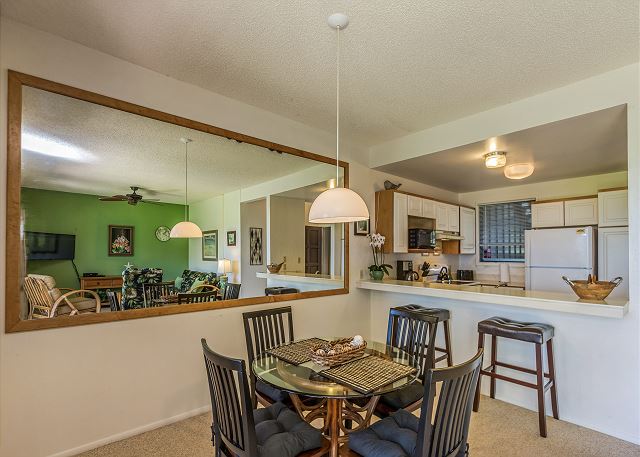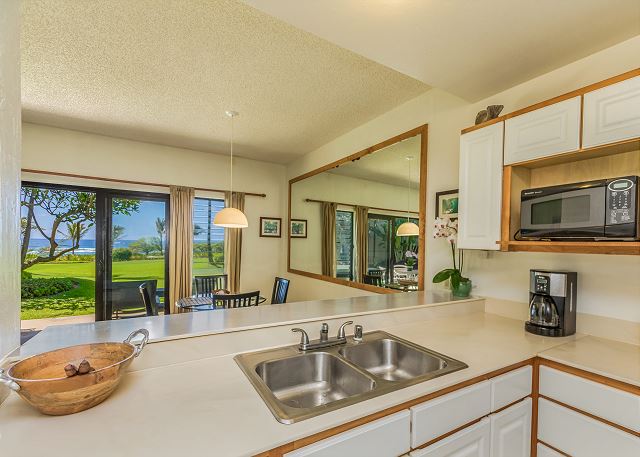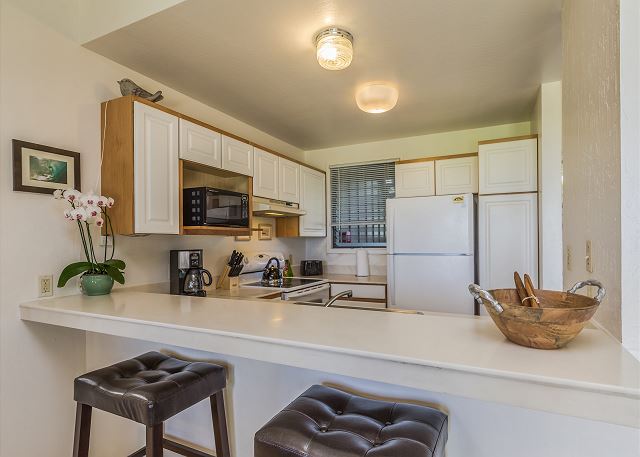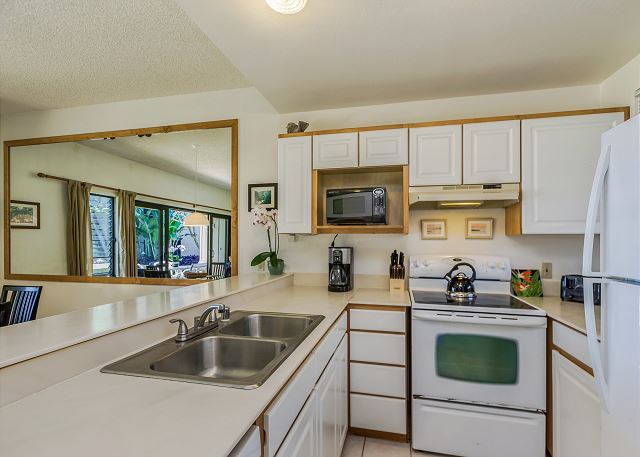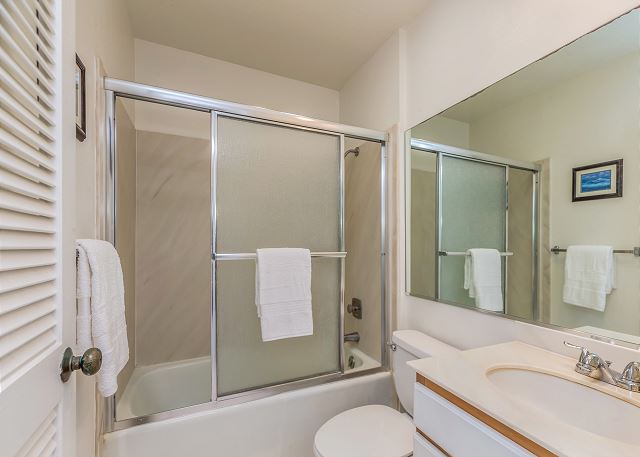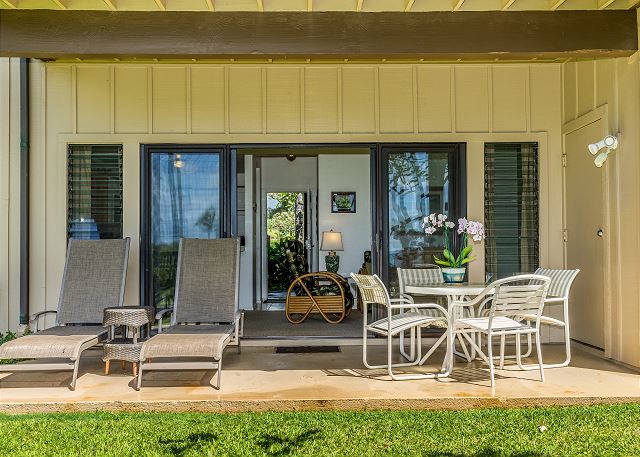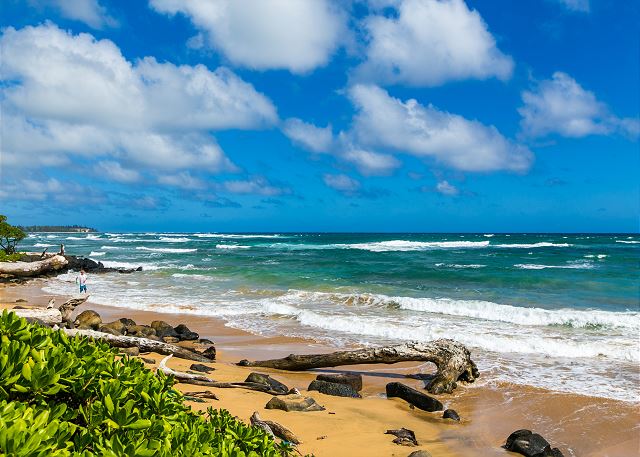 Kaha Lani Unit #115: Ocean view, Beachfront Kauai Vacation Rental in Wailua, Kauai.

Save $25 booking online at Garden Island Properties.

One bedroom, one bath, with a lanai overlooking the Pacific ocean, chaise lounge and patio table for outdoor dining. Full kitchen, complimentary wi-fi & Parking. NEW King bed and queen sleeper. Sleeps up to 4.

Complimentary phone calls to mainland and inter-island.

In Hawaiian, "Kaha Lani" means heavenly place. And that's what you'll find at this Kauai condo oceanfront resort. Stroll along miles of uncrowded white sand beach and lush tropical landscaping. Coconut palms rustling in the gentle trade winds. Come and enjoy the quiet privacy of this intimate condominium on beautiful Kauai's Royal Coconut Coast. Sun yourself by the swimming pool or explore the sandy shoreline; just steps away. Gas BBQ grills are located poolside, tennis courts, and coin operated washer/dryers are all available at this oceanfront Kauai vacation rental beach resort. Every condo has a full kitchen w/pots & pans, linens, towels & even beach towels are provided. Parking is free and there no resort fees. Every condo is a non-smoking unit.

Located between Wailua Golf Course on the south end and Lydgate Beach Park and Kamalani Playground to the north, this is an ideal location for the traveler wanting a vacation away from the hustle and bustle of everyday life yet just a few minutes away from town for shopping & restaurants. Walk next door to Lydgate Beach Park on the newly built walk/bike path for fantastic snorkeling and swimming in one of two lagoons. For the toddler, the baby lagoon is perfect. Walk across the beach park to Kamalani Playground which is a community built playground with it's own volcano tube! Wailua Golf Course is next door and is rated one of the top municipal golf courses in the nation. Affordable rates and one of the only golf courses on Kauai where you can walk the whole course nearby make this one of the finest Kauai vacation rentals.

Just minutes away from the Lihue Airport and the town of Kapaa make this an ideal getaway for couples or families alike. Just a few minutes away in the town of Kapaa/Wailua you will find grocery stores, boutiques, movie theatres and various first class restaurants. For the avid outdoors person, kayak up the Wailua River, hike the Sleeping Giant Trail, visit Opaekaa Falls, golf at Wailua Golf Course or just sun, swim and snorkel in your own back yard at the Kaha Lani Resort.

Garden Island Properties offers ocean-view & oceanfront one and two bedroom Kauai condo units located on the beautiful Wailua shores. Sliding glass doors open on to private lanais and to the relaxing sounds of the ocean, miles of white sandy beach, and spectacular sunrise views. A Kaha Lani vacation rental condominium is a great spot to watch whales breaching from the months of November to April. If peace & quiet is what you're searching for, this is the place. Take a sunrise walk along this beautiful Kauai coastline or go for a late evening swim. Enjoy one of Kauai's favorite "hidden secrets" at the Kaha Lani Resort!

Holiday rates apply 12/15 to 1/5 with a 7 night minimum stay.

TAT ID#: TA-038-504-2432
Amenities

Sleep sofa /futon
Coin laundry
Dining
DVD Player
Satellite / Cable
Television
Hair Dryer
Internet
Iron & Board
Linens Provided
Living Room
Parking
Telephone
Towels Provided
Coffee Maker
Dishes & Utensils
Dishwasher
Kitchen
Microwave
Oven
Refrigerator
Toaster
Luaus
Photography
Scenic drives
Sight seeing
Walking
Whale watching
Beachfront
Near The Ocean
Ocean View
Deck / Patio
Lanai / Gazebo
Lawn / Garden
Outdoor Grill
Tennis
Heated Pool
Bedroom
Full
Golf
Hiking
Scuba diving or snorkeling
Snorkeling
Surfing
Swimming
Tennis
Children welcome
Non smoking only
Cookware
Full Kitchen
Refrigerator
Coffee Maker
Microwave
Toaster
Blender
Ceiling Fans
Linens
Ironing Board
Wifi
Beach Towels
Hair Dryer
Coin Operated Laundry
Nearby Grocery
Golf Course
Nearby Luau
Gas Grill
Shared Pool
Tennis
Beach
Beach Chairs
Bike Path
Lanai
Secluded
On Beach
Close to Town
Cable TV
DVD Player
---
Lovely view
Feb 28, 2017
The location is perfect for a quiet somewhat remote location. We walked the waterfront pathway everyday into Lindgate Park and beyond. ITs about two miles round trip to the far side of the park. You will need a car for groceries as there is no nearby store. The beaches are lovely and sandy but the water has a significant riptide so isn't great for swimming however there is a protected area in Lyngate Park. The room was nice but needed a good deep cleaning. Light fixtures were very dirty and the unit is under lighted. These are small things and I'm hopeful that the owner will take care of these issues. All in all I would recommend the property.
---
Awesome 10 Days of Peacefulness
Oct 08, 2016
Best part of staying at this condo was in fact how well maintained the property was, from the pool to manicured lawns. A nice view from condo to enjoy the ocean. Awoke every morning for the most awesome sunrises, enjoyed soft sprinkles and golden sun shine. Condo was comfortable and will be back again.
Book Your Stay!
Select your arrival and departure dates below to reserve this unit.


September 2017

| S | M | T | W | T | F | S |
| --- | --- | --- | --- | --- | --- | --- |
| | | | | | 01 | 02 |
| 03 | 04 | 05 | 06 | 07 | 08 | 09 |
| 10 | 11 | 12 | 13 | 14 | 15 | 16 |
| 17 | 18 | 19 | 20 | 21 | 22 | 23 |
| 24 | 25 | 26 | 27 | 28 | 29 | 30 |
October 2017

| S | M | T | W | T | F | S |
| --- | --- | --- | --- | --- | --- | --- |
| 01 | 02 | 03 | 04 | 05 | 06 | 07 |
| 08 | 09 | 10 | 11 | 12 | 13 | 14 |
| 15 | 16 | 17 | 18 | 19 | 20 | 21 |
| 22 | 23 | 24 | 25 | 26 | 27 | 28 |
| 29 | 30 | 31 | | | | |
November 2017

| S | M | T | W | T | F | S |
| --- | --- | --- | --- | --- | --- | --- |
| | | | 01 | 02 | 03 | 04 |
| 05 | 06 | 07 | 08 | 09 | 10 | 11 |
| 12 | 13 | 14 | 15 | 16 | 17 | 18 |
| 19 | 20 | 21 | 22 | 23 | 24 | 25 |
| 26 | 27 | 28 | 29 | 30 | | |
December 2017

| S | M | T | W | T | F | S |
| --- | --- | --- | --- | --- | --- | --- |
| | | | | | 01 | 02 |
| 03 | 04 | 05 | 06 | 07 | 08 | 09 |
| 10 | 11 | 12 | 13 | 14 | 15 | 16 |
| 17 | 18 | 19 | 20 | 21 | 22 | 23 |
| 24 | 25 | 26 | 27 | 28 | 29 | 30 |
| 31 | | | | | | |
January 2018

| S | M | T | W | T | F | S |
| --- | --- | --- | --- | --- | --- | --- |
| | 01 | 02 | 03 | 04 | 05 | 06 |
| 07 | 08 | 09 | 10 | 11 | 12 | 13 |
| 14 | 15 | 16 | 17 | 18 | 19 | 20 |
| 21 | 22 | 23 | 24 | 25 | 26 | 27 |
| 28 | 29 | 30 | 31 | | | |
February 2018

| S | M | T | W | T | F | S |
| --- | --- | --- | --- | --- | --- | --- |
| | | | | 01 | 02 | 03 |
| 04 | 05 | 06 | 07 | 08 | 09 | 10 |
| 11 | 12 | 13 | 14 | 15 | 16 | 17 |
| 18 | 19 | 20 | 21 | 22 | 23 | 24 |
| 25 | 26 | 27 | 28 | | | |
March 2018

| S | M | T | W | T | F | S |
| --- | --- | --- | --- | --- | --- | --- |
| | | | | 01 | 02 | 03 |
| 04 | 05 | 06 | 07 | 08 | 09 | 10 |
| 11 | 12 | 13 | 14 | 15 | 16 | 17 |
| 18 | 19 | 20 | 21 | 22 | 23 | 24 |
| 25 | 26 | 27 | 28 | 29 | 30 | 31 |
April 2018

| S | M | T | W | T | F | S |
| --- | --- | --- | --- | --- | --- | --- |
| 01 | 02 | 03 | 04 | 05 | 06 | 07 |
| 08 | 09 | 10 | 11 | 12 | 13 | 14 |
| 15 | 16 | 17 | 18 | 19 | 20 | 21 |
| 22 | 23 | 24 | 25 | 26 | 27 | 28 |
| 29 | 30 | | | | | |
May 2018

| S | M | T | W | T | F | S |
| --- | --- | --- | --- | --- | --- | --- |
| | | 01 | 02 | 03 | 04 | 05 |
| 06 | 07 | 08 | 09 | 10 | 11 | 12 |
| 13 | 14 | 15 | 16 | 17 | 18 | 19 |
| 20 | 21 | 22 | 23 | 24 | 25 | 26 |
| 27 | 28 | 29 | 30 | 31 | | |
June 2018

| S | M | T | W | T | F | S |
| --- | --- | --- | --- | --- | --- | --- |
| | | | | | 01 | 02 |
| 03 | 04 | 05 | 06 | 07 | 08 | 09 |
| 10 | 11 | 12 | 13 | 14 | 15 | 16 |
| 17 | 18 | 19 | 20 | 21 | 22 | 23 |
| 24 | 25 | 26 | 27 | 28 | 29 | 30 |
July 2018

| S | M | T | W | T | F | S |
| --- | --- | --- | --- | --- | --- | --- |
| 01 | 02 | 03 | 04 | 05 | 06 | 07 |
| 08 | 09 | 10 | 11 | 12 | 13 | 14 |
| 15 | 16 | 17 | 18 | 19 | 20 | 21 |
| 22 | 23 | 24 | 25 | 26 | 27 | 28 |
| 29 | 30 | 31 | | | | |
August 2018

| S | M | T | W | T | F | S |
| --- | --- | --- | --- | --- | --- | --- |
| | | | 01 | 02 | 03 | 04 |
| 05 | 06 | 07 | 08 | 09 | 10 | 11 |
| 12 | 13 | 14 | 15 | 16 | 17 | 18 |
| 19 | 20 | 21 | 22 | 23 | 24 | 25 |
| 26 | 27 | 28 | 29 | 30 | 31 | |
September 2018

| S | M | T | W | T | F | S |
| --- | --- | --- | --- | --- | --- | --- |
| | | | | | | 01 |
| 02 | 03 | 04 | 05 | 06 | 07 | 08 |
| 09 | 10 | 11 | 12 | 13 | 14 | 15 |
| 16 | 17 | 18 | 19 | 20 | 21 | 22 |
| 23 | 24 | 25 | 26 | 27 | 28 | 29 |
| 30 | | | | | | |
October 2018

| S | M | T | W | T | F | S |
| --- | --- | --- | --- | --- | --- | --- |
| | 01 | 02 | 03 | 04 | 05 | 06 |
| 07 | 08 | 09 | 10 | 11 | 12 | 13 |
| 14 | 15 | 16 | 17 | 18 | 19 | 20 |
| 21 | 22 | 23 | 24 | 25 | 26 | 27 |
| 28 | 29 | 30 | 31 | | | |
November 2018

| S | M | T | W | T | F | S |
| --- | --- | --- | --- | --- | --- | --- |
| | | | | 01 | 02 | 03 |
| 04 | 05 | 06 | 07 | 08 | 09 | 10 |
| 11 | 12 | 13 | 14 | 15 | 16 | 17 |
| 18 | 19 | 20 | 21 | 22 | 23 | 24 |
| 25 | 26 | 27 | 28 | 29 | 30 | |
December 2018

| S | M | T | W | T | F | S |
| --- | --- | --- | --- | --- | --- | --- |
| | | | | | | 01 |
| 02 | 03 | 04 | 05 | 06 | 07 | 08 |
| 09 | 10 | 11 | 12 | 13 | 14 | 15 |
| 16 | 17 | 18 | 19 | 20 | 21 | 22 |
| 23 | 24 | 25 | 26 | 27 | 28 | 29 |
| 30 | 31 | | | | | |
Available
Unavailable
Check-In Only
Check-Out Only
Seasonal Rates
Starting From $140 per night

                    stdClass Object
(
    [id] => 17
    [ManagerID] => 1
    [ComplexID] => 0
    [Name] => Kaha Lani #115, Ocean View, Ground Floor, Steps to Beach & Coastal Bike Path.
    [PropertyCode] => 2064-105580
    [Address1] => 4460 Nehe Road
    [Address2] => 
    [City] => Lihue
    [State] => HI
    [Country] => US
    [PostalCode] => 
    [Province] => 
    [Bedrooms] => 1
    [Bathrooms] => 1
    [Type] => Condominium
    [Area] => 
    [Location] => Garden Island Properties, LLC
    [View] => Ocean View
    [Video] => http://www.tourbuzz.net/public/vtour/full/764108/
    [lat] => 22.03569
    [long] => -159.336952
    [map_id] => 0
    [Complex] => 103
    [Description] => Kaha Lani Unit #115: Ocean view, Beachfront Kauai Vacation Rental in Wailua, Kauai. 

Save $25 booking online at Garden Island Properties. 

One bedroom, one bath, with a lanai overlooking the Pacific ocean, chaise lounge and patio table for outdoor dining.  Full kitchen, complimentary wi-fi & Parking. NEW King bed and queen sleeper.  Sleeps up to 4.

Complimentary phone calls to mainland and inter-island.

In Hawaiian, "Kaha Lani" means heavenly place. And that's what you'll find at this Kauai condo oceanfront resort. Stroll along miles of uncrowded white sand beach and lush tropical landscaping. Coconut palms rustling in the gentle trade winds. Come and enjoy the quiet privacy of this intimate condominium on beautiful Kauai's Royal Coconut Coast. Sun yourself by the swimming pool or explore the sandy shoreline; just steps away. Gas BBQ grills are located poolside, tennis courts, and coin operated washer/dryers are all available at this oceanfront Kauai vacation rental beach resort. Every condo has a full kitchen w/pots & pans, linens, towels & even beach towels are provided. Parking is free and there no resort fees. Every condo is a non-smoking unit.

Located between Wailua Golf Course on the south end and Lydgate Beach Park and Kamalani Playground to the north, this is an ideal location for the traveler wanting a vacation away from the hustle and bustle of everyday life yet just a few minutes away from town for shopping & restaurants. Walk next door to Lydgate Beach Park on the newly built walk/bike path for fantastic snorkeling and swimming in one of two lagoons. For the toddler, the baby lagoon is perfect. Walk across the beach park to Kamalani Playground which is a community built playground with it's own volcano tube! Wailua Golf Course is next door and is rated one of the top municipal golf courses in the nation. Affordable rates and one of the only golf courses on Kauai where you can walk the whole course nearby make this one of the finest Kauai vacation rentals.

Just minutes away from the Lihue Airport and the town of Kapaa make this an ideal getaway for couples or families alike. Just a few minutes away in the town of Kapaa/Wailua you will find grocery stores, boutiques, movie theatres and various first class restaurants. For the avid outdoors person, kayak up the Wailua River, hike the Sleeping Giant Trail, visit Opaekaa Falls, golf at Wailua Golf Course or just sun, swim and snorkel in your own back yard at the Kaha Lani Resort.

Garden Island Properties offers ocean-view & oceanfront one and two bedroom Kauai condo units located on the beautiful Wailua shores. Sliding glass doors open on to private lanais and to the relaxing sounds of the ocean, miles of white sandy beach, and spectacular sunrise views. A Kaha Lani vacation rental condominium is a great spot to watch whales breaching from the months of November to April. If peace & quiet is what you're searching for, this is the place. Take a sunrise walk along this beautiful Kauai coastline or go for a late evening swim. Enjoy one of Kauai's favorite "hidden secrets" at the Kaha Lani Resort! 

Holiday rates apply 12/15 to 1/5 with a 7 night minimum stay.

TAT ID#: TA-038-504-2432
    [ShortDescription] => Ocean View, 1 Bedroom, 1 Bath, ground floor unit with a full kitchen, NEW KING bed, sofa sleeper, complimentary WiFi and parking, steps to sandy beaches.  Relax to the sound of the ocean from your private lanai on this Beachfront Resort! Sleeps 4.
    [Sleeps] => 4
    [MaxAdult] => 0
    [Status] => Active
    [page_slug] => Kaha_Lani_Resort_115-OCEAN_VIEW_1BR1BA_KITCH_STEPS_TO_BEACH_WIFI_PRKG-2064-105580-1
    [SEOTitle] => Kaha Lani Resort #115, Ocean View, Ground Floor
    [SEODescription] => Kaha Lani #115, Ocean View, Ground Floor, Steps to Beach & Coastal Bike Path.
    [Featured] => 0
    [created] => 0000-00-00 00:00:00
    [updated] => 2017-09-19 08:14:31
    [internalcode] => KL 115
    [photos] => Array
        (
            [0] => stdClass Object
                (
                    [id] => 1337783
                    [unit_id] => 17
                    [url] => https://pictures.escapia.com/GAISPR/5160000517.jpg
                    [thumb_url] => https://pictures.escapia.com/GAISPR/5160000517.jpg
                     => Ground floor ocean view lanai
                    [sort] => 0
                )

            [1] => stdClass Object
                (
                    [id] => 1337784
                    [unit_id] => 17
                    [url] => https://pictures.escapia.com/GAISPR/8964630359.jpg
                    [thumb_url] => https://pictures.escapia.com/GAISPR/8964630359.jpg
                     => Living room with ocean view
                    [sort] => 1
                )

            [2] => stdClass Object
                (
                    [id] => 1337785
                    [unit_id] => 17
                    [url] => https://pictures.escapia.com/GAISPR/5957400736.jpg
                    [thumb_url] => https://pictures.escapia.com/GAISPR/5957400736.jpg
                     => Open living area with ocean views
                    [sort] => 2
                )

            [3] => stdClass Object
                (
                    [id] => 1337786
                    [unit_id] => 17
                    [url] => https://pictures.escapia.com/GAISPR/4694040015.jpg
                    [thumb_url] => https://pictures.escapia.com/GAISPR/4694040015.jpg
                     => Master bedroom with King bed
                    [sort] => 3
                )

            [4] => stdClass Object
                (
                    [id] => 1337787
                    [unit_id] => 17
                    [url] => https://pictures.escapia.com/GAISPR/5419230007.jpg
                    [thumb_url] => https://pictures.escapia.com/GAISPR/5419230007.jpg
                     => Ocean view from lanai
                    [sort] => 4
                )

            [5] => stdClass Object
                (
                    [id] => 1337788
                    [unit_id] => 17
                    [url] => https://pictures.escapia.com/GAISPR/7413950032.jpg
                    [thumb_url] => https://pictures.escapia.com/GAISPR/7413950032.jpg
                     => Living room with flat screen tv and pull out couch
                    [sort] => 5
                )

            [6] => stdClass Object
                (
                    [id] => 1337789
                    [unit_id] => 17
                    [url] => https://pictures.escapia.com/GAISPR/6852620353.jpg
                    [thumb_url] => https://pictures.escapia.com/GAISPR/6852620353.jpg
                     => Dining area, ocean view
                    [sort] => 6
                )

            [7] => stdClass Object
                (
                    [id] => 1337790
                    [unit_id] => 17
                    [url] => https://pictures.escapia.com/GAISPR/9988240774.jpg
                    [thumb_url] => https://pictures.escapia.com/GAISPR/9988240774.jpg
                     => Dining area for 4
                    [sort] => 7
                )

            [8] => stdClass Object
                (
                    [id] => 1337791
                    [unit_id] => 17
                    [url] => https://pictures.escapia.com/GAISPR/8206420056.jpg
                    [thumb_url] => https://pictures.escapia.com/GAISPR/8206420056.jpg
                     => Full kitchen with ocean views
                    [sort] => 8
                )

            [9] => stdClass Object
                (
                    [id] => 1337792
                    [unit_id] => 17
                    [url] => https://pictures.escapia.com/GAISPR/2615050651.jpg
                    [thumb_url] => https://pictures.escapia.com/GAISPR/2615050651.jpg
                     => Kitchen breakfast bar
                    [sort] => 9
                )

            [10] => stdClass Object
                (
                    [id] => 1337793
                    [unit_id] => 17
                    [url] => https://pictures.escapia.com/GAISPR/5339880932.jpg
                    [thumb_url] => https://pictures.escapia.com/GAISPR/5339880932.jpg
                     => Full kitchen with ocean views
                    [sort] => 10
                )

            [11] => stdClass Object
                (
                    [id] => 1337794
                    [unit_id] => 17
                    [url] => https://pictures.escapia.com/GAISPR/7108160015.jpg
                    [thumb_url] => https://pictures.escapia.com/GAISPR/7108160015.jpg
                     => Full bath with tub
                    [sort] => 11
                )

            [12] => stdClass Object
                (
                    [id] => 1337795
                    [unit_id] => 17
                    [url] => https://pictures.escapia.com/GAISPR/6404890282.jpg
                    [thumb_url] => https://pictures.escapia.com/GAISPR/6404890282.jpg
                     => Private ocean view lanai
                    [sort] => 12
                )

            [13] => stdClass Object
                (
                    [id] => 1337796
                    [unit_id] => 17
                    [url] => https://pictures.escapia.com/GAISPR/2322430150.jpg
                    [thumb_url] => https://pictures.escapia.com/GAISPR/2322430150.jpg
                     => Pool and BBQ area
                    [sort] => 13
                )

            [14] => stdClass Object
                (
                    [id] => 1337797
                    [unit_id] => 17
                    [url] => https://pictures.escapia.com/GAISPR/9281200672.jpg
                    [thumb_url] => https://pictures.escapia.com/GAISPR/9281200672.jpg
                     => Tennis Courts
                    [sort] => 14
                )

            [15] => stdClass Object
                (
                    [id] => 1337798
                    [unit_id] => 17
                    [url] => https://pictures.escapia.com/GAISPR/9379920452.jpg
                    [thumb_url] => https://pictures.escapia.com/GAISPR/9379920452.jpg
                     => 
                    [sort] => 15
                )

            [16] => stdClass Object
                (
                    [id] => 1337799
                    [unit_id] => 17
                    [url] => https://pictures.escapia.com/GAISPR/1866320501.jpg
                    [thumb_url] => https://pictures.escapia.com/GAISPR/1866320501.jpg
                     => Beach
                    [sort] => 16
                )

            [17] => stdClass Object
                (
                    [id] => 1337800
                    [unit_id] => 17
                    [url] => https://pictures.escapia.com/GAISPR/0719300043.jpg
                    [thumb_url] => https://pictures.escapia.com/GAISPR/0719300043.jpg
                     => Beach
                    [sort] => 17
                )

            [18] => stdClass Object
                (
                    [id] => 1337801
                    [unit_id] => 17
                    [url] => https://pictures.escapia.com/GAISPR/9724960465.jpg
                    [thumb_url] => https://pictures.escapia.com/GAISPR/9724960465.jpg
                     => Coastal Path fronting Kaha Lani Resort
                    [sort] => 18
                )

            [19] => stdClass Object
                (
                    [id] => 1337802
                    [unit_id] => 17
                    [url] => https://pictures.escapia.com/GAISPR/6484670397.jpg
                    [thumb_url] => https://pictures.escapia.com/GAISPR/6484670397.jpg
                     => Lydgate Beach Pond
                    [sort] => 19
                )

            [20] => stdClass Object
                (
                    [id] => 1337803
                    [unit_id] => 17
                    [url] => https://pictures.escapia.com/GAISPR/0294930676.jpg
                    [thumb_url] => https://pictures.escapia.com/GAISPR/0294930676.jpg
                     => Kamalani Playground
                    [sort] => 20
                )

            [21] => stdClass Object
                (
                    [id] => 1337804
                    [unit_id] => 17
                    [url] => https://pictures.escapia.com/GAISPR/2957180372.jpg
                    [thumb_url] => https://pictures.escapia.com/GAISPR/2957180372.jpg
                     => Path to Lydgate Beach
                    [sort] => 21
                )

            [22] => stdClass Object
                (
                    [id] => 1337805
                    [unit_id] => 17
                    [url] => https://pictures.escapia.com/GAISPR/5888510376.jpg
                    [thumb_url] => https://pictures.escapia.com/GAISPR/5888510376.jpg
                     => Lydgate Beach Park
                    [sort] => 22
                )

            [23] => stdClass Object
                (
                    [id] => 1337806
                    [unit_id] => 17
                    [url] => https://pictures.escapia.com/GAISPR/0841430672.jpg
                    [thumb_url] => https://pictures.escapia.com/GAISPR/0841430672.jpg
                     => Kamalani Playground
                    [sort] => 23
                )

            [24] => stdClass Object
                (
                    [id] => 1337807
                    [unit_id] => 17
                    [url] => https://pictures.escapia.com/GAISPR/7816890138.jpg
                    [thumb_url] => https://pictures.escapia.com/GAISPR/7816890138.jpg
                     => Pretty Red Hibiscus
                    [sort] => 24
                )

            [25] => stdClass Object
                (
                    [id] => 1337808
                    [unit_id] => 17
                    [url] => https://pictures.escapia.com/GAISPR/6614890522.jpg
                    [thumb_url] => https://pictures.escapia.com/GAISPR/6614890522.jpg
                     => Lydgate Beach
                    [sort] => 25
                )

        )

    [rates] => Array
        (
            [0] => stdClass Object
                (
                    [id] => 404380
                    [start_date] => 2017-04-01
                    [end_date] => 2017-12-14
                    [amount] => 160
                    [chargebasis] => Daily
                    [unit_id] => 17
                )

            [1] => stdClass Object
                (
                    [id] => 404381
                    [start_date] => 2017-04-01
                    [end_date] => 2017-12-14
                    [amount] => 980
                    [chargebasis] => Weekly
                    [unit_id] => 17
                )

            [2] => stdClass Object
                (
                    [id] => 404382
                    [start_date] => 2017-04-01
                    [end_date] => 2017-12-14
                    [amount] => 4200
                    [chargebasis] => Monthly
                    [unit_id] => 17
                )

            [3] => stdClass Object
                (
                    [id] => 404383
                    [start_date] => 2017-12-15
                    [end_date] => 2018-01-05
                    [amount] => 200
                    [chargebasis] => Daily
                    [unit_id] => 17
                )

            [4] => stdClass Object
                (
                    [id] => 404384
                    [start_date] => 2017-12-15
                    [end_date] => 2018-01-05
                    [amount] => 1400
                    [chargebasis] => Weekly
                    [unit_id] => 17
                )

        )

    [attributes] => Array
        (
            [0] => stdClass Object
                (
                    [id] => 1859059
                    [name] => sleep sofa /futon
                    [value] => 
                    [group] => AMENITY
                    [unit_id] => 17
                )

            [1] => stdClass Object
                (
                    [id] => 1859060
                    [name] => coin laundry
                    [value] => 
                    [group] => ATTRACTIONS
                    [unit_id] => 17
                )

            [2] => stdClass Object
                (
                    [id] => 1859061
                    [name] => Dining
                    [value] => 
                    [group] => DINING_CHECKBOX
                    [unit_id] => 17
                )

            [3] => stdClass Object
                (
                    [id] => 1859062
                    [name] => DVD Player
                    [value] => 
                    [group] => ENTERTAINMENT
                    [unit_id] => 17
                )

            [4] => stdClass Object
                (
                    [id] => 1859063
                    [name] => Satellite / Cable
                    [value] => 
                    [group] => ENTERTAINMENT
                    [unit_id] => 17
                )

            [5] => stdClass Object
                (
                    [id] => 1859064
                    [name] => Television
                    [value] => 
                    [group] => ENTERTAINMENT
                    [unit_id] => 17
                )

            [6] => stdClass Object
                (
                    [id] => 1859065
                    [name] => Hair Dryer
                    [value] => 
                    [group] => GENERAL
                    [unit_id] => 17
                )

            [7] => stdClass Object
                (
                    [id] => 1859066
                    [name] => Internet
                    [value] => 
                    [group] => GENERAL
                    [unit_id] => 17
                )

            [8] => stdClass Object
                (
                    [id] => 1859067
                    [name] => Iron & Board
                    [value] => 
                    [group] => GENERAL
                    [unit_id] => 17
                )

            [9] => stdClass Object
                (
                    [id] => 1859068
                    [name] => Linens Provided
                    [value] => 
                    [group] => GENERAL
                    [unit_id] => 17
                )

            [10] => stdClass Object
                (
                    [id] => 1859069
                    [name] => Living Room
                    [value] => 
                    [group] => GENERAL
                    [unit_id] => 17
                )

            [11] => stdClass Object
                (
                    [id] => 1859070
                    [name] => Parking
                    [value] => 
                    [group] => GENERAL
                    [unit_id] => 17
                )

            [12] => stdClass Object
                (
                    [id] => 1859071
                    [name] => Telephone
                    [value] => 
                    [group] => GENERAL
                    [unit_id] => 17
                )

            [13] => stdClass Object
                (
                    [id] => 1859072
                    [name] => Towels Provided
                    [value] => 
                    [group] => GENERAL
                    [unit_id] => 17
                )

            [14] => stdClass Object
                (
                    [id] => 1859073
                    [name] => Coffee Maker
                    [value] => 
                    [group] => KITCHEN
                    [unit_id] => 17
                )

            [15] => stdClass Object
                (
                    [id] => 1859074
                    [name] => Dishes & Utensils
                    [value] => 
                    [group] => KITCHEN
                    [unit_id] => 17
                )

            [16] => stdClass Object
                (
                    [id] => 1859075
                    [name] => Dishwasher
                    [value] => 
                    [group] => KITCHEN
                    [unit_id] => 17
                )

            [17] => stdClass Object
                (
                    [id] => 1859076
                    [name] => Kitchen
                    [value] => 
                    [group] => KITCHEN
                    [unit_id] => 17
                )

            [18] => stdClass Object
                (
                    [id] => 1859077
                    [name] => Microwave
                    [value] => 
                    [group] => KITCHEN
                    [unit_id] => 17
                )

            [19] => stdClass Object
                (
                    [id] => 1859078
                    [name] => Oven
                    [value] => 
                    [group] => KITCHEN
                    [unit_id] => 17
                )

            [20] => stdClass Object
                (
                    [id] => 1859079
                    [name] => Refrigerator
                    [value] => 
                    [group] => KITCHEN
                    [unit_id] => 17
                )

            [21] => stdClass Object
                (
                    [id] => 1859080
                    [name] => Toaster
                    [value] => 
                    [group] => KITCHEN
                    [unit_id] => 17
                )

            [22] => stdClass Object
                (
                    [id] => 1859081
                    [name] => luaus
                    [value] => 
                    [group] => LEISURE_ACTIVITIES
                    [unit_id] => 17
                )

            [23] => stdClass Object
                (
                    [id] => 1859082
                    [name] => photography
                    [value] => 
                    [group] => LEISURE_ACTIVITIES
                    [unit_id] => 17
                )

            [24] => stdClass Object
                (
                    [id] => 1859083
                    [name] => scenic drives
                    [value] => 
                    [group] => LEISURE_ACTIVITIES
                    [unit_id] => 17
                )

            [25] => stdClass Object
                (
                    [id] => 1859084
                    [name] => sight seeing
                    [value] => 
                    [group] => LEISURE_ACTIVITIES
                    [unit_id] => 17
                )

            [26] => stdClass Object
                (
                    [id] => 1859085
                    [name] => walking
                    [value] => 
                    [group] => LEISURE_ACTIVITIES
                    [unit_id] => 17
                )

            [27] => stdClass Object
                (
                    [id] => 1859086
                    [name] => whale watching
                    [value] => 
                    [group] => LEISURE_ACTIVITIES
                    [unit_id] => 17
                )

            [28] => stdClass Object
                (
                    [id] => 1859087
                    [name] => Beachfront
                    [value] => 
                    [group] => LOCATION_TYPE
                    [unit_id] => 17
                )

            [29] => stdClass Object
                (
                    [id] => 1859088
                    [name] => Near The Ocean
                    [value] => 
                    [group] => LOCATION_TYPE
                    [unit_id] => 17
                )

            [30] => stdClass Object
                (
                    [id] => 1859089
                    [name] => Ocean View
                    [value] => 
                    [group] => LOCATION_TYPE
                    [unit_id] => 17
                )

            [31] => stdClass Object
                (
                    [id] => 1859090
                    [name] => Deck / Patio
                    [value] => 
                    [group] => OUTSIDE
                    [unit_id] => 17
                )

            [32] => stdClass Object
                (
                    [id] => 1859091
                    [name] => Lanai / Gazebo
                    [value] => 
                    [group] => OUTSIDE
                    [unit_id] => 17
                )

            [33] => stdClass Object
                (
                    [id] => 1859092
                    [name] => Lawn / Garden
                    [value] => 
                    [group] => OUTSIDE
                    [unit_id] => 17
                )

            [34] => stdClass Object
                (
                    [id] => 1859093
                    [name] => Outdoor Grill
                    [value] => 
                    [group] => OUTSIDE
                    [unit_id] => 17
                )

            [35] => stdClass Object
                (
                    [id] => 1859094
                    [name] => Tennis
                    [value] => 
                    [group] => OUTSIDE
                    [unit_id] => 17
                )

            [36] => stdClass Object
                (
                    [id] => 1859095
                    [name] => Heated Pool
                    [value] => 
                    [group] => POOL_SPA
                    [unit_id] => 17
                )

            [37] => stdClass Object
                (
                    [id] => 1859096
                    [name] => bedroom
                    [value] => 
                    [group] => ROOM_SUBTYPE
                    [unit_id] => 17
                )

            [38] => stdClass Object
                (
                    [id] => 1859097
                    [name] => full
                    [value] => 
                    [group] => ROOM_SUBTYPE
                    [unit_id] => 17
                )

            [39] => stdClass Object
                (
                    [id] => 1859098
                    [name] => golf
                    [value] => 
                    [group] => SPORTS_AND_ADVENTURE_ACTIVITIES
                    [unit_id] => 17
                )

            [40] => stdClass Object
                (
                    [id] => 1859099
                    [name] => hiking
                    [value] => 
                    [group] => SPORTS_AND_ADVENTURE_ACTIVITIES
                    [unit_id] => 17
                )

            [41] => stdClass Object
                (
                    [id] => 1859100
                    [name] => scuba diving or snorkeling
                    [value] => 
                    [group] => SPORTS_AND_ADVENTURE_ACTIVITIES
                    [unit_id] => 17
                )

            [42] => stdClass Object
                (
                    [id] => 1859101
                    [name] => snorkeling
                    [value] => 
                    [group] => SPORTS_AND_ADVENTURE_ACTIVITIES
                    [unit_id] => 17
                )

            [43] => stdClass Object
                (
                    [id] => 1859102
                    [name] => surfing
                    [value] => 
                    [group] => SPORTS_AND_ADVENTURE_ACTIVITIES
                    [unit_id] => 17
                )

            [44] => stdClass Object
                (
                    [id] => 1859103
                    [name] => swimming
                    [value] => 
                    [group] => SPORTS_AND_ADVENTURE_ACTIVITIES
                    [unit_id] => 17
                )

            [45] => stdClass Object
                (
                    [id] => 1859104
                    [name] => tennis
                    [value] => 
                    [group] => SPORTS_AND_ADVENTURE_ACTIVITIES
                    [unit_id] => 17
                )

            [46] => stdClass Object
                (
                    [id] => 1859105
                    [name] => children welcome
                    [value] => 
                    [group] => SUITABILITY
                    [unit_id] => 17
                )

            [47] => stdClass Object
                (
                    [id] => 1859106
                    [name] => non smoking only
                    [value] => 
                    [group] => SUITABILITY
                    [unit_id] => 17
                )

            [48] => stdClass Object
                (
                    [id] => 1859107
                    [name] => Cookware
                    [value] => 
                    [group] => Kitchen
                    [unit_id] => 17
                )

            [49] => stdClass Object
                (
                    [id] => 1859108
                    [name] => Full Kitchen
                    [value] => 
                    [group] => Kitchen
                    [unit_id] => 17
                )

            [50] => stdClass Object
                (
                    [id] => 1859109
                    [name] => Refrigerator
                    [value] => 
                    [group] => Kitchen
                    [unit_id] => 17
                )

            [51] => stdClass Object
                (
                    [id] => 1859110
                    [name] => Coffee Maker
                    [value] => 
                    [group] => Kitchen
                    [unit_id] => 17
                )

            [52] => stdClass Object
                (
                    [id] => 1859111
                    [name] => Microwave
                    [value] => 
                    [group] => Kitchen
                    [unit_id] => 17
                )

            [53] => stdClass Object
                (
                    [id] => 1859112
                    [name] => Toaster
                    [value] => 
                    [group] => Kitchen
                    [unit_id] => 17
                )

            [54] => stdClass Object
                (
                    [id] => 1859113
                    [name] => Blender
                    [value] => 
                    [group] => Kitchen
                    [unit_id] => 17
                )

            [55] => stdClass Object
                (
                    [id] => 1859114
                    [name] => Ceiling Fans
                    [value] => 
                    [group] => Living
                    [unit_id] => 17
                )

            [56] => stdClass Object
                (
                    [id] => 1859115
                    [name] => Linens
                    [value] => 
                    [group] => Living
                    [unit_id] => 17
                )

            [57] => stdClass Object
                (
                    [id] => 1859116
                    [name] => Ironing Board
                    [value] => 
                    [group] => Living
                    [unit_id] => 17
                )

            [58] => stdClass Object
                (
                    [id] => 1859117
                    [name] => Wifi
                    [value] => 
                    [group] => Living
                    [unit_id] => 17
                )

            [59] => stdClass Object
                (
                    [id] => 1859118
                    [name] => Beach Towels
                    [value] => 
                    [group] => Living
                    [unit_id] => 17
                )

            [60] => stdClass Object
                (
                    [id] => 1859119
                    [name] => Hair Dryer
                    [value] => 
                    [group] => Living
                    [unit_id] => 17
                )

            [61] => stdClass Object
                (
                    [id] => 1859120
                    [name] => Coin Operated Laundry
                    [value] => 
                    [group] => Living
                    [unit_id] => 17
                )

            [62] => stdClass Object
                (
                    [id] => 1859121
                    [name] => Nearby Grocery
                    [value] => 
                    [group] => Convenience
                    [unit_id] => 17
                )

            [63] => stdClass Object
                (
                    [id] => 1859122
                    [name] => Golf Course
                    [value] => 
                    [group] => Convenience
                    [unit_id] => 17
                )

            [64] => stdClass Object
                (
                    [id] => 1859123
                    [name] => Nearby Luau
                    [value] => 
                    [group] => Culture
                    [unit_id] => 17
                )

            [65] => stdClass Object
                (
                    [id] => 1859124
                    [name] => Gas Grill
                    [value] => 
                    [group] => Outdoor
                    [unit_id] => 17
                )

            [66] => stdClass Object
                (
                    [id] => 1859125
                    [name] => Shared Pool
                    [value] => 
                    [group] => Outdoor
                    [unit_id] => 17
                )

            [67] => stdClass Object
                (
                    [id] => 1859126
                    [name] => Tennis
                    [value] => 
                    [group] => Outdoor
                    [unit_id] => 17
                )

            [68] => stdClass Object
                (
                    [id] => 1859127
                    [name] => Beach
                    [value] => 
                    [group] => Outdoor
                    [unit_id] => 17
                )

            [69] => stdClass Object
                (
                    [id] => 1859128
                    [name] => Beach Chairs
                    [value] => 
                    [group] => Outdoor
                    [unit_id] => 17
                )

            [70] => stdClass Object
                (
                    [id] => 1859129
                    [name] => Bike Path
                    [value] => 
                    [group] => Outdoor
                    [unit_id] => 17
                )

            [71] => stdClass Object
                (
                    [id] => 1859130
                    [name] => Lanai
                    [value] => 
                    [group] => Outdoor
                    [unit_id] => 17
                )

            [72] => stdClass Object
                (
                    [id] => 1859131
                    [name] => Secluded
                    [value] => 
                    [group] => Geographic
                    [unit_id] => 17
                )

            [73] => stdClass Object
                (
                    [id] => 1859132
                    [name] => On Beach
                    [value] => 
                    [group] => Geographic
                    [unit_id] => 17
                )

            [74] => stdClass Object
                (
                    [id] => 1859133
                    [name] => Close to Town
                    [value] => 
                    [group] => Geographic
                    [unit_id] => 17
                )

            [75] => stdClass Object
                (
                    [id] => 1859134
                    [name] => Cable TV
                    [value] => 
                    [group] => Entertainment
                    [unit_id] => 17
                )

            [76] => stdClass Object
                (
                    [id] => 1859135
                    [name] => DVD Player
                    [value] => 
                    [group] => Entertainment
                    [unit_id] => 17
                )

        )

    [avail] => Array
        (
            [0] => stdClass Object
                (
                    [id] => 7447779
                    [start_date] => 2017-09-19
                    [end_date] => 2017-10-04
                    [unit_id] => 17
                )

            [1] => stdClass Object
                (
                    [id] => 7447780
                    [start_date] => 2017-10-13
                    [end_date] => 2017-10-24
                    [unit_id] => 17
                )

            [2] => stdClass Object
                (
                    [id] => 7447781
                    [start_date] => 2017-10-30
                    [end_date] => 2017-11-04
                    [unit_id] => 17
                )

            [3] => stdClass Object
                (
                    [id] => 7447782
                    [start_date] => 2017-12-20
                    [end_date] => 2017-12-29
                    [unit_id] => 17
                )

            [4] => stdClass Object
                (
                    [id] => 7447783
                    [start_date] => 2017-12-31
                    [end_date] => 2018-01-11
                    [unit_id] => 17
                )

            [5] => stdClass Object
                (
                    [id] => 7447784
                    [start_date] => 2018-01-17
                    [end_date] => 2018-01-27
                    [unit_id] => 17
                )

            [6] => stdClass Object
                (
                    [id] => 7447785
                    [start_date] => 2018-01-28
                    [end_date] => 2018-02-28
                    [unit_id] => 17
                )

            [7] => stdClass Object
                (
                    [id] => 7447786
                    [start_date] => 2018-03-01
                    [end_date] => 2018-03-06
                    [unit_id] => 17
                )

            [8] => stdClass Object
                (
                    [id] => 7447787
                    [start_date] => 2018-03-17
                    [end_date] => 2018-03-24
                    [unit_id] => 17
                )

            [9] => stdClass Object
                (
                    [id] => 7447788
                    [start_date] => 2018-05-02
                    [end_date] => 2018-05-31
                    [unit_id] => 17
                )

        )

    [reviews] => Array
        (
            [0] => stdClass Object
                (
                    [id] => 29267
                    [external_id] => b20fb6df-06d5-4da8-a8f8-ac4283799057
                    [prop_id] => 17
                    [review_id] => 0
                    [source] => Escapia
                    [title] => Lovely view 
                    [review] => The location is perfect for a quiet somewhat remote location.  We walked the waterfront pathway everyday into Lindgate Park and beyond.  ITs about two miles round trip to the far side of the park.  You will need a car for groceries as there is no nearby store.  The beaches are lovely and sandy but the water has a significant riptide so isn't great for swimming however there is a protected area in Lyngate Park.  The room was nice but needed a good deep cleaning.  Light fixtures were very dirty and the unit is under lighted.  These are small things and I'm hopeful that the owner will take care of these issues.  All in all I would recommend the property.
                    [name] => 
                    [email] => j.zelasko@comcast.net
                    [location] => 
                    [response] => 
                    [rating] => 4
                    [review_date] => 2017-02-28
                    [status] => 1
                    [checkin_date] => 2017-02-02
                    [nights_stayed] => 10
                    [sfrm] => 4
                    [clean] => 2
                    [rto] => 1
                    [pc] => 4
                    [loc] => 3
                    [meta] => Array
                        (
                        )

                )

            [1] => stdClass Object
                (
                    [id] => 29111
                    [external_id] => 4c65d544-74a4-41ce-b7a3-60a39bd8039c
                    [prop_id] => 17
                    [review_id] => 0
                    [source] => Escapia
                    [title] => Awesome 10 Days of Peacefulness
                    [review] => Best part of staying at this condo was in fact how well maintained the property was, from the pool to manicured lawns. A nice view from condo to enjoy the ocean. Awoke every morning for the most awesome sunrises, enjoyed soft sprinkles and golden sun shine. Condo was comfortable and will be back again.
                    [name] => William D.
                    [email] => twonooks@sbcglobal.net
                    [location] => 
                    [response] => Mahalo for the nice review.  We are so happy you experienced Kauai's "awesome  golden sunshine."  We look forward to having you back again!  Aloha, Garden Island Properties LLC
                    [rating] => 4
                    [review_date] => 2016-10-08
                    [status] => 1
                    [checkin_date] => 2016-09-12
                    [nights_stayed] => 10
                    [sfrm] => 5
                    [clean] => 5
                    [rto] => 1
                    [pc] => 4
                    [loc] => 4
                    [meta] => Array
                        (
                        )

                )

        )

    [rateaddons] => Array
        (
        )

    [unit_meta] => Array
        (
            [0] => stdClass Object
                (
                    [id] => 486285
                    [unit_id] => 17
                    [key] => Custom1
                    [value] => KHL 115
                )

            [1] => stdClass Object
                (
                    [id] => 486286
                    [unit_id] => 17
                    [key] => Custom2
                    [value] => 8088223919
                )

            [2] => stdClass Object
                (
                    [id] => 486287
                    [unit_id] => 17
                    [key] => Custom3
                    [value] => 4871
                )

            [3] => stdClass Object
                (
                    [id] => 486288
                    [unit_id] => 17
                    [key] => Custom4
                    [value] => TV Instructions: Use small remote to turn TV "ON". Select cable and press "OK" on tv remote. Use large remote to turn cable "ON", press "CBL", "PWR".
                )

            [4] => stdClass Object
                (
                    [id] => 486289
                    [unit_id] => 17
                    [key] => DisplayRate
                    [value] => Starting From $140 per night
                )

            [5] => stdClass Object
                (
                    [id] => 486290
                    [unit_id] => 17
                    [key] => Location
                    [value] => Wailua
                )

            [6] => stdClass Object
                (
                    [id] => 486291
                    [unit_id] => 17
                    [key] => LocationField
                    [value] => Garden Island Properties, LLC
                )

            [7] => stdClass Object
                (
                    [id] => 486292
                    [unit_id] => 17
                    [key] => Property Type
                    [value] => Condo
                )

            [8] => stdClass Object
                (
                    [id] => 486293
                    [unit_id] => 17
                    [key] => View
                    [value] => Ocean View
                )

            [9] => stdClass Object
                (
                    [id] => 486294
                    [unit_id] => 17
                    [key] => MinLOS
                    [value] => 4
                )

            [10] => stdClass Object
                (
                    [id] => 486295
                    [unit_id] => 17
                    [key] => StayContext
                    [value] => Checkin
                )

            [11] => stdClass Object
                (
                    [id] => 486296
                    [unit_id] => 17
                    [key] => StayDays
                    [value] => a:7:{i:0;s:3:"Mon";i:1;s:3:"Tue";i:2;s:4:"Weds";i:3;s:4:"Thur";i:4;s:3:"Fri";i:5;s:3:"Sat";i:6;s:3:"Sun";}
                )

            [12] => stdClass Object
                (
                    [id] => 486297
                    [unit_id] => 17
                    [key] => flipkey
                    [value] => 
                )

            [13] => stdClass Object
                (
                    [id] => 490580
                    [unit_id] => 17
                    [key] => Agreement
                    [value] => GUEST AGREEMENT 
RELATES TO ALL PROPERTIES. PLEASE READ THIS CONTRACT CAREFULLY. 
BY CLICKING ON THE ACCEPT BUTTON YOU (either an individual or a single entity) AGREE THAT THIS AGREEMENT IS ENFORCEABLE LIKE ANY WRITTEN CONTRACT SIGNED BY YOU. 

SECURITY D
                )

        )

    [minnights] => Array
        (
            [0] => stdClass Object
                (
                    [id] => 409049
                    [start_date] => 2017-04-01
                    [end_date] => 2017-12-14
                    [prop_id] => 17
                    [nights] => 4
                    [rate_type] => Daily
                )

            [1] => stdClass Object
                (
                    [id] => 409050
                    [start_date] => 2017-04-01
                    [end_date] => 2017-12-14
                    [prop_id] => 17
                    [nights] => 7
                    [rate_type] => Weekly
                )

            [2] => stdClass Object
                (
                    [id] => 409051
                    [start_date] => 2017-04-01
                    [end_date] => 2017-12-14
                    [prop_id] => 17
                    [nights] => 30
                    [rate_type] => Monthly
                )

            [3] => stdClass Object
                (
                    [id] => 409052
                    [start_date] => 2017-12-15
                    [end_date] => 2018-01-05
                    [prop_id] => 17
                    [nights] => 4
                    [rate_type] => Daily
                )

            [4] => stdClass Object
                (
                    [id] => 409053
                    [start_date] => 2017-12-15
                    [end_date] => 2018-01-05
                    [prop_id] => 17
                    [nights] => 7
                    [rate_type] => Weekly
                )

        )

    [manager] => stdClass Object
        (
            [id] => 1
            [ManagerID] => 1
            [Name] => Escapia
            [Vendor] => Escapia
            [Contract] => 
            [random] => 0
            [pms] => 
            [last_update] => 0000-00-00 00:00:00
        )

    [flipkey] => 
    [additonal] => stdClass Object
        (
            [Custom1] => KHL 115
            [Custom2] => 8088223919
            [Custom3] => 4871
            [Custom4] => TV Instructions: Use small remote to turn TV "ON". Select cable and press "OK" on tv remote. Use large remote to turn cable "ON", press "CBL", "PWR".
            [DisplayRate] => Starting From $140 per night
            [Location] => Wailua
            [LocationField] => Garden Island Properties, LLC
            [Property Type] => Condo
            [View] => Ocean View
            [MinLOS] => 4
            [StayContext] => Checkin
            [StayDays] => Array
                (
                    [0] => Mon
                    [1] => Tue
                    [2] => Weds
                    [3] => Thur
                    [4] => Fri
                    [5] => Sat
                    [6] => Sun
                )

            [flipkey] => 
            [Agreement] => GUEST AGREEMENT 
RELATES TO ALL PROPERTIES. PLEASE READ THIS CONTRACT CAREFULLY. 
BY CLICKING ON THE ACCEPT BUTTON YOU (either an individual or a single entity) AGREE THAT THIS AGREEMENT IS ENFORCEABLE LIKE ANY WRITTEN CONTRACT SIGNED BY YOU. 

SECURITY D
        )

    [checkinout] => Array
        (
        )

    [special] => stdClass Object
        (
            [title] => 10% OFF OCTOBER FILLER SPECIAL
            [shortcontent] => 
            [content] => 
            [promocode] => 
            [offertext] => 10% OFF OCTOBER FILL-IN SPECIAL
            [buttontext] => 
            [image] => 
            [expiration] => 2017-10-31
            [start_date] => 2017-09-19
            [end_date] => 2017-10-31
        )

    [hasSpecial] => 1
)
                    
Holiday Rates apply between 12/15 - 1/5