kaha lani resort #206, ocean view, steps to the beach, free wifi & parking
1 Bedroom(s) | 1.5 Bathroom(s) | Sleeps 4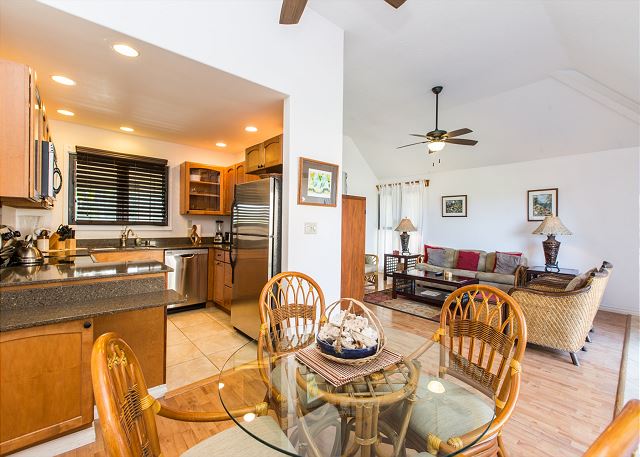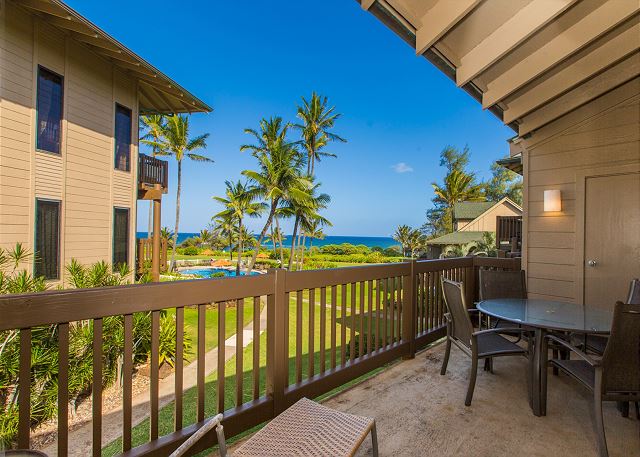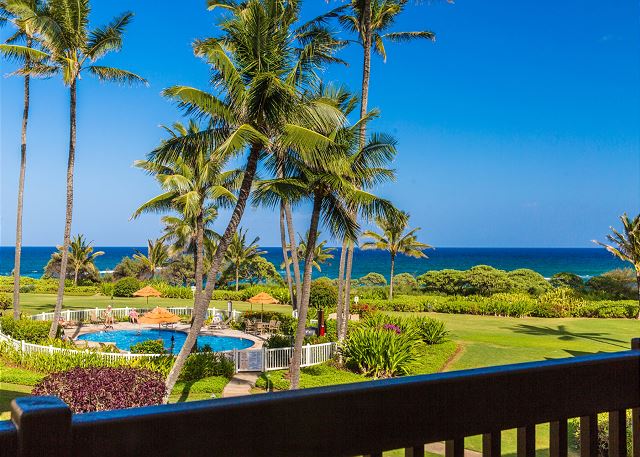 Kaha Lani Unit #206, Ocean View Vacation Rental on a Beachfront Resort, Wailua, Kauai.

Save $25 booking online at Garden Island Properties website



One bedroom 1.5 Bath 2nd floor (top unit) ocean view unit overlooking the pool with hardwood floors. Recent renovations include granite counter tops, travertine & hardwood flooring. Complimentary WiFi & Parking. King bed and queen sofa sleeper. Offering Malie Organic body wash and shampoo! Sleeps up to 4.



In Hawaiian, "Kaha Lani" means heavenly place. And that's what you'll find at this Kauai condo oceanfront resort. Stroll along miles of uncrowded white sand beach and lush tropical landscaping. Coconut palms rustling in the gentle trade winds. Come & enjoy the quiet privacy of this intimate condominium on beautiful Kauai's Royal Coconut Coast. Sun yourself by the swimming pool or explore the sandy shoreline; just steps away. Gas BBQ grills are located poolside, tennis courts, and coin operated washer/dryers are all available at this oceanfront Kauai vacation rental beach resort. Every condo has a full kitchen w/pots & pans, linens, towels & even beach towels are provided. Parking is free and there no resort fees. Every condo is a non-smoking unit.



Located between Wailua Golf Course on the south end and Lydgate Beach Park and Kamalani Playground to the north, this is an ideal location for the traveler wanting a vacation away from the hustle and bustle of everyday life yet just a few minutes away from town for shopping & restaurants. Walk next door to Lydgate Beach Park on the newly built walk/bike path for fantastic snorkeling and swimming in one of two lagoons. For the toddler, the baby lagoon is perfect. Walk across the beach park to Kamalani Playground which is a community built playground with it's own volcano tube! Wailua Golf Course is next door and is rated one of the top municipal golf courses in the nation. Affordable rates and one of the only golf courses on Kauai where you can walk the whole course nearby make this one of the finest Kauai vacation rentals.



Just minutes away from the Lihue Airport and the town of Kapaa make this an ideal getaway for couples or families alike. Just a few minutes away in the town of Kapaa/Wailua you will find grocery stores, boutiques, movie theatres and various first class restaurants. For the avid outdoors person, kayak up the Wailua River, hike the Sleeping Giant Trail, visit Opaekaa Falls, golf at Wailua Golf Course or just sun, swim and snorkel in your own back yard at the Kaha Lani Resort.



Garden Island Properties offers ocean-view & oceanfront one and two bedroom Kauai condo units located on the beautiful Wailua shores. Sliding glass doors open on to private lanais and to the relaxing sounds of the ocean, miles of white sandy beach, and spectacular sunrise views. A Kaha Lani vacation rental condominium is a great spot to watch whales breaching from the months of November to April. If peace & quiet is what you're searching for, this is the place. Take a sunrise walk along this beautiful Kauai coastline or go for a late evening swim. Enjoy one of Kauai's favorite "hidden secrets" at the Kaha Lani Resort!



Holiday Rates apply 12/15 to 1/5 with a 7 night minimum stay.



TAT ID#: TA-068-487-9872-01
Amenities

Full Kitchen
Coffee Maker
Microwave
Toaster
Blender
Ceiling Fans
Linens
Ironing Board
Wifi
Beach Towels
Hair Dryer
Coin Operated Laundry
Nearby Grocery
Golf Course
Nearby Restaurants & Shops
Nearby Luau
Gas Grill
Shared Pool
Tennis
Beach
Beach Chairs
Bike Path
Lanai
On Beach
Close to Town
Cable TV
DVD Player
---
Love the view
Mar 31, 2017
Great view. Tough to get suitcases to second floor. Unit is clean. Stayed there 2 years ago and furnishings are showing wear and tear and need to be updated. Needs paint and window treatments are very basic and cheap. A bucket behind the front door with brooms and mops in it? Too much personal stuff in the unit. Tooooo many dishes, glasses and bowls. No non stick fry pan. No air conditioning! Very humid at night. Hard to sleep. The complex is very well cared for. Pool, lawns, laundry all immaculate. Visible security team also. Can't beat the view! People think I sent them a picture postcard.
---
Kauia
Mar 16, 2017
Very lovely great location well stocked condo
---
Christmas in Kauai
Jan 03, 2017
This vacation rental is in a great location, being centrally located on the island and with ocean view. It is also spacious for four people compared to many other four person condos we have stayed in. That being said, it is outdated, needing fresh paint, bathroom remodeling to create counter space and updated decor for the walls. Feels outdated. The kitchen is not stocked appropriately. There was no whisk, cookie sheets (for pizzas and other items) or BBQ utensils for the grill. There were also no serving utensils like large spoons/fork etc for serving meals. Owner was agreeable to allowing us to bring our exchange student as a fifth guest at the last minute (for an extra $200) as an air mattress is available and much more comfortable than the hide-a-bed couch. Also important to note is that the owners below are very grumpy and overly sensitive to noise as they came knocking on our door at only 10pm to tell us to quiet down so walk gingerly and keep voices low.
---
Wonderful Experience!
Nov 11, 2016
We stayed for two weeks in unit #206 and overall were very pleased with the comfort it provided us for that long a period of time. The kitchen was very well equipped (could use a new vegetable peeler!), and the living room area provided a gorgeous view every morning of many amazing sunrises! We always had a nice breeze blowing through the slider and front louvered windows, and there is a good upright air conditioner in the bedroom, which helped for night sleeping. Be prepared for a "dampish" feeling throughout, however. The bed provided a good night's sleep, and we appreciated having the two bathrooms. We ended up staying "home" and using the condo often - the grounds were beautiful - and beautifully maintained - and you could see and hear the ocean surf! Beautiful spot! It was so nice to have such easy access to the walk/bike-way between the resort and the ocean, and we walked it often! Lydgate park was only a 5-10 minute walk away and is great for swimming. We also liked that the resort was off the beaten path as it provided the quieter, more "get-away" atmosphere that we relished! Grocery stores and shopping were about a 10 minute drive, which was never a hardship. Conveniently located on the island, and we covered it all! One "fix-it" comment - the slider screen should be re-screened, as the screen has pulled away from the frame. Same to a certain degree with the window screens on either side of the slider. Otherwise everything was in good working order and it was a very positive experience!
---
Loved No 206 at Kaha Lani Resort
Oct 15, 2016
Our stay in Unit 206 at Kaha Lani was wonderful. The location of 206 is perfect with breathtaking sunrise views and being an end unit is an added plus. The condo was furnished nicely and the kitchen is very well equipped with dishes, glasses, utensils, blender coffeemaker and pots and pans. It was especially helpful having additional bedroom fans as we adjusted to humidity. It was nice having and extra bathroom. The king size bed was comfortable. The beach was fabulous and almost private and just steps from our condo. The pool was delightful, and very well maintained and clean. Loved the gas grills for grilling. At night the tiki lights created a beautiful setting with the palm trees and ocean view. We will definitely book No 206 at Kaha Lani on our next visit to Kauai. The owners were proactive in recommending this unit when our original booking at Kapaa Shore Resort would not have been ideal due to a nearby remodel.beautiful setting.
---
Kaha Lani Resort #206
Jul 03, 2016
Inspite of earlier frustration about the missing key, we had a wonderful time. View was nice. Beach chairs and cooler were provided. Kitchen was well equipped. It is time to upgrade the sofa set and bed.
---
Fabulous
May 28, 2016
Check in, check out was smooth - great unit.
---
Great place. views wonderful. bbq was a fun time every night.
Apr 09, 2016
The only problem was the T.V. the tuner was very confusing.We gave up and just relaxed. Will return again.
Book Your Stay!
Select your arrival and departure dates below to reserve this unit.


June 2017

| S | M | T | W | T | F | S |
| --- | --- | --- | --- | --- | --- | --- |
| | | | | 01 | 02 | 03 |
| 04 | 05 | 06 | 07 | 08 | 09 | 10 |
| 11 | 12 | 13 | 14 | 15 | 16 | 17 |
| 18 | 19 | 20 | 21 | 22 | 23 | 24 |
| 25 | 26 | 27 | 28 | 29 | 30 | |
July 2017

| S | M | T | W | T | F | S |
| --- | --- | --- | --- | --- | --- | --- |
| | | | | | | 01 |
| 02 | 03 | 04 | 05 | 06 | 07 | 08 |
| 09 | 10 | 11 | 12 | 13 | 14 | 15 |
| 16 | 17 | 18 | 19 | 20 | 21 | 22 |
| 23 | 24 | 25 | 26 | 27 | 28 | 29 |
| 30 | 31 | | | | | |
August 2017

| S | M | T | W | T | F | S |
| --- | --- | --- | --- | --- | --- | --- |
| | | 01 | 02 | 03 | 04 | 05 |
| 06 | 07 | 08 | 09 | 10 | 11 | 12 |
| 13 | 14 | 15 | 16 | 17 | 18 | 19 |
| 20 | 21 | 22 | 23 | 24 | 25 | 26 |
| 27 | 28 | 29 | 30 | 31 | | |
September 2017

| S | M | T | W | T | F | S |
| --- | --- | --- | --- | --- | --- | --- |
| | | | | | 01 | 02 |
| 03 | 04 | 05 | 06 | 07 | 08 | 09 |
| 10 | 11 | 12 | 13 | 14 | 15 | 16 |
| 17 | 18 | 19 | 20 | 21 | 22 | 23 |
| 24 | 25 | 26 | 27 | 28 | 29 | 30 |
October 2017

| S | M | T | W | T | F | S |
| --- | --- | --- | --- | --- | --- | --- |
| 01 | 02 | 03 | 04 | 05 | 06 | 07 |
| 08 | 09 | 10 | 11 | 12 | 13 | 14 |
| 15 | 16 | 17 | 18 | 19 | 20 | 21 |
| 22 | 23 | 24 | 25 | 26 | 27 | 28 |
| 29 | 30 | 31 | | | | |
November 2017

| S | M | T | W | T | F | S |
| --- | --- | --- | --- | --- | --- | --- |
| | | | 01 | 02 | 03 | 04 |
| 05 | 06 | 07 | 08 | 09 | 10 | 11 |
| 12 | 13 | 14 | 15 | 16 | 17 | 18 |
| 19 | 20 | 21 | 22 | 23 | 24 | 25 |
| 26 | 27 | 28 | 29 | 30 | | |
December 2017

| S | M | T | W | T | F | S |
| --- | --- | --- | --- | --- | --- | --- |
| | | | | | 01 | 02 |
| 03 | 04 | 05 | 06 | 07 | 08 | 09 |
| 10 | 11 | 12 | 13 | 14 | 15 | 16 |
| 17 | 18 | 19 | 20 | 21 | 22 | 23 |
| 24 | 25 | 26 | 27 | 28 | 29 | 30 |
| 31 | | | | | | |
January 2018

| S | M | T | W | T | F | S |
| --- | --- | --- | --- | --- | --- | --- |
| | 01 | 02 | 03 | 04 | 05 | 06 |
| 07 | 08 | 09 | 10 | 11 | 12 | 13 |
| 14 | 15 | 16 | 17 | 18 | 19 | 20 |
| 21 | 22 | 23 | 24 | 25 | 26 | 27 |
| 28 | 29 | 30 | 31 | | | |
February 2018

| S | M | T | W | T | F | S |
| --- | --- | --- | --- | --- | --- | --- |
| | | | | 01 | 02 | 03 |
| 04 | 05 | 06 | 07 | 08 | 09 | 10 |
| 11 | 12 | 13 | 14 | 15 | 16 | 17 |
| 18 | 19 | 20 | 21 | 22 | 23 | 24 |
| 25 | 26 | 27 | 28 | | | |
March 2018

| S | M | T | W | T | F | S |
| --- | --- | --- | --- | --- | --- | --- |
| | | | | 01 | 02 | 03 |
| 04 | 05 | 06 | 07 | 08 | 09 | 10 |
| 11 | 12 | 13 | 14 | 15 | 16 | 17 |
| 18 | 19 | 20 | 21 | 22 | 23 | 24 |
| 25 | 26 | 27 | 28 | 29 | 30 | 31 |
April 2018

| S | M | T | W | T | F | S |
| --- | --- | --- | --- | --- | --- | --- |
| 01 | 02 | 03 | 04 | 05 | 06 | 07 |
| 08 | 09 | 10 | 11 | 12 | 13 | 14 |
| 15 | 16 | 17 | 18 | 19 | 20 | 21 |
| 22 | 23 | 24 | 25 | 26 | 27 | 28 |
| 29 | 30 | | | | | |
May 2018

| S | M | T | W | T | F | S |
| --- | --- | --- | --- | --- | --- | --- |
| | | 01 | 02 | 03 | 04 | 05 |
| 06 | 07 | 08 | 09 | 10 | 11 | 12 |
| 13 | 14 | 15 | 16 | 17 | 18 | 19 |
| 20 | 21 | 22 | 23 | 24 | 25 | 26 |
| 27 | 28 | 29 | 30 | 31 | | |
June 2018

| S | M | T | W | T | F | S |
| --- | --- | --- | --- | --- | --- | --- |
| | | | | | 01 | 02 |
| 03 | 04 | 05 | 06 | 07 | 08 | 09 |
| 10 | 11 | 12 | 13 | 14 | 15 | 16 |
| 17 | 18 | 19 | 20 | 21 | 22 | 23 |
| 24 | 25 | 26 | 27 | 28 | 29 | 30 |
July 2018

| S | M | T | W | T | F | S |
| --- | --- | --- | --- | --- | --- | --- |
| 01 | 02 | 03 | 04 | 05 | 06 | 07 |
| 08 | 09 | 10 | 11 | 12 | 13 | 14 |
| 15 | 16 | 17 | 18 | 19 | 20 | 21 |
| 22 | 23 | 24 | 25 | 26 | 27 | 28 |
| 29 | 30 | 31 | | | | |
August 2018

| S | M | T | W | T | F | S |
| --- | --- | --- | --- | --- | --- | --- |
| | | | 01 | 02 | 03 | 04 |
| 05 | 06 | 07 | 08 | 09 | 10 | 11 |
| 12 | 13 | 14 | 15 | 16 | 17 | 18 |
| 19 | 20 | 21 | 22 | 23 | 24 | 25 |
| 26 | 27 | 28 | 29 | 30 | 31 | |
September 2018

| S | M | T | W | T | F | S |
| --- | --- | --- | --- | --- | --- | --- |
| | | | | | | 01 |
| 02 | 03 | 04 | 05 | 06 | 07 | 08 |
| 09 | 10 | 11 | 12 | 13 | 14 | 15 |
| 16 | 17 | 18 | 19 | 20 | 21 | 22 |
| 23 | 24 | 25 | 26 | 27 | 28 | 29 |
| 30 | | | | | | |
Available
Unavailable
Check-In Only
Check-Out Only
Seasonal Rates
Starting From $140 per night

                    stdClass Object
(
    [id] => 75
    [ManagerID] => 1
    [ComplexID] => 0
    [Name] => Kaha Lani Resort #206, Ocean View, Steps to the Beach, Free Wifi & Parking
    [PropertyCode] => 2064-105584
    [Address1] => 4460 Nehe Road
    [Address2] => 
    [City] => Lihue
    [State] => HI
    [Country] => US
    [PostalCode] => 
    [Province] => 
    [Bedrooms] => 1
    [Bathrooms] => 1.5
    [Type] => Condominium
    [Area] => 
    [Location] => Garden Island Properties, LLC
    [View] => Ocean View
    [Video] => 
    [lat] => 22.03569
    [long] => -159.336952
    [map_id] => 0
    [Complex] => 11
    [Description] => Kaha Lani Unit #206, Ocean View Vacation Rental on a Beachfront Resort, Wailua, Kauai.

Save $25 booking online at Garden Island Properties website



One bedroom 1.5 Bath 2nd floor (top unit) ocean view unit overlooking the pool with hardwood floors.  Recent renovations include granite counter tops, travertine & hardwood flooring. Complimentary WiFi & Parking. King bed and queen sofa sleeper.  Offering Malie Organic body wash and shampoo!  Sleeps up to 4.



In Hawaiian, "Kaha Lani" means heavenly place. And that's what you'll find at this Kauai condo oceanfront resort. Stroll along miles of uncrowded white sand beach and lush tropical landscaping. Coconut palms rustling in the gentle trade winds. Come & enjoy the quiet privacy of this intimate condominium on beautiful Kauai's Royal Coconut Coast. Sun yourself by the swimming pool or explore the sandy shoreline; just steps away. Gas BBQ grills are located poolside, tennis courts, and coin operated washer/dryers are all available at this oceanfront Kauai vacation rental beach resort. Every condo has a full kitchen w/pots & pans, linens, towels & even beach towels are provided. Parking is free and there no resort fees. Every condo is a non-smoking unit.



Located between Wailua Golf Course on the south end and Lydgate Beach Park and Kamalani Playground to the north, this is an ideal location for the traveler wanting a vacation away from the hustle and bustle of everyday life yet just a few minutes away from town for shopping & restaurants. Walk next door to Lydgate Beach Park on the newly built walk/bike path for fantastic snorkeling and swimming in one of two lagoons. For the toddler, the baby lagoon is perfect. Walk across the beach park to Kamalani Playground which is a community built playground with it's own volcano tube! Wailua Golf Course is next door and is rated one of the top municipal golf courses in the nation. Affordable rates and one of the only golf courses on Kauai where you can walk the whole course nearby make this one of the finest Kauai vacation rentals.



Just minutes away from the Lihue Airport and the town of Kapaa make this an ideal getaway for couples or families alike. Just a few minutes away in the town of Kapaa/Wailua you will find grocery stores, boutiques, movie theatres and various first class restaurants. For the avid outdoors person, kayak up the Wailua River, hike the Sleeping Giant Trail, visit Opaekaa Falls, golf at Wailua Golf Course or just sun, swim and snorkel in your own back yard at the Kaha Lani Resort.



Garden Island Properties offers ocean-view & oceanfront one and two bedroom Kauai condo units located on the beautiful Wailua shores. Sliding glass doors open on to private lanais and to the relaxing sounds of the ocean, miles of white sandy beach, and spectacular sunrise views. A Kaha Lani vacation rental condominium is a great spot to watch whales breaching from the months of November to April. If peace & quiet is what you're searching for, this is the place. Take a sunrise walk along this beautiful Kauai coastline or go for a late evening swim. Enjoy one of Kauai's favorite "hidden secrets" at the Kaha Lani Resort! 



Holiday Rates apply 12/15 to 1/5 with a 7 night minimum stay.



TAT ID#: TA-068-487-9872-01
    [ShortDescription] => Ocean View, 1 Bedroom, 1. Bath, 2nd fl. end unit with kitchen, complimentary WiFi and parking. Steps to sandy beaches.  Relax to the sound of the ocean from your private lanai on this Beachfront Resort! King bed & sofa sleeper. Sleeps 4.
    [Sleeps] => 4
    [MaxAdult] => 0
    [Status] => Active
    [page_slug] => Kaha_Lani_Resort_206_Ocean_View_Steps_to_the_Beach_Free_Wifi_Parking-2064-105584-1
    [SEOTitle] => Kaha Lani Resort #206, Ocean View, 2nd Floor
    [SEODescription] => Kaha Lani Resort #206, Ocean View, Steps to the Beach, Free Wifi & Parking
    [Featured] => 0
    [created] => 0000-00-00 00:00:00
    [updated] => 2017-06-24 08:21:03
    [internalcode] => KL 206
    [photos] => Array
        (
            [0] => stdClass Object
                (
                    [id] => 1107945
                    [unit_id] => 75
                    [url] => https://pictures.escapia.com/GAISPR/4940600918.jpg
                    [thumb_url] => https://pictures.escapia.com/GAISPR/4940600918.jpg
                     => Ocean view
                    [sort] => 0
                )

            [1] => stdClass Object
                (
                    [id] => 1107946
                    [unit_id] => 75
                    [url] => https://pictures.escapia.com/GAISPR/8104250544.jpg
                    [thumb_url] => https://pictures.escapia.com/GAISPR/8104250544.jpg
                     => Kitchen
                    [sort] => 1
                )

            [2] => stdClass Object
                (
                    [id] => 1107947
                    [unit_id] => 75
                    [url] => https://pictures.escapia.com/GAISPR/0507280138.jpg
                    [thumb_url] => https://pictures.escapia.com/GAISPR/0507280138.jpg
                     => Living Room
                    [sort] => 2
                )

            [3] => stdClass Object
                (
                    [id] => 1107948
                    [unit_id] => 75
                    [url] => https://pictures.escapia.com/GAISPR/5656390043.jpg
                    [thumb_url] => https://pictures.escapia.com/GAISPR/5656390043.jpg
                     => 
                    [sort] => 3
                )

            [4] => stdClass Object
                (
                    [id] => 1107949
                    [unit_id] => 75
                    [url] => https://pictures.escapia.com/GAISPR/9529020449.jpg
                    [thumb_url] => https://pictures.escapia.com/GAISPR/9529020449.jpg
                     => Bedroom w/King Bed
                    [sort] => 4
                )

            [5] => stdClass Object
                (
                    [id] => 1107950
                    [unit_id] => 75
                    [url] => https://pictures.escapia.com/GAISPR/2993610294.jpg
                    [thumb_url] => https://pictures.escapia.com/GAISPR/2993610294.jpg
                     => Full Kitchen
                    [sort] => 5
                )

            [6] => stdClass Object
                (
                    [id] => 1107951
                    [unit_id] => 75
                    [url] => https://pictures.escapia.com/GAISPR/0435350352.jpg
                    [thumb_url] => https://pictures.escapia.com/GAISPR/0435350352.jpg
                     => Dining
                    [sort] => 6
                )

            [7] => stdClass Object
                (
                    [id] => 1107952
                    [unit_id] => 75
                    [url] => https://pictures.escapia.com/GAISPR/8433200577.jpg
                    [thumb_url] => https://pictures.escapia.com/GAISPR/8433200577.jpg
                     => Living Room
                    [sort] => 7
                )

            [8] => stdClass Object
                (
                    [id] => 1107953
                    [unit_id] => 75
                    [url] => https://pictures.escapia.com/GAISPR/3356830801.jpg
                    [thumb_url] => https://pictures.escapia.com/GAISPR/3356830801.jpg
                     => Master Bath
                    [sort] => 8
                )

            [9] => stdClass Object
                (
                    [id] => 1107954
                    [unit_id] => 75
                    [url] => https://pictures.escapia.com/GAISPR/9162800969.jpg
                    [thumb_url] => https://pictures.escapia.com/GAISPR/9162800969.jpg
                     => Organic Malie products provided
                    [sort] => 9
                )

            [10] => stdClass Object
                (
                    [id] => 1107955
                    [unit_id] => 75
                    [url] => https://pictures.escapia.com/GAISPR/8611840271.jpg
                    [thumb_url] => https://pictures.escapia.com/GAISPR/8611840271.jpg
                     => Ocean & Pool View Lanai
                    [sort] => 10
                )

            [11] => stdClass Object
                (
                    [id] => 1107956
                    [unit_id] => 75
                    [url] => https://pictures.escapia.com/GAISPR/2090980985.jpg
                    [thumb_url] => https://pictures.escapia.com/GAISPR/2090980985.jpg
                     => Ocean View from Lanai
                    [sort] => 11
                )

            [12] => stdClass Object
                (
                    [id] => 1107957
                    [unit_id] => 75
                    [url] => https://pictures.escapia.com/GAISPR/1854200489.jpg
                    [thumb_url] => https://pictures.escapia.com/GAISPR/1854200489.jpg
                     => 
                    [sort] => 12
                )

            [13] => stdClass Object
                (
                    [id] => 1107958
                    [unit_id] => 75
                    [url] => https://pictures.escapia.com/GAISPR/6781220980.jpg
                    [thumb_url] => https://pictures.escapia.com/GAISPR/6781220980.jpg
                     => 
                    [sort] => 13
                )

            [14] => stdClass Object
                (
                    [id] => 1107959
                    [unit_id] => 75
                    [url] => https://pictures.escapia.com/GAISPR/1653310465.jpg
                    [thumb_url] => https://pictures.escapia.com/GAISPR/1653310465.jpg
                     => 
                    [sort] => 14
                )

            [15] => stdClass Object
                (
                    [id] => 1107960
                    [unit_id] => 75
                    [url] => https://pictures.escapia.com/GAISPR/8172690150.jpg
                    [thumb_url] => https://pictures.escapia.com/GAISPR/8172690150.jpg
                     => 
                    [sort] => 15
                )

            [16] => stdClass Object
                (
                    [id] => 1107961
                    [unit_id] => 75
                    [url] => https://pictures.escapia.com/GAISPR/7525840397.jpg
                    [thumb_url] => https://pictures.escapia.com/GAISPR/7525840397.jpg
                     => 
                    [sort] => 16
                )

            [17] => stdClass Object
                (
                    [id] => 1107962
                    [unit_id] => 75
                    [url] => https://pictures.escapia.com/GAISPR/9281770522.jpg
                    [thumb_url] => https://pictures.escapia.com/GAISPR/9281770522.jpg
                     => 
                    [sort] => 17
                )

            [18] => stdClass Object
                (
                    [id] => 1107963
                    [unit_id] => 75
                    [url] => https://pictures.escapia.com/GAISPR/3491390138.jpg
                    [thumb_url] => https://pictures.escapia.com/GAISPR/3491390138.jpg
                     => Hibiscus
                    [sort] => 18
                )

            [19] => stdClass Object
                (
                    [id] => 1107964
                    [unit_id] => 75
                    [url] => https://pictures.escapia.com/GAISPR/2411850672.jpg
                    [thumb_url] => https://pictures.escapia.com/GAISPR/2411850672.jpg
                     => 
                    [sort] => 19
                )

            [20] => stdClass Object
                (
                    [id] => 1107965
                    [unit_id] => 75
                    [url] => https://pictures.escapia.com/GAISPR/0287180984.jpg
                    [thumb_url] => https://pictures.escapia.com/GAISPR/0287180984.jpg
                     => Nearby Beach
                    [sort] => 20
                )

            [21] => stdClass Object
                (
                    [id] => 1107966
                    [unit_id] => 75
                    [url] => https://pictures.escapia.com/GAISPR/9197520158.jpg
                    [thumb_url] => https://pictures.escapia.com/GAISPR/9197520158.jpg
                     => Coconut Coast Beach
                    [sort] => 21
                )

            [22] => stdClass Object
                (
                    [id] => 1107967
                    [unit_id] => 75
                    [url] => https://pictures.escapia.com/GAISPR/7113590900.jpg
                    [thumb_url] => https://pictures.escapia.com/GAISPR/7113590900.jpg
                     => Coconut Market Place
                    [sort] => 22
                )

        )

    [rates] => Array
        (
            [0] => stdClass Object
                (
                    [id] => 366034
                    [start_date] => 2017-04-01
                    [end_date] => 2017-12-14
                    [amount] => 175
                    [chargebasis] => Daily
                    [unit_id] => 75
                )

            [1] => stdClass Object
                (
                    [id] => 366035
                    [start_date] => 2017-04-01
                    [end_date] => 2017-12-14
                    [amount] => 980
                    [chargebasis] => Weekly
                    [unit_id] => 75
                )

            [2] => stdClass Object
                (
                    [id] => 366036
                    [start_date] => 2017-04-01
                    [end_date] => 2017-12-14
                    [amount] => 4200
                    [chargebasis] => Monthly
                    [unit_id] => 75
                )

            [3] => stdClass Object
                (
                    [id] => 366037
                    [start_date] => 2017-12-15
                    [end_date] => 2018-01-05
                    [amount] => 1321.6
                    [chargebasis] => Weekly
                    [unit_id] => 75
                )

        )

    [attributes] => Array
        (
            [0] => stdClass Object
                (
                    [id] => 1429031
                    [name] => Full Kitchen
                    [value] => 
                    [group] => Kitchen
                    [unit_id] => 75
                )

            [1] => stdClass Object
                (
                    [id] => 1429032
                    [name] => Coffee Maker
                    [value] => 
                    [group] => Kitchen
                    [unit_id] => 75
                )

            [2] => stdClass Object
                (
                    [id] => 1429033
                    [name] => Microwave
                    [value] => 
                    [group] => Kitchen
                    [unit_id] => 75
                )

            [3] => stdClass Object
                (
                    [id] => 1429034
                    [name] => Toaster
                    [value] => 
                    [group] => Kitchen
                    [unit_id] => 75
                )

            [4] => stdClass Object
                (
                    [id] => 1429035
                    [name] => Blender
                    [value] => 
                    [group] => Kitchen
                    [unit_id] => 75
                )

            [5] => stdClass Object
                (
                    [id] => 1429036
                    [name] => Ceiling Fans
                    [value] => 
                    [group] => Living
                    [unit_id] => 75
                )

            [6] => stdClass Object
                (
                    [id] => 1429037
                    [name] => Linens
                    [value] => 
                    [group] => Living
                    [unit_id] => 75
                )

            [7] => stdClass Object
                (
                    [id] => 1429038
                    [name] => Ironing Board
                    [value] => 
                    [group] => Living
                    [unit_id] => 75
                )

            [8] => stdClass Object
                (
                    [id] => 1429039
                    [name] => Wifi
                    [value] => 
                    [group] => Living
                    [unit_id] => 75
                )

            [9] => stdClass Object
                (
                    [id] => 1429040
                    [name] => Beach Towels
                    [value] => 
                    [group] => Living
                    [unit_id] => 75
                )

            [10] => stdClass Object
                (
                    [id] => 1429041
                    [name] => Hair Dryer
                    [value] => 
                    [group] => Living
                    [unit_id] => 75
                )

            [11] => stdClass Object
                (
                    [id] => 1429042
                    [name] => Coin Operated Laundry
                    [value] => 
                    [group] => Living
                    [unit_id] => 75
                )

            [12] => stdClass Object
                (
                    [id] => 1429043
                    [name] => Nearby Grocery
                    [value] => 
                    [group] => Convenience
                    [unit_id] => 75
                )

            [13] => stdClass Object
                (
                    [id] => 1429044
                    [name] => Golf Course
                    [value] => 
                    [group] => Convenience
                    [unit_id] => 75
                )

            [14] => stdClass Object
                (
                    [id] => 1429045
                    [name] => Nearby Restaurants & Shops
                    [value] => 
                    [group] => Convenience
                    [unit_id] => 75
                )

            [15] => stdClass Object
                (
                    [id] => 1429046
                    [name] => Nearby Luau
                    [value] => 
                    [group] => Culture
                    [unit_id] => 75
                )

            [16] => stdClass Object
                (
                    [id] => 1429047
                    [name] => Gas Grill
                    [value] => 
                    [group] => Outdoor
                    [unit_id] => 75
                )

            [17] => stdClass Object
                (
                    [id] => 1429048
                    [name] => Shared Pool
                    [value] => 
                    [group] => Outdoor
                    [unit_id] => 75
                )

            [18] => stdClass Object
                (
                    [id] => 1429049
                    [name] => Tennis
                    [value] => 
                    [group] => Outdoor
                    [unit_id] => 75
                )

            [19] => stdClass Object
                (
                    [id] => 1429050
                    [name] => Beach
                    [value] => 
                    [group] => Outdoor
                    [unit_id] => 75
                )

            [20] => stdClass Object
                (
                    [id] => 1429051
                    [name] => Beach Chairs
                    [value] => 
                    [group] => Outdoor
                    [unit_id] => 75
                )

            [21] => stdClass Object
                (
                    [id] => 1429052
                    [name] => Bike Path
                    [value] => 
                    [group] => Outdoor
                    [unit_id] => 75
                )

            [22] => stdClass Object
                (
                    [id] => 1429053
                    [name] => Lanai
                    [value] => 
                    [group] => Outdoor
                    [unit_id] => 75
                )

            [23] => stdClass Object
                (
                    [id] => 1429054
                    [name] => On Beach
                    [value] => 
                    [group] => Geographic
                    [unit_id] => 75
                )

            [24] => stdClass Object
                (
                    [id] => 1429055
                    [name] => Close to Town
                    [value] => 
                    [group] => Geographic
                    [unit_id] => 75
                )

            [25] => stdClass Object
                (
                    [id] => 1429056
                    [name] => Cable TV
                    [value] => 
                    [group] => Entertainment
                    [unit_id] => 75
                )

            [26] => stdClass Object
                (
                    [id] => 1429057
                    [name] => DVD Player
                    [value] => 
                    [group] => Entertainment
                    [unit_id] => 75
                )

        )

    [avail] => Array
        (
            [0] => stdClass Object
                (
                    [id] => 6183255
                    [start_date] => 2017-06-28
                    [end_date] => 2017-07-20
                    [unit_id] => 75
                )

            [1] => stdClass Object
                (
                    [id] => 6183256
                    [start_date] => 2017-07-26
                    [end_date] => 2017-08-02
                    [unit_id] => 75
                )

            [2] => stdClass Object
                (
                    [id] => 6183257
                    [start_date] => 2017-09-28
                    [end_date] => 2017-10-03
                    [unit_id] => 75
                )

            [3] => stdClass Object
                (
                    [id] => 6183258
                    [start_date] => 2017-10-24
                    [end_date] => 2017-11-01
                    [unit_id] => 75
                )

            [4] => stdClass Object
                (
                    [id] => 6183259
                    [start_date] => 2017-11-15
                    [end_date] => 2017-11-29
                    [unit_id] => 75
                )

            [5] => stdClass Object
                (
                    [id] => 6183260
                    [start_date] => 2017-12-24
                    [end_date] => 2018-03-07
                    [unit_id] => 75
                )

            [6] => stdClass Object
                (
                    [id] => 6183261
                    [start_date] => 2018-05-01
                    [end_date] => 2018-05-31
                    [unit_id] => 75
                )

            [7] => stdClass Object
                (
                    [id] => 6183262
                    [start_date] => 2018-12-24
                    [end_date] => 2019-03-01
                    [unit_id] => 75
                )

        )

    [reviews] => Array
        (
            [0] => stdClass Object
                (
                    [id] => 29410
                    [external_id] => d7470656-27a7-4030-a08d-9d17e890277e
                    [prop_id] => 75
                    [review_id] => 0
                    [source] => Escapia
                    [title] => Love the view
                    [review] => Great view. Tough to get suitcases to second floor. Unit is clean. Stayed there 2 years ago and furnishings are showing wear and tear and need to be updated. Needs paint and window treatments are very basic and cheap. A bucket behind the front door with brooms and mops in it? Too much personal stuff in the unit. Tooooo many dishes, glasses and bowls. No non stick fry pan. No air conditioning! Very humid at night. Hard to sleep. The complex is very well cared for. Pool, lawns, laundry all immaculate. Visible security team also. Can't beat the view! People think I sent them a picture postcard.
                    [name] => Bob C.
                    [email] => brookfieldnews@aol.com
                    [location] => 
                    [response] => 
                    [rating] => 4
                    [review_date] => 2017-03-31
                    [status] => 1
                    [checkin_date] => 2017-03-13
                    [nights_stayed] => 14
                    [meta] => Array
                        (
                        )

                )

            [1] => stdClass Object
                (
                    [id] => 29411
                    [external_id] => b1394c78-e3dd-40c0-ad58-f2a0b390bf36
                    [prop_id] => 75
                    [review_id] => 0
                    [source] => Escapia
                    [title] => Kauia
                    [review] => Very lovely great location well stocked condo
                    [name] => James M.
                    [email] => macgreen23@gmail.com
                    [location] => 
                    [response] => 
                    [rating] => 5
                    [review_date] => 2017-03-16
                    [status] => 1
                    [checkin_date] => 2017-03-08
                    [nights_stayed] => 4
                    [meta] => Array
                        (
                        )

                )

            [2] => stdClass Object
                (
                    [id] => 29415
                    [external_id] => ef97bbd6-c803-4a1e-b2f2-045208aebec4
                    [prop_id] => 75
                    [review_id] => 0
                    [source] => Escapia
                    [title] => Christmas in Kauai
                    [review] => This vacation rental is in a great location, being centrally located on the island and with ocean view. It is also spacious for four people compared to many other four person condos we have stayed in. That being said, it is outdated, needing fresh paint, bathroom remodeling to create counter space and updated decor for the walls. Feels outdated. The kitchen is not stocked appropriately. There was no whisk, cookie sheets (for pizzas and other items) or BBQ utensils for the grill. There were also no serving utensils like large spoons/fork etc for serving meals. Owner was agreeable to allowing us to bring our exchange student as a fifth guest at the last minute (for an extra $200) as an air mattress is available and much more comfortable than the hide-a-bed couch. Also important to note is that the owners below are very grumpy and overly sensitive to noise as they came knocking on our door at only 10pm to tell us to quiet down so walk gingerly and keep voices low.
                    [name] => 
                    [email] => jenn4evr@comcast.net
                    [location] => 
                    [response] => 
                    [rating] => 4
                    [review_date] => 2017-01-03
                    [status] => 1
                    [checkin_date] => 2016-12-24
                    [nights_stayed] => 7
                    [meta] => Array
                        (
                        )

                )

            [3] => stdClass Object
                (
                    [id] => 29413
                    [external_id] => b915d189-55d1-4dcf-8caf-76efc933df28
                    [prop_id] => 75
                    [review_id] => 0
                    [source] => Escapia
                    [title] => Wonderful Experience!
                    [review] => We stayed for two weeks in unit #206 and overall were very pleased with the comfort it provided us for that long a period of time. The kitchen was very well equipped (could use a new vegetable peeler!), and the living room area provided a gorgeous view every morning of many amazing sunrises! We always had a nice breeze blowing through the slider and front louvered windows, and there is a good upright air conditioner in the bedroom, which helped for night sleeping. Be prepared for a "dampish" feeling throughout, however. The bed provided a good night's sleep, and we appreciated having the two bathrooms. We ended up staying "home" and using the condo often - the grounds were beautiful - and beautifully maintained - and you could see and hear the ocean surf! Beautiful spot! It was so nice to have such easy access to the walk/bike-way between the resort and the ocean, and we walked it often! Lydgate park was only a 5-10 minute walk away and is great for swimming. We also liked that the resort was off the beaten path as it provided the quieter, more "get-away" atmosphere that we relished! Grocery stores and shopping were about a 10 minute drive, which was never a hardship. Conveniently located on the island, and we covered it all! One "fix-it" comment - the slider screen should be re-screened, as the screen has pulled away from the frame. Same to a certain degree with the window screens on either side of the slider. Otherwise everything was in good working order and it was a very positive experience!
                    [name] => 
                    [email] => twedt.lb@gmail.com
                    [location] => 
                    [response] => 
                    [rating] => 4
                    [review_date] => 2016-11-11
                    [status] => 1
                    [checkin_date] => 2016-10-18
                    [nights_stayed] => 14
                    [meta] => Array
                        (
                        )

                )

            [4] => stdClass Object
                (
                    [id] => 29414
                    [external_id] => e952f3e2-4b40-40a2-8243-16726dc18bce
                    [prop_id] => 75
                    [review_id] => 0
                    [source] => Escapia
                    [title] => Loved No 206 at Kaha Lani Resort
                    [review] => Our stay in Unit 206 at Kaha Lani was wonderful. The location of 206 is perfect with breathtaking sunrise views and being an end unit is an added plus. The condo was furnished nicely and the kitchen is very well equipped with dishes, glasses, utensils, blender coffeemaker and pots and pans. It was especially helpful having additional bedroom fans as we adjusted to humidity.  It was nice having and extra bathroom.  The king size bed was comfortable. The beach was fabulous and almost private and just steps from our condo. The pool was delightful, and very well maintained and clean. Loved the gas grills for grilling. At night the tiki lights created a beautiful setting with the palm trees and ocean view.  We will definitely book No 206 at Kaha Lani on our next visit to Kauai.  The owners were proactive in recommending this unit when our original booking at Kapaa Shore Resort would not have been ideal due to a nearby remodel.
beautiful setting. 
                    [name] => Portet P.
                    [email] => plpierce@comcast.net
                    [location] => 
                    [response] => 
                    [rating] => 5
                    [review_date] => 2016-10-15
                    [status] => 1
                    [checkin_date] => 2016-10-04
                    [nights_stayed] => 9
                    [meta] => Array
                        (
                        )

                )

            [5] => stdClass Object
                (
                    [id] => 29412
                    [external_id] => d266d725-cbb2-4d55-b3ae-2fc60312f01a
                    [prop_id] => 75
                    [review_id] => 0
                    [source] => Escapia
                    [title] => Kaha Lani Resort #206
                    [review] => Inspite of earlier frustration about the missing key, we had a wonderful time. View was nice. Beach chairs and cooler were provided. Kitchen was well equipped. It is time to upgrade the sofa set and bed. 
                    [name] => Mary J.
                    [email] => campingusa04@yahoo.com
                    [location] => 
                    [response] => 
                    [rating] => 4
                    [review_date] => 2016-07-03
                    [status] => 1
                    [checkin_date] => 2016-06-18
                    [nights_stayed] => 7
                    [meta] => Array
                        (
                        )

                )

            [6] => stdClass Object
                (
                    [id] => 28908
                    [external_id] => 9ccaa524-28dc-4d7b-8c21-88a04ec043e5
                    [prop_id] => 75
                    [review_id] => 0
                    [source] => Escapia
                    [title] => Fabulous
                    [review] => Check in, check out was smooth - great unit.  
                    [name] => Elaine S.
                    [email] => etsvetich@gmail.com
                    [location] => 
                    [response] => Aloha and thank you for your review.  We are so happy you found a "home" in this unit for your month stay.  We look forward to having you stay with us again.  Mahalo, Garden Island Properties LLC
                    [rating] => 5
                    [review_date] => 2016-05-28
                    [status] => 1
                    [checkin_date] => 2016-05-10
                    [nights_stayed] => 15
                    [meta] => Array
                        (
                        )

                )

            [7] => stdClass Object
                (
                    [id] => 29416
                    [external_id] => 51c76604-3211-4023-8b55-e2927f1726ce
                    [prop_id] => 75
                    [review_id] => 0
                    [source] => Escapia
                    [title] => Great place. views wonderful. bbq was a fun time every night. 
                    [review] => The only problem was the T.V. the tuner was very confusing.We gave up and just relaxed. Will return again.
                    [name] => Margaret V.
                    [email] => fmvan2@aol.com
                    [location] => 
                    [response] => 
                    [rating] => 5
                    [review_date] => 2016-04-09
                    [status] => 1
                    [checkin_date] => 2016-03-31
                    [nights_stayed] => 7
                    [meta] => Array
                        (
                        )

                )

        )

    [rateaddons] => Array
        (
        )

    [unit_meta] => Array
        (
            [0] => stdClass Object
                (
                    [id] => 486898
                    [unit_id] => 75
                    [key] => Custom1
                    [value] => KHL_206
                )

            [1] => stdClass Object
                (
                    [id] => 486899
                    [unit_id] => 75
                    [key] => Custom2
                    [value] => 8088222449
                )

            [2] => stdClass Object
                (
                    [id] => 486900
                    [unit_id] => 75
                    [key] => Custom3
                    [value] => 5216
                )

            [3] => stdClass Object
                (
                    [id] => 486901
                    [unit_id] => 75
                    [key] => DisplayRate
                    [value] => Starting From $140 per night
                )

            [4] => stdClass Object
                (
                    [id] => 486902
                    [unit_id] => 75
                    [key] => Location
                    [value] => Wailua
                )

            [5] => stdClass Object
                (
                    [id] => 486903
                    [unit_id] => 75
                    [key] => LocationField
                    [value] => Garden Island Properties, LLC
                )

            [6] => stdClass Object
                (
                    [id] => 486904
                    [unit_id] => 75
                    [key] => Property Type
                    [value] => Condo
                )

            [7] => stdClass Object
                (
                    [id] => 486905
                    [unit_id] => 75
                    [key] => View
                    [value] => Ocean View
                )

            [8] => stdClass Object
                (
                    [id] => 486906
                    [unit_id] => 75
                    [key] => MinLOS
                    [value] => 4
                )

            [9] => stdClass Object
                (
                    [id] => 486907
                    [unit_id] => 75
                    [key] => StayContext
                    [value] => Checkin
                )

            [10] => stdClass Object
                (
                    [id] => 486908
                    [unit_id] => 75
                    [key] => StayDays
                    [value] => a:7:{i:0;s:3:"Mon";i:1;s:3:"Tue";i:2;s:4:"Weds";i:3;s:4:"Thur";i:4;s:3:"Fri";i:5;s:3:"Sat";i:6;s:3:"Sun";}
                )

            [11] => stdClass Object
                (
                    [id] => 486909
                    [unit_id] => 75
                    [key] => Agreement
                    [value] => GUEST AGREEMENT 
RELATES TO ALL PROPERTIES. PLEASE READ THIS CONTRACT CAREFULLY. 
BY CLICKING ON THE ACCEPT BUTTON YOU (either an individual or a single entity) AGREE THAT THIS AGREEMENT IS ENFORCEABLE LIKE ANY WRITTEN CONTRACT SIGNED BY YOU. 
 
SECURITY 
                )

        )

    [minnights] => Array
        (
            [0] => stdClass Object
                (
                    [id] => 369925
                    [start_date] => 2017-04-01
                    [end_date] => 2017-12-14
                    [prop_id] => 75
                    [nights] => 4
                )

            [1] => stdClass Object
                (
                    [id] => 369926
                    [start_date] => 2017-04-01
                    [end_date] => 2017-12-14
                    [prop_id] => 75
                    [nights] => 7
                )

            [2] => stdClass Object
                (
                    [id] => 369927
                    [start_date] => 2017-04-01
                    [end_date] => 2017-12-14
                    [prop_id] => 75
                    [nights] => 30
                )

            [3] => stdClass Object
                (
                    [id] => 369928
                    [start_date] => 2017-12-15
                    [end_date] => 2018-01-05
                    [prop_id] => 75
                    [nights] => 7
                )

        )

    [manager] => stdClass Object
        (
            [id] => 1
            [ManagerID] => 1
            [Name] => Escapia
            [Vendor] => Escapia
            [Contract] => 
            [random] => 0
            [pms] => 
            [last_update] => 0000-00-00 00:00:00
        )

    [flipkey] => 
    [additonal] => stdClass Object
        (
            [Custom1] => KHL_206
            [Custom2] => 8088222449
            [Custom3] => 5216
            [DisplayRate] => Starting From $140 per night
            [Location] => Wailua
            [LocationField] => Garden Island Properties, LLC
            [Property Type] => Condo
            [View] => Ocean View
            [MinLOS] => 4
            [StayContext] => Checkin
            [StayDays] => Array
                (
                    [0] => Mon
                    [1] => Tue
                    [2] => Weds
                    [3] => Thur
                    [4] => Fri
                    [5] => Sat
                    [6] => Sun
                )

            [Agreement] => GUEST AGREEMENT 
RELATES TO ALL PROPERTIES. PLEASE READ THIS CONTRACT CAREFULLY. 
BY CLICKING ON THE ACCEPT BUTTON YOU (either an individual or a single entity) AGREE THAT THIS AGREEMENT IS ENFORCEABLE LIKE ANY WRITTEN CONTRACT SIGNED BY YOU. 
 
SECURITY 
        )

    [checkinout] => Array
        (
        )

    [special] => Array
        (
        )

    [hasSpecial] => 
)
                    
Holiday Rates apply between 12/15 - 1/5