plantation hale suites d13, near shops, restaurants & beaches, ac in unit
1 Bedroom(s) | 1 Bathroom(s) | Sleeps 4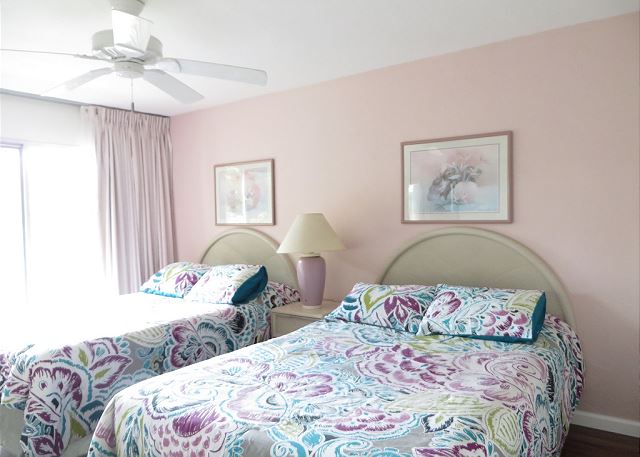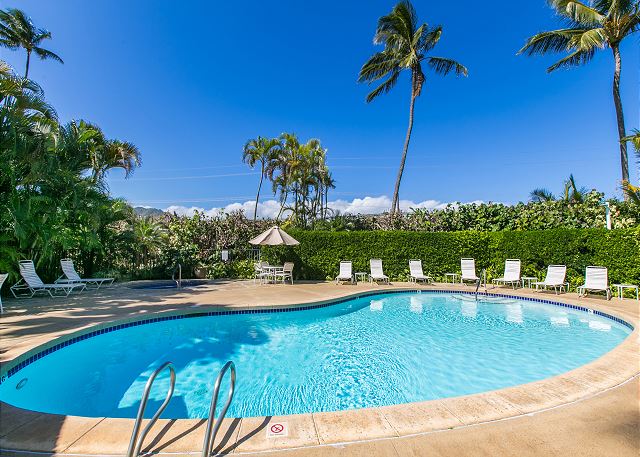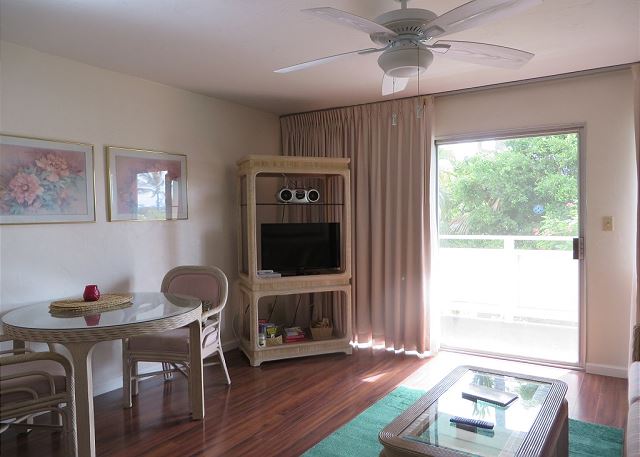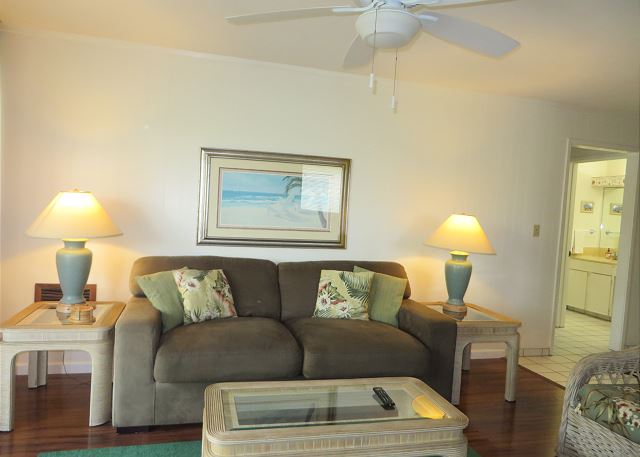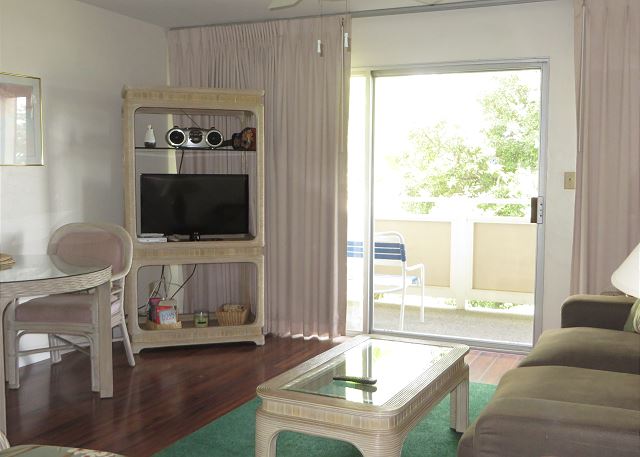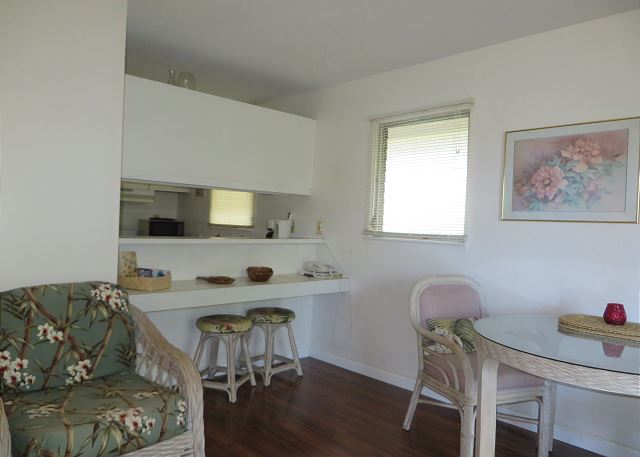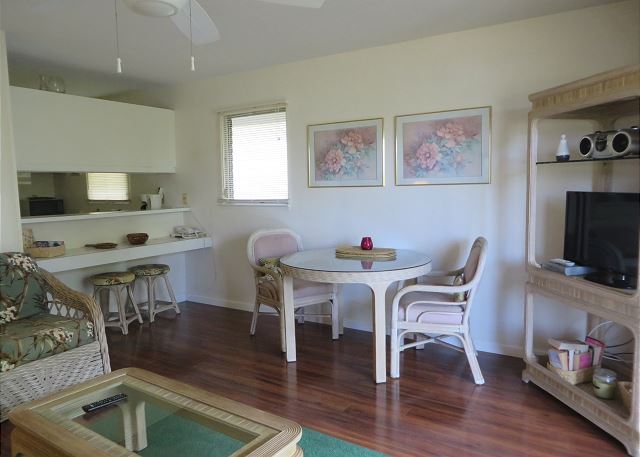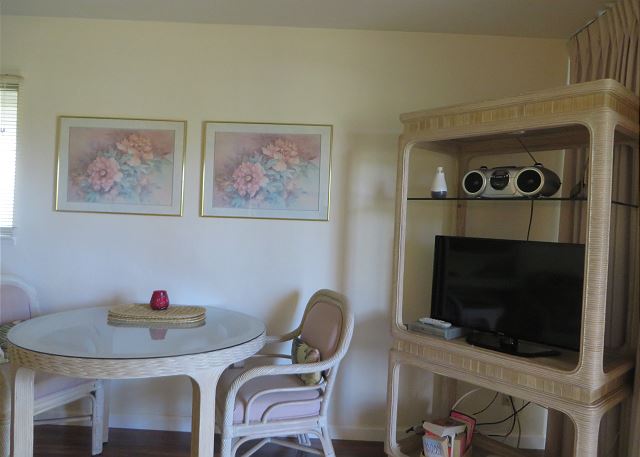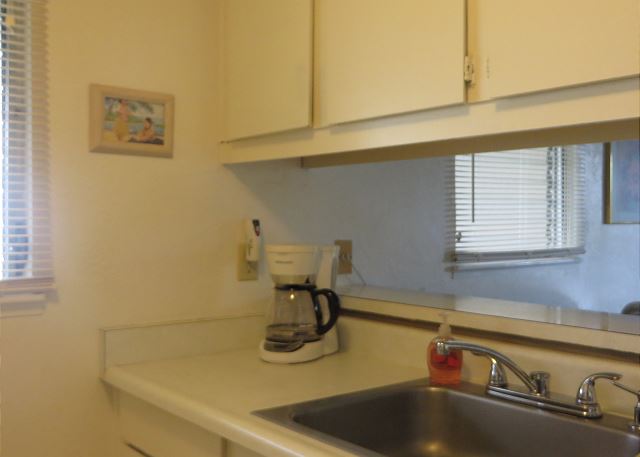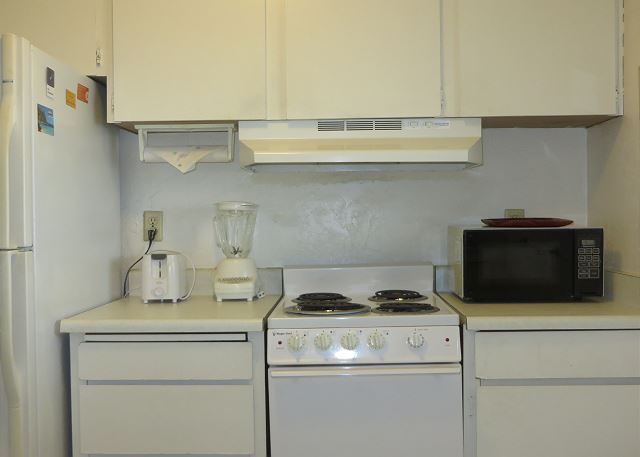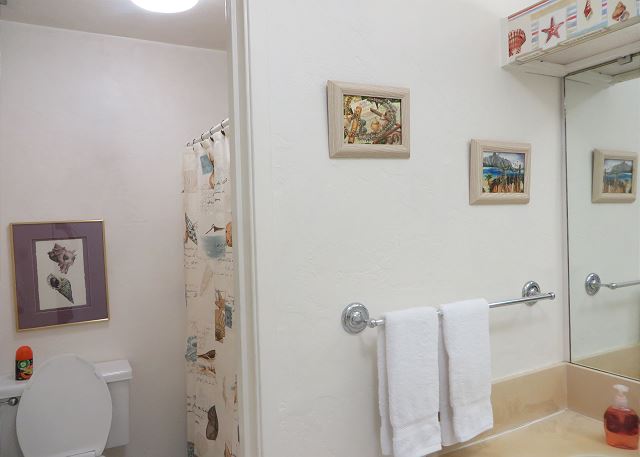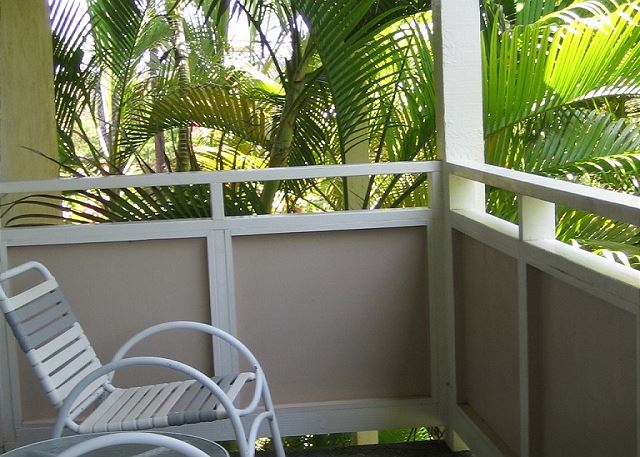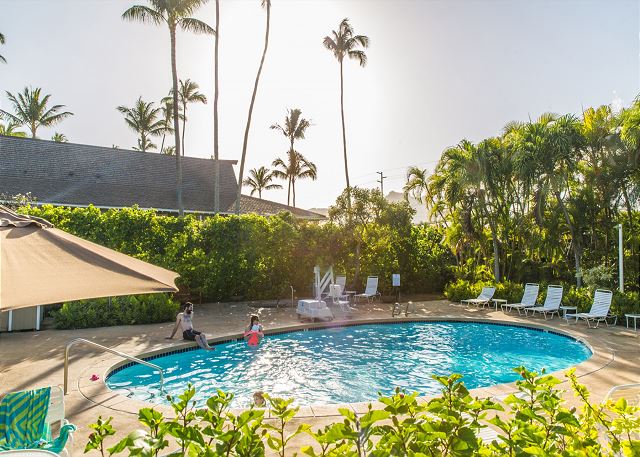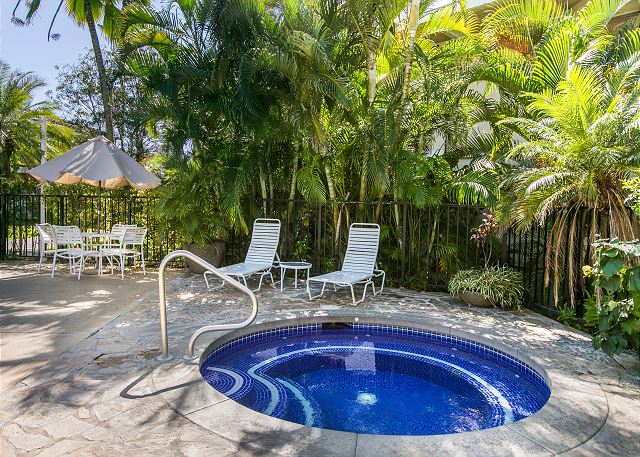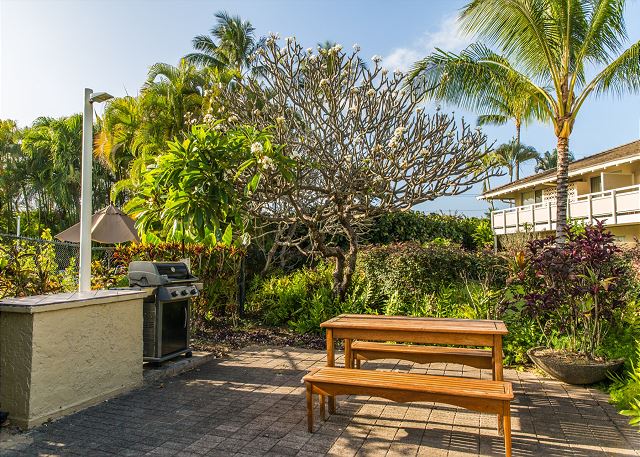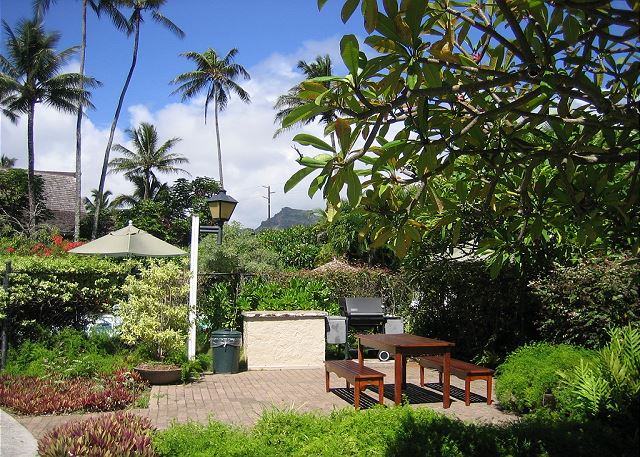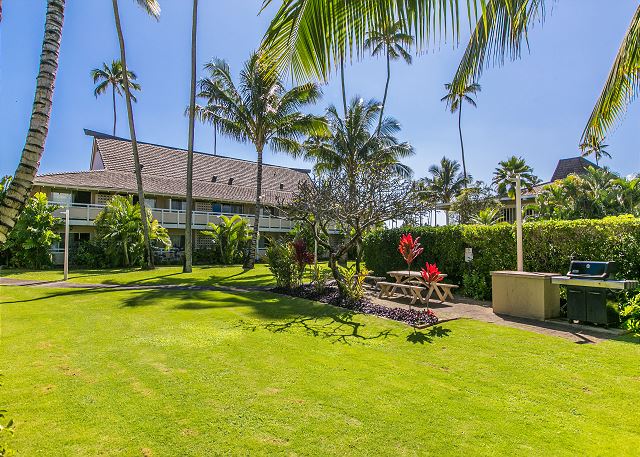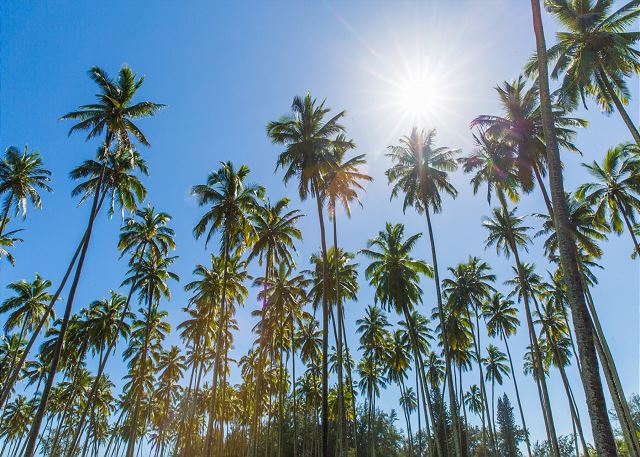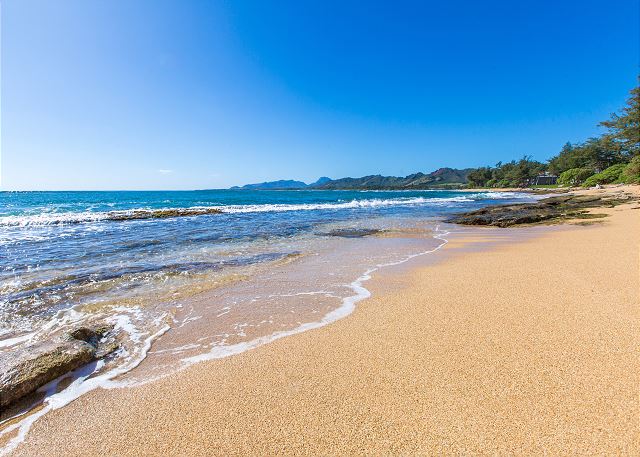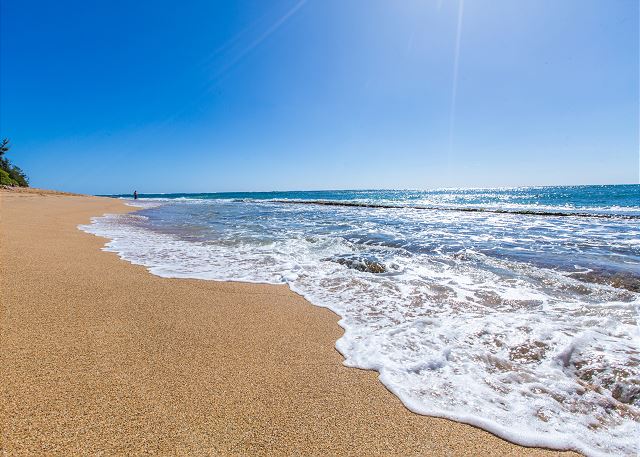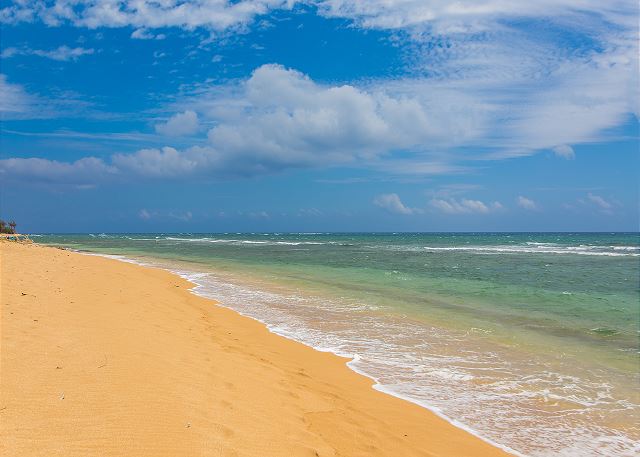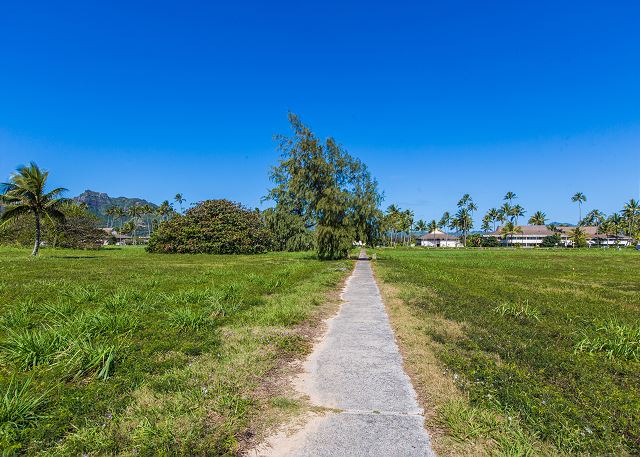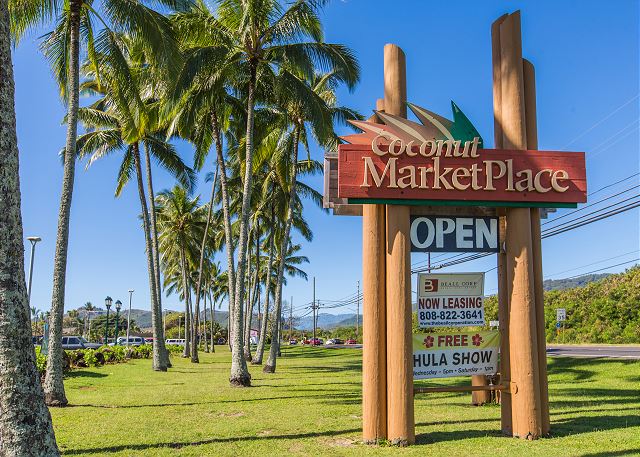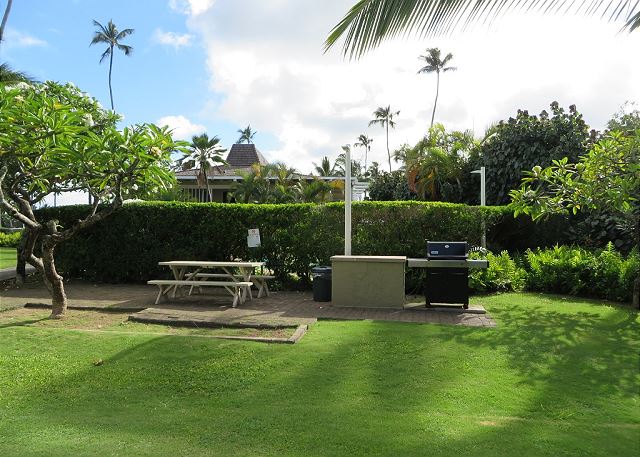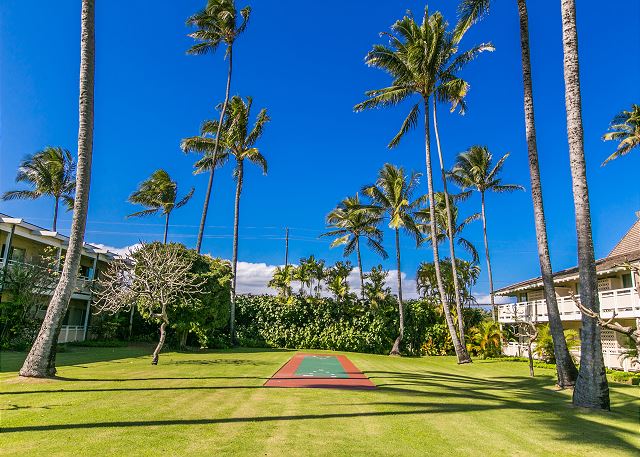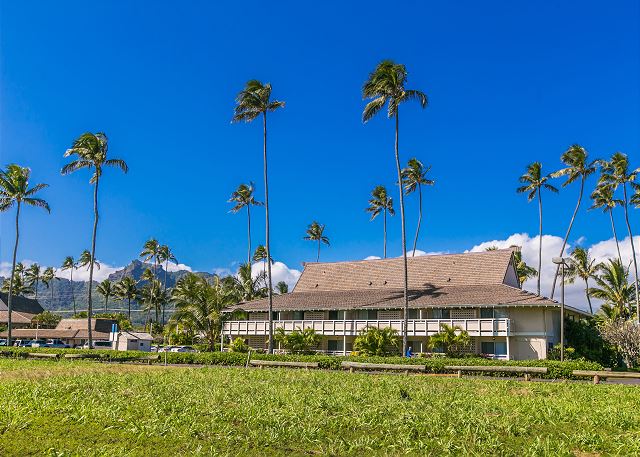 Plantation Hale Suites Unit D13, Air Conditioned! Royal Coconut Coast, Wailua, Kauai Vacation Rental

Save $25 by booking online at the Garden Island Properties website.

Two double beds and sofa sleeper. Sleeps 4.

Full kitchen, complimentary wifi and parking, AC in bedroom.

The perfect Kauai vacation rental for the budget minded traveler. All vacation rental units have spacious bedrooms, are non-smoking, air conditioned, fully furnished, full kitchens, 2 TVs and (1) DVD in each fully furnished condo. Enjoy the convenience of on site laundry facilities, complimentary internet usage and free parking. There are 3 outdoor swimming pools, whirlpool spas, central laundry facilities, barbecue areas, shuffle board, putting green and challenging Wailua Golf Course is only one mile away.

The Plantation Hale Suites is located on Kauai's scenic Royal Coconut Coast. 10 steps to the Coconut Plantation Marketplace featuring a variety of shops and family-style restaurants. 100 yards to Waipouli Beach. 15 minutes North of Lihue Airport. Just one mile to Lydgate Beach Park. Two miles to Wailua Municipal Golf Course and the Wailua River/Fern Grotto. One block from Kapaa town with its wide variety of boutiques and shops, art galleries, and cafes. Midway between Poipu and Hanalei Bay and Princeville.

Plantation Hale Suites is Kauai's best value vacation rental. A Hawaiian Plantation style and affordably priced for the family wanting to experience an unforgettable Kauai vacation! "Absolutely Wonderful Value", "Great Value-location" Trip Advisor members state about this Kauai vacation rental!

**This property is listed for sale. 48 hr. notice request for showing.**

Holiday Rates apply 12/15-1/5 with a 7 night minimum stay.

Hawaii State Tax ID: TA-100-246-3232-01
Amenities

Cookware
Full Kitchen
Refrigerator
Coffee Maker
Microwave
Toaster
Blender
Air Conditioning
Ceiling Fans
Linens
Ironing Board
Wifi
Beach Towels
Hair Dryer
This property is listed for sale
48 hr notice request for showing
Nearby Grocery
Nearby Restaurants & Shops
Nearby Luau
Gas Grill
Hot Tub
Shared Pool
Beach Chairs
Bike Path
Lanai
Near Beach
Close to Town
Cable TV
DVD Player
---
Comfortable apartment
Aug 25, 2017
It is a comfortable apartment, a bit outdated in a good location to explore North and South of the island. Swimming pool, jacuzzi and grills in the common area are great. I would recommend it.
---
This was a good experience
Aug 08, 2017
The property had all of the amenities listed, and it was great for my needs. One gripe is that the AC wasn't as good, but it wasn't enough to make me dislike the property.
---
Great value
Jul 14, 2017
...
---
Good Location Relaxed condo
May 24, 2017
This is pretty much between southern & northern Beaches.The condo is spacious but a-bit tired.It seems to be a very good value for the price.Nice lani & great Pool & Hot Tub.
---
April 2017
Apr 24, 2017
Loved the location-centrally located to go anywhere on the island. Enjoyed the quiet relaxing getaway.
---
Spacious &Well Equipped
Feb 26, 2017
Location was walking distance to Foodland & Safeway (approx 10 minutes 1 way). It is about 150 yards to the beach across a vacant lot through an opening in a 10 ft high plywood fence. Nearby beach not very good and view from the property is mostly fence. Eventually another property will build on the vacant lot and the property will become second row. Lydgate Beach is beautiful and only a 5 minute drive away. It is about a 20 minute walk to the start of the paved beach bike/walk path that follows the coastline and is well worth spending time enjoying. The unit included very good Tommy Bahama reclining beach chairs and a cooler to use for your outings. Well appreciated. The kitchen cabinets/counters were older as were the appliances but everything worked well including the built in ice-maker in the fridge. Lots of sharp knives and very well equipped kitchen for making meals if you choose to do so. The bathroom has older cabinets as well but a new counter, sink, and toilet. Lots of room as well. The bedroom has 2 double beds has lots of room. Could use some better lighting if you like to read in bed. Good blackout curtains but this is an end unit right next to the highway so you do get quite a bit of road noise. The newer laminate flooring is great and makes the unit easy to maintain that clean feeling. The a/c worked well but awe didn't need it most nights as the evenings cool off nicely. At check in there was a minor delay as the property manager did not let the front desk know that we were expected but this was cleared up very quickly. The wi-fi info provided did not work initially but the proper password info was sent by text to us promptly after texting the problem to the property manager even though it was after business hours. Good to know that they monitor and rectify after hour concerns quickly. The pools, hot tub and BBQ were all well maintained.I would return. T
---
Nice and enjoyable stay
Feb 16, 2017
The property was as described. The din of the road noise is noisy at times. Garden Island properties was exemplary in responding to information and requests.
---
Ok nice location
Oct 14, 2016
The room could have been cleaner. The stove is almost unusable as the burners set crooked and Had trouble keeping the pans with hot food or water on the stove. The cockroaches are very bold and would walk across the wall and onto the table when I was eating. You might want to look at the blender as it seems to have a short shaking it makes it work.
---
Papa'a in Kapa'a
Jun 28, 2016
Nice stay, pools and landscaping was well kept. Condo was clean and nice. 1 of 2 outdoor grills is very old and needs replace. Great place to stay.
---
Good value as a budget location
Apr 08, 2016
The property was just as advertised, and you get what you pay for. The kitchen was very old and the beds were not overly comfortable, but the room was very clean (except the top of the fridge) and there was lots of space. The two TVs were new, and there was great Wifi in the room. The pools were clean and not busy as well. I would just recommend spending a bit to update the beds and pillows as well as some of the kitchen pots and so on. For the very reasonable price charged though, I thought there was good value. As long as you don't expect too much, this is a good place to stay - lots of road noise, but you can't do much about that.
---
Everything is great except
Dec 29, 2015
one night, a cockroach climbed on my hand when I was sleeping and scared me out of my bed.
Book Your Stay!
Select your arrival and departure dates below to reserve this unit.


September 2017

| S | M | T | W | T | F | S |
| --- | --- | --- | --- | --- | --- | --- |
| | | | | | 01 | 02 |
| 03 | 04 | 05 | 06 | 07 | 08 | 09 |
| 10 | 11 | 12 | 13 | 14 | 15 | 16 |
| 17 | 18 | 19 | 20 | 21 | 22 | 23 |
| 24 | 25 | 26 | 27 | 28 | 29 | 30 |
October 2017

| S | M | T | W | T | F | S |
| --- | --- | --- | --- | --- | --- | --- |
| 01 | 02 | 03 | 04 | 05 | 06 | 07 |
| 08 | 09 | 10 | 11 | 12 | 13 | 14 |
| 15 | 16 | 17 | 18 | 19 | 20 | 21 |
| 22 | 23 | 24 | 25 | 26 | 27 | 28 |
| 29 | 30 | 31 | | | | |
November 2017

| S | M | T | W | T | F | S |
| --- | --- | --- | --- | --- | --- | --- |
| | | | 01 | 02 | 03 | 04 |
| 05 | 06 | 07 | 08 | 09 | 10 | 11 |
| 12 | 13 | 14 | 15 | 16 | 17 | 18 |
| 19 | 20 | 21 | 22 | 23 | 24 | 25 |
| 26 | 27 | 28 | 29 | 30 | | |
December 2017

| S | M | T | W | T | F | S |
| --- | --- | --- | --- | --- | --- | --- |
| | | | | | 01 | 02 |
| 03 | 04 | 05 | 06 | 07 | 08 | 09 |
| 10 | 11 | 12 | 13 | 14 | 15 | 16 |
| 17 | 18 | 19 | 20 | 21 | 22 | 23 |
| 24 | 25 | 26 | 27 | 28 | 29 | 30 |
| 31 | | | | | | |
January 2018

| S | M | T | W | T | F | S |
| --- | --- | --- | --- | --- | --- | --- |
| | 01 | 02 | 03 | 04 | 05 | 06 |
| 07 | 08 | 09 | 10 | 11 | 12 | 13 |
| 14 | 15 | 16 | 17 | 18 | 19 | 20 |
| 21 | 22 | 23 | 24 | 25 | 26 | 27 |
| 28 | 29 | 30 | 31 | | | |
February 2018

| S | M | T | W | T | F | S |
| --- | --- | --- | --- | --- | --- | --- |
| | | | | 01 | 02 | 03 |
| 04 | 05 | 06 | 07 | 08 | 09 | 10 |
| 11 | 12 | 13 | 14 | 15 | 16 | 17 |
| 18 | 19 | 20 | 21 | 22 | 23 | 24 |
| 25 | 26 | 27 | 28 | | | |
March 2018

| S | M | T | W | T | F | S |
| --- | --- | --- | --- | --- | --- | --- |
| | | | | 01 | 02 | 03 |
| 04 | 05 | 06 | 07 | 08 | 09 | 10 |
| 11 | 12 | 13 | 14 | 15 | 16 | 17 |
| 18 | 19 | 20 | 21 | 22 | 23 | 24 |
| 25 | 26 | 27 | 28 | 29 | 30 | 31 |
April 2018

| S | M | T | W | T | F | S |
| --- | --- | --- | --- | --- | --- | --- |
| 01 | 02 | 03 | 04 | 05 | 06 | 07 |
| 08 | 09 | 10 | 11 | 12 | 13 | 14 |
| 15 | 16 | 17 | 18 | 19 | 20 | 21 |
| 22 | 23 | 24 | 25 | 26 | 27 | 28 |
| 29 | 30 | | | | | |
May 2018

| S | M | T | W | T | F | S |
| --- | --- | --- | --- | --- | --- | --- |
| | | 01 | 02 | 03 | 04 | 05 |
| 06 | 07 | 08 | 09 | 10 | 11 | 12 |
| 13 | 14 | 15 | 16 | 17 | 18 | 19 |
| 20 | 21 | 22 | 23 | 24 | 25 | 26 |
| 27 | 28 | 29 | 30 | 31 | | |
June 2018

| S | M | T | W | T | F | S |
| --- | --- | --- | --- | --- | --- | --- |
| | | | | | 01 | 02 |
| 03 | 04 | 05 | 06 | 07 | 08 | 09 |
| 10 | 11 | 12 | 13 | 14 | 15 | 16 |
| 17 | 18 | 19 | 20 | 21 | 22 | 23 |
| 24 | 25 | 26 | 27 | 28 | 29 | 30 |
July 2018

| S | M | T | W | T | F | S |
| --- | --- | --- | --- | --- | --- | --- |
| 01 | 02 | 03 | 04 | 05 | 06 | 07 |
| 08 | 09 | 10 | 11 | 12 | 13 | 14 |
| 15 | 16 | 17 | 18 | 19 | 20 | 21 |
| 22 | 23 | 24 | 25 | 26 | 27 | 28 |
| 29 | 30 | 31 | | | | |
August 2018

| S | M | T | W | T | F | S |
| --- | --- | --- | --- | --- | --- | --- |
| | | | 01 | 02 | 03 | 04 |
| 05 | 06 | 07 | 08 | 09 | 10 | 11 |
| 12 | 13 | 14 | 15 | 16 | 17 | 18 |
| 19 | 20 | 21 | 22 | 23 | 24 | 25 |
| 26 | 27 | 28 | 29 | 30 | 31 | |
September 2018

| S | M | T | W | T | F | S |
| --- | --- | --- | --- | --- | --- | --- |
| | | | | | | 01 |
| 02 | 03 | 04 | 05 | 06 | 07 | 08 |
| 09 | 10 | 11 | 12 | 13 | 14 | 15 |
| 16 | 17 | 18 | 19 | 20 | 21 | 22 |
| 23 | 24 | 25 | 26 | 27 | 28 | 29 |
| 30 | | | | | | |
October 2018

| S | M | T | W | T | F | S |
| --- | --- | --- | --- | --- | --- | --- |
| | 01 | 02 | 03 | 04 | 05 | 06 |
| 07 | 08 | 09 | 10 | 11 | 12 | 13 |
| 14 | 15 | 16 | 17 | 18 | 19 | 20 |
| 21 | 22 | 23 | 24 | 25 | 26 | 27 |
| 28 | 29 | 30 | 31 | | | |
November 2018

| S | M | T | W | T | F | S |
| --- | --- | --- | --- | --- | --- | --- |
| | | | | 01 | 02 | 03 |
| 04 | 05 | 06 | 07 | 08 | 09 | 10 |
| 11 | 12 | 13 | 14 | 15 | 16 | 17 |
| 18 | 19 | 20 | 21 | 22 | 23 | 24 |
| 25 | 26 | 27 | 28 | 29 | 30 | |
December 2018

| S | M | T | W | T | F | S |
| --- | --- | --- | --- | --- | --- | --- |
| | | | | | | 01 |
| 02 | 03 | 04 | 05 | 06 | 07 | 08 |
| 09 | 10 | 11 | 12 | 13 | 14 | 15 |
| 16 | 17 | 18 | 19 | 20 | 21 | 22 |
| 23 | 24 | 25 | 26 | 27 | 28 | 29 |
| 30 | 31 | | | | | |
Available
Unavailable
Check-In Only
Check-Out Only
Seasonal Rates
Starting from $88 per night

                    stdClass Object
(
    [id] => 70
    [ManagerID] => 1
    [ComplexID] => 0
    [Name] => Plantation Hale Suites D13, Near shops, restaurants & beaches, AC in Unit
    [PropertyCode] => 2064-105607
    [Address1] => 525 Aleka Loop
    [Address2] => 
    [City] => Kapaa
    [State] => HI
    [Country] => US
    [PostalCode] => 
    [Province] => 
    [Bedrooms] => 1
    [Bathrooms] => 1
    [Type] => Condominium
    [Area] => 
    [Location] => Garden Island Properties, LLC
    [View] => Garden View
    [Video] => 
    [lat] => 22.056296
    [long] => -159.325671
    [map_id] => 0
    [Complex] => 98
    [Description] => Plantation Hale Suites Unit D13, Air Conditioned!  Royal Coconut Coast, Wailua, Kauai Vacation Rental

Save $25 by booking online at the Garden Island Properties website.

Two double beds and sofa sleeper. Sleeps 4.

Full kitchen, complimentary wifi and parking, AC in bedroom.

The perfect Kauai vacation rental for the budget minded traveler. All vacation rental units have spacious bedrooms, are non-smoking, air conditioned, fully furnished, full kitchens, 2 TVs and (1) DVD in each fully furnished condo. Enjoy the convenience of on site laundry facilities, complimentary internet usage and free parking. There are 3 outdoor swimming pools, whirlpool spas, central laundry facilities, barbecue areas, shuffle board, putting green and challenging Wailua Golf Course is only one mile away. 

The Plantation Hale Suites is located on Kauai's scenic Royal Coconut Coast. 10 steps to the Coconut Plantation Marketplace featuring a variety of shops and family-style restaurants. 100 yards to Waipouli Beach. 15 minutes North of Lihue Airport. Just one mile to Lydgate Beach Park. Two miles to Wailua Municipal Golf Course and the Wailua River/Fern Grotto. One block from Kapaa town with its wide variety of boutiques and shops, art galleries, and cafes. Midway between Poipu and Hanalei Bay and Princeville.

Plantation Hale Suites is Kauai's best value vacation rental. A Hawaiian Plantation style and affordably priced for the family wanting to experience an unforgettable Kauai vacation!  "Absolutely Wonderful Value", "Great Value-location" Trip Advisor members state about this Kauai vacation rental!

**This property is listed for sale.  48 hr. notice request for showing.**

Holiday Rates apply 12/15-1/5 with a 7 night minimum stay.

Hawaii State Tax ID:  TA-100-246-3232-01
    [ShortDescription] => 1 Bedroom, 1 Bath, 2nd floor, Garden View end unit, AC in BR, Full Kitchen, Complimentary Wifi & Parking.  New Flooring! 2 Double beds & Full sofa sleeper.  Sleeps 4.
    [Sleeps] => 4
    [MaxAdult] => 0
    [Status] => Active
    [page_slug] => Plantation_Hale_Suites_D13_Near_shops_restaurants_beaches_AC_in_Unit-2064-105607-1
    [SEOTitle] => Plantation Hale D13, Garden View, 2nd Floor End Unit
    [SEODescription] => Plantation Hale Suites D13, Near shops, restaurants & beaches, AC in Unit
    [Featured] => 0
    [created] => 0000-00-00 00:00:00
    [updated] => 2017-09-19 08:14:46
    [internalcode] => PLAN D13
    [photos] => Array
        (
            [0] => stdClass Object
                (
                    [id] => 1338784
                    [unit_id] => 70
                    [url] => https://pictures.escapia.com/GAISPR/0285920896.jpg
                    [thumb_url] => https://pictures.escapia.com/GAISPR/0285920896.jpg
                     => 2 Full Size Beds
                    [sort] => 0
                )

            [1] => stdClass Object
                (
                    [id] => 1338785
                    [unit_id] => 70
                    [url] => https://pictures.escapia.com/GAISPR/4736070825.jpg
                    [thumb_url] => https://pictures.escapia.com/GAISPR/4736070825.jpg
                     => Plantation Hale Pool (1 of 3)
                    [sort] => 1
                )

            [2] => stdClass Object
                (
                    [id] => 1338786
                    [unit_id] => 70
                    [url] => https://pictures.escapia.com/GAISPR/1207980469.jpg
                    [thumb_url] => https://pictures.escapia.com/GAISPR/1207980469.jpg
                     => 
                    [sort] => 2
                )

            [3] => stdClass Object
                (
                    [id] => 1338787
                    [unit_id] => 70
                    [url] => https://pictures.escapia.com/GAISPR/4313710229.jpg
                    [thumb_url] => https://pictures.escapia.com/GAISPR/4313710229.jpg
                     => 
                    [sort] => 3
                )

            [4] => stdClass Object
                (
                    [id] => 1338788
                    [unit_id] => 70
                    [url] => https://pictures.escapia.com/GAISPR/6844490757.jpg
                    [thumb_url] => https://pictures.escapia.com/GAISPR/6844490757.jpg
                     => 
                    [sort] => 4
                )

            [5] => stdClass Object
                (
                    [id] => 1338789
                    [unit_id] => 70
                    [url] => https://pictures.escapia.com/GAISPR/0951870713.jpg
                    [thumb_url] => https://pictures.escapia.com/GAISPR/0951870713.jpg
                     => 
                    [sort] => 5
                )

            [6] => stdClass Object
                (
                    [id] => 1338790
                    [unit_id] => 70
                    [url] => https://pictures.escapia.com/GAISPR/1938780185.jpg
                    [thumb_url] => https://pictures.escapia.com/GAISPR/1938780185.jpg
                     => 
                    [sort] => 6
                )

            [7] => stdClass Object
                (
                    [id] => 1338791
                    [unit_id] => 70
                    [url] => https://pictures.escapia.com/GAISPR/2639560240.jpg
                    [thumb_url] => https://pictures.escapia.com/GAISPR/2639560240.jpg
                     => 
                    [sort] => 7
                )

            [8] => stdClass Object
                (
                    [id] => 1338792
                    [unit_id] => 70
                    [url] => https://pictures.escapia.com/GAISPR/4113100810.jpg
                    [thumb_url] => https://pictures.escapia.com/GAISPR/4113100810.jpg
                     => 
                    [sort] => 8
                )

            [9] => stdClass Object
                (
                    [id] => 1338793
                    [unit_id] => 70
                    [url] => https://pictures.escapia.com/GAISPR/5357990643.jpg
                    [thumb_url] => https://pictures.escapia.com/GAISPR/5357990643.jpg
                     => Full Kitchen
                    [sort] => 9
                )

            [10] => stdClass Object
                (
                    [id] => 1338794
                    [unit_id] => 70
                    [url] => https://pictures.escapia.com/GAISPR/9099070112.jpg
                    [thumb_url] => https://pictures.escapia.com/GAISPR/9099070112.jpg
                     => 
                    [sort] => 10
                )

            [11] => stdClass Object
                (
                    [id] => 1338795
                    [unit_id] => 70
                    [url] => https://pictures.escapia.com/GAISPR/6562120172.jpg
                    [thumb_url] => https://pictures.escapia.com/GAISPR/6562120172.jpg
                     => 
                    [sort] => 11
                )

            [12] => stdClass Object
                (
                    [id] => 1338796
                    [unit_id] => 70
                    [url] => https://pictures.escapia.com/GAISPR/6145780272.jpg
                    [thumb_url] => https://pictures.escapia.com/GAISPR/6145780272.jpg
                     => Plantation Hale Pool (1 of 3)
                    [sort] => 12
                )

            [13] => stdClass Object
                (
                    [id] => 1338797
                    [unit_id] => 70
                    [url] => https://pictures.escapia.com/GAISPR/6015230819.jpg
                    [thumb_url] => https://pictures.escapia.com/GAISPR/6015230819.jpg
                     => Hot Tub (1 of 2)
                    [sort] => 13
                )

            [14] => stdClass Object
                (
                    [id] => 1338798
                    [unit_id] => 70
                    [url] => https://pictures.escapia.com/GAISPR/4894710025.jpg
                    [thumb_url] => https://pictures.escapia.com/GAISPR/4894710025.jpg
                     => BBQ Area
                    [sort] => 14
                )

            [15] => stdClass Object
                (
                    [id] => 1338799
                    [unit_id] => 70
                    [url] => https://pictures.escapia.com/GAISPR/7924530024.jpg
                    [thumb_url] => https://pictures.escapia.com/GAISPR/7924530024.jpg
                     => 
                    [sort] => 15
                )

            [16] => stdClass Object
                (
                    [id] => 1338800
                    [unit_id] => 70
                    [url] => https://pictures.escapia.com/GAISPR/5210690818.jpg
                    [thumb_url] => https://pictures.escapia.com/GAISPR/5210690818.jpg
                     => Plantation Hale Grounds
                    [sort] => 16
                )

            [17] => stdClass Object
                (
                    [id] => 1338801
                    [unit_id] => 70
                    [url] => https://pictures.escapia.com/GAISPR/2265810639.jpg
                    [thumb_url] => https://pictures.escapia.com/GAISPR/2265810639.jpg
                     => Coconut Coast
                    [sort] => 17
                )

            [18] => stdClass Object
                (
                    [id] => 1338802
                    [unit_id] => 70
                    [url] => https://pictures.escapia.com/GAISPR/9657880158.jpg
                    [thumb_url] => https://pictures.escapia.com/GAISPR/9657880158.jpg
                     => Coconut Coast Beach
                    [sort] => 18
                )

            [19] => stdClass Object
                (
                    [id] => 1338803
                    [unit_id] => 70
                    [url] => https://pictures.escapia.com/GAISPR/2641960984.jpg
                    [thumb_url] => https://pictures.escapia.com/GAISPR/2641960984.jpg
                     => Coconut Coast Beach
                    [sort] => 19
                )

            [20] => stdClass Object
                (
                    [id] => 1338804
                    [unit_id] => 70
                    [url] => https://pictures.escapia.com/GAISPR/1726980286.jpg
                    [thumb_url] => https://pictures.escapia.com/GAISPR/1726980286.jpg
                     => Nearby Coconut Coast Beach
                    [sort] => 20
                )

            [21] => stdClass Object
                (
                    [id] => 1338805
                    [unit_id] => 70
                    [url] => https://pictures.escapia.com/GAISPR/1022750420.jpg
                    [thumb_url] => https://pictures.escapia.com/GAISPR/1022750420.jpg
                     => Plantation hale Beach Path
                    [sort] => 21
                )

            [22] => stdClass Object
                (
                    [id] => 1338806
                    [unit_id] => 70
                    [url] => https://pictures.escapia.com/GAISPR/5345840900.jpg
                    [thumb_url] => https://pictures.escapia.com/GAISPR/5345840900.jpg
                     => Coconut Market Place
                    [sort] => 22
                )

            [23] => stdClass Object
                (
                    [id] => 1338807
                    [unit_id] => 70
                    [url] => https://pictures.escapia.com/GAISPR/6661180970.jpg
                    [thumb_url] => https://pictures.escapia.com/GAISPR/6661180970.jpg
                     => 
                    [sort] => 23
                )

            [24] => stdClass Object
                (
                    [id] => 1338808
                    [unit_id] => 70
                    [url] => https://pictures.escapia.com/GAISPR/7053620823.jpg
                    [thumb_url] => https://pictures.escapia.com/GAISPR/7053620823.jpg
                     => Plantation Hale Grounds
                    [sort] => 24
                )

            [25] => stdClass Object
                (
                    [id] => 1338809
                    [unit_id] => 70
                    [url] => https://pictures.escapia.com/GAISPR/4587050820.jpg
                    [thumb_url] => https://pictures.escapia.com/GAISPR/4587050820.jpg
                     => Plantation Hale Suites
                    [sort] => 25
                )

        )

    [rates] => Array
        (
            [0] => stdClass Object
                (
                    [id] => 404564
                    [start_date] => 2017-04-01
                    [end_date] => 2017-12-14
                    [amount] => 115
                    [chargebasis] => Daily
                    [unit_id] => 70
                )

            [1] => stdClass Object
                (
                    [id] => 404565
                    [start_date] => 2017-04-01
                    [end_date] => 2017-12-14
                    [amount] => 700
                    [chargebasis] => Weekly
                    [unit_id] => 70
                )

            [2] => stdClass Object
                (
                    [id] => 404566
                    [start_date] => 2017-04-01
                    [end_date] => 2017-12-14
                    [amount] => 3000
                    [chargebasis] => Monthly
                    [unit_id] => 70
                )

            [3] => stdClass Object
                (
                    [id] => 404567
                    [start_date] => 2017-12-15
                    [end_date] => 2018-01-05
                    [amount] => 980
                    [chargebasis] => Weekly
                    [unit_id] => 70
                )

        )

    [attributes] => Array
        (
            [0] => stdClass Object
                (
                    [id] => 1861479
                    [name] => Cookware
                    [value] => 
                    [group] => Kitchen
                    [unit_id] => 70
                )

            [1] => stdClass Object
                (
                    [id] => 1861480
                    [name] => Full Kitchen
                    [value] => 
                    [group] => Kitchen
                    [unit_id] => 70
                )

            [2] => stdClass Object
                (
                    [id] => 1861481
                    [name] => Refrigerator
                    [value] => 
                    [group] => Kitchen
                    [unit_id] => 70
                )

            [3] => stdClass Object
                (
                    [id] => 1861482
                    [name] => Coffee Maker
                    [value] => 
                    [group] => Kitchen
                    [unit_id] => 70
                )

            [4] => stdClass Object
                (
                    [id] => 1861483
                    [name] => Microwave
                    [value] => 
                    [group] => Kitchen
                    [unit_id] => 70
                )

            [5] => stdClass Object
                (
                    [id] => 1861484
                    [name] => Toaster
                    [value] => 
                    [group] => Kitchen
                    [unit_id] => 70
                )

            [6] => stdClass Object
                (
                    [id] => 1861485
                    [name] => Blender
                    [value] => 
                    [group] => Kitchen
                    [unit_id] => 70
                )

            [7] => stdClass Object
                (
                    [id] => 1861486
                    [name] => Air Conditioning
                    [value] => 
                    [group] => Living
                    [unit_id] => 70
                )

            [8] => stdClass Object
                (
                    [id] => 1861487
                    [name] => Ceiling Fans
                    [value] => 
                    [group] => Living
                    [unit_id] => 70
                )

            [9] => stdClass Object
                (
                    [id] => 1861488
                    [name] => Linens
                    [value] => 
                    [group] => Living
                    [unit_id] => 70
                )

            [10] => stdClass Object
                (
                    [id] => 1861489
                    [name] => Ironing Board
                    [value] => 
                    [group] => Living
                    [unit_id] => 70
                )

            [11] => stdClass Object
                (
                    [id] => 1861490
                    [name] => Wifi
                    [value] => 
                    [group] => Living
                    [unit_id] => 70
                )

            [12] => stdClass Object
                (
                    [id] => 1861491
                    [name] => Beach Towels
                    [value] => 
                    [group] => Living
                    [unit_id] => 70
                )

            [13] => stdClass Object
                (
                    [id] => 1861492
                    [name] => Hair Dryer
                    [value] => 
                    [group] => Living
                    [unit_id] => 70
                )

            [14] => stdClass Object
                (
                    [id] => 1861493
                    [name] => This property is listed for sale
                    [value] => 
                    [group] => Business
                    [unit_id] => 70
                )

            [15] => stdClass Object
                (
                    [id] => 1861494
                    [name] => 48 hr notice request for showing
                    [value] => 
                    [group] => Business
                    [unit_id] => 70
                )

            [16] => stdClass Object
                (
                    [id] => 1861495
                    [name] => Nearby Grocery
                    [value] => 
                    [group] => Convenience
                    [unit_id] => 70
                )

            [17] => stdClass Object
                (
                    [id] => 1861496
                    [name] => Nearby Restaurants & Shops
                    [value] => 
                    [group] => Convenience
                    [unit_id] => 70
                )

            [18] => stdClass Object
                (
                    [id] => 1861497
                    [name] => Nearby Luau
                    [value] => 
                    [group] => Culture
                    [unit_id] => 70
                )

            [19] => stdClass Object
                (
                    [id] => 1861498
                    [name] => Gas Grill
                    [value] => 
                    [group] => Outdoor
                    [unit_id] => 70
                )

            [20] => stdClass Object
                (
                    [id] => 1861499
                    [name] => Hot Tub
                    [value] => 
                    [group] => Outdoor
                    [unit_id] => 70
                )

            [21] => stdClass Object
                (
                    [id] => 1861500
                    [name] => Shared Pool
                    [value] => 
                    [group] => Outdoor
                    [unit_id] => 70
                )

            [22] => stdClass Object
                (
                    [id] => 1861501
                    [name] => Beach Chairs
                    [value] => 
                    [group] => Outdoor
                    [unit_id] => 70
                )

            [23] => stdClass Object
                (
                    [id] => 1861502
                    [name] => Bike Path
                    [value] => 
                    [group] => Outdoor
                    [unit_id] => 70
                )

            [24] => stdClass Object
                (
                    [id] => 1861503
                    [name] => Lanai
                    [value] => 
                    [group] => Outdoor
                    [unit_id] => 70
                )

            [25] => stdClass Object
                (
                    [id] => 1861504
                    [name] => Near Beach
                    [value] => 
                    [group] => Geographic
                    [unit_id] => 70
                )

            [26] => stdClass Object
                (
                    [id] => 1861505
                    [name] => Close to Town
                    [value] => 
                    [group] => Geographic
                    [unit_id] => 70
                )

            [27] => stdClass Object
                (
                    [id] => 1861506
                    [name] => Cable TV
                    [value] => 
                    [group] => Entertainment
                    [unit_id] => 70
                )

            [28] => stdClass Object
                (
                    [id] => 1861507
                    [name] => DVD Player
                    [value] => 
                    [group] => Entertainment
                    [unit_id] => 70
                )

        )

    [avail] => Array
        (
            [0] => stdClass Object
                (
                    [id] => 7448207
                    [start_date] => 2017-09-19
                    [end_date] => 2019-10-23
                    [unit_id] => 70
                )

        )

    [reviews] => Array
        (
            [0] => stdClass Object
                (
                    [id] => 29523
                    [external_id] => 89874da8-3d43-4514-a2d8-d848ecbbaee7
                    [prop_id] => 70
                    [review_id] => 0
                    [source] => Escapia
                    [title] => Comfortable apartment
                    [review] => It is a comfortable apartment, a bit outdated in a good location to explore North and South of the island. Swimming pool, jacuzzi and grills in the common area are great. I would recommend it.
                    [name] => 
                    [email] => sorayapelaz@hotmail.com
                    [location] => 
                    [response] => 
                    [rating] => 4
                    [review_date] => 2017-08-25
                    [status] => 1
                    [checkin_date] => 2017-08-15
                    [nights_stayed] => 7
                    [sfrm] => 5
                    [clean] => 4
                    [rto] => 1
                    [pc] => 3
                    [loc] => 5
                    [meta] => Array
                        (
                        )

                )

            [1] => stdClass Object
                (
                    [id] => 29499
                    [external_id] => e3c2ec61-e97c-4083-810a-62c9f6695e21
                    [prop_id] => 70
                    [review_id] => 0
                    [source] => Escapia
                    [title] => This was a good experience
                    [review] => The property had all of the amenities listed, and it was great for my needs. One gripe is that the AC wasn't as good, but it wasn't enough to make me dislike the property.
                    [name] => 
                    [email] => saravan@rogers.com
                    [location] => 
                    [response] => 
                    [rating] => 4
                    [review_date] => 2017-08-08
                    [status] => 1
                    [checkin_date] => 2017-07-30
                    [nights_stayed] => 6
                    [sfrm] => 4
                    [clean] => 5
                    [rto] => 1
                    [pc] => 4
                    [loc] => 5
                    [meta] => Array
                        (
                        )

                )

            [2] => stdClass Object
                (
                    [id] => 29466
                    [external_id] => 86ee329b-9a66-46e4-be81-369766a330a5
                    [prop_id] => 70
                    [review_id] => 0
                    [source] => Escapia
                    [title] => Great value
                    [review] => ...
                    [name] => 
                    [email] => joerosenblat@msn.com
                    [location] => 
                    [response] => 
                    [rating] => 5
                    [review_date] => 2017-07-14
                    [status] => 1
                    [checkin_date] => 2017-06-12
                    [nights_stayed] => 30
                    [sfrm] => 5
                    [clean] => 5
                    [rto] => 1
                    [pc] => 5
                    [loc] => 5
                    [meta] => Array
                        (
                        )

                )

            [3] => stdClass Object
                (
                    [id] => 29386
                    [external_id] => 339b9171-632a-4965-9e7c-d9a047d68d98
                    [prop_id] => 70
                    [review_id] => 0
                    [source] => Escapia
                    [title] => Good Location   Relaxed condo
                    [review] =>  This is pretty much between southern & northern Beaches.The condo is spacious but a-bit tired.
It seems to be a very good value for the price.Nice lani & great Pool & Hot Tub.
                    [name] => Morgan P.
                    [email] => mpatterson41@tampabay.rr.com
                    [location] => 
                    [response] => 
                    [rating] => 4
                    [review_date] => 2017-05-24
                    [status] => 1
                    [checkin_date] => 2017-05-01
                    [nights_stayed] => 21
                    [sfrm] => 5
                    [clean] => 5
                    [rto] => 1
                    [pc] => 3
                    [loc] => 5
                    [meta] => Array
                        (
                        )

                )

            [4] => stdClass Object
                (
                    [id] => 29354
                    [external_id] => c7869e48-da72-4f77-acd1-34739dcef0af
                    [prop_id] => 70
                    [review_id] => 0
                    [source] => Escapia
                    [title] => April 2017
                    [review] => Loved the location-centrally located to go anywhere on the island.  Enjoyed the quiet relaxing getaway.
                    [name] => 
                    [email] => schimfam@wavecable.com
                    [location] => 
                    [response] => 
                    [rating] => 5
                    [review_date] => 2017-04-24
                    [status] => 1
                    [checkin_date] => 2017-04-16
                    [nights_stayed] => 6
                    [sfrm] => 5
                    [clean] => 5
                    [rto] => 1
                    [pc] => 5
                    [loc] => 5
                    [meta] => Array
                        (
                        )

                )

            [5] => stdClass Object
                (
                    [id] => 29355
                    [external_id] => 5da3193b-e9e3-45ef-82bf-c39a5aec94e5
                    [prop_id] => 70
                    [review_id] => 0
                    [source] => Escapia
                    [title] => Spacious &Well Equipped 
                    [review] => Location was walking distance to Foodland & Safeway (approx 10 minutes 1 way). It is about 150 yards to the beach across a vacant lot through an opening in a 10 ft high plywood fence. Nearby beach not very good and view from the property is mostly fence. Eventually another property will build on the vacant lot and the property will become second row. Lydgate Beach is beautiful and only a 5 minute drive away. It is about a 20 minute walk to the start of the paved beach bike/walk path that follows the coastline and is well worth spending time enjoying. The unit included very good Tommy Bahama reclining beach chairs and a cooler to use for your outings. Well appreciated. The kitchen cabinets/counters were older as were the appliances but everything worked well including the built in ice-maker in the fridge. Lots of sharp knives and very well equipped kitchen for making meals if you choose to do so. The bathroom has older cabinets as well but a new counter, sink, and toilet. Lots of room as well. The bedroom has 2 double beds has lots of room. Could use some better lighting if you like to read in bed. Good blackout curtains but this is an end unit right next to the highway so you do get quite a bit of road noise. The newer laminate flooring is great and makes the unit easy to maintain that clean feeling. The a/c worked well but awe didn't need it most nights as the evenings cool off nicely. At check in there was a minor delay as the property manager did not let the front desk know that we were expected but this was cleared up very quickly. The wi-fi info provided did not work initially but the proper password info was sent by text to us promptly after texting the problem to the property manager even though it was after business hours. Good to know that they monitor and rectify after hour concerns quickly. The pools, hot tub and BBQ were all well maintained.I would return. T
                    [name] => 
                    [email] => ivan.krissa@gmail.com
                    [location] => 
                    [response] => Aloha Ivan, Thank you for sharing about your stay at Plantation Hale.  We are happy to hear that you enjoyed your stay and found it to be a convenient location in Kapaa Town.  We hope you will visit Kauai again soon.  Warmest Aloha from Garden Island Properties.
                    [rating] => 4
                    [review_date] => 2017-02-26
                    [status] => 1
                    [checkin_date] => 2017-02-11
                    [nights_stayed] => 7
                    [sfrm] => 4
                    [clean] => 4
                    [rto] => 1
                    [pc] => 4
                    [loc] => 4
                    [meta] => Array
                        (
                        )

                )

            [6] => stdClass Object
                (
                    [id] => 29359
                    [external_id] => a070de51-7cd3-457c-83c3-ddfc8c337dd5
                    [prop_id] => 70
                    [review_id] => 0
                    [source] => Escapia
                    [title] => Nice and enjoyable stay
                    [review] => The property was as described. The din of the road noise is noisy at times. Garden Island properties was exemplary in responding to information and requests.
                    [name] => 
                    [email] => kpruisner@gmail.com
                    [location] => 
                    [response] => 
                    [rating] => 5
                    [review_date] => 2017-02-16
                    [status] => 1
                    [checkin_date] => 2017-01-09
                    [nights_stayed] => 22
                    [sfrm] => 5
                    [clean] => 5
                    [rto] => 1
                    [pc] => 5
                    [loc] => 4
                    [meta] => Array
                        (
                        )

                )

            [7] => stdClass Object
                (
                    [id] => 29358
                    [external_id] => c321425b-8201-4ee0-9c9e-96162185ce0b
                    [prop_id] => 70
                    [review_id] => 0
                    [source] => Escapia
                    [title] => Ok nice location
                    [review] => The room could have been cleaner.  The stove is almost unusable as the burners set crooked and Had trouble keeping the pans with hot food or water on the stove. The cockroaches are very bold and would walk across the wall and onto the table when I was eating. You might want to look at the blender as it seems to have a short shaking it makes it work.
                    [name] => rona j.
                    [email] => rona4641@yahoo.com
                    [location] => 
                    [response] => 
                    [rating] => 3
                    [review_date] => 2016-10-14
                    [status] => 1
                    [checkin_date] => 2016-09-21
                    [nights_stayed] => 7
                    [sfrm] => 5
                    [clean] => 3
                    [rto] => 
                    [pc] => 3
                    [loc] => 5
                    [meta] => Array
                        (
                        )

                )

            [8] => stdClass Object
                (
                    [id] => 29360
                    [external_id] => 250d90a9-7598-42c4-9de8-80b6a3328618
                    [prop_id] => 70
                    [review_id] => 0
                    [source] => Escapia
                    [title] => Papa'a in Kapa'a
                    [review] => Nice stay, pools and landscaping was well kept. Condo was clean and nice. 1 of 2 outdoor grills is very old and needs replace. Great place to stay.
                    [name] => 
                    [email] => joex.v.hernandez@intel.com
                    [location] => 
                    [response] => 
                    [rating] => 4
                    [review_date] => 2016-06-28
                    [status] => 1
                    [checkin_date] => 2016-06-04
                    [nights_stayed] => 8
                    [sfrm] => 4
                    [clean] => 4
                    [rto] => 1
                    [pc] => 4
                    [loc] => 4
                    [meta] => Array
                        (
                        )

                )

            [9] => stdClass Object
                (
                    [id] => 29357
                    [external_id] => e5dbf7e6-6349-490e-aa4c-f79d357571ac
                    [prop_id] => 70
                    [review_id] => 0
                    [source] => Escapia
                    [title] => Good value as a budget location
                    [review] => The property was just as advertised, and you get what you pay for. The kitchen was very old and the beds were not overly comfortable, but the room was very clean (except the top of the fridge) and there was lots of space. The two TVs were new, and there was great Wifi in the room. The pools were clean and not busy as well. I would just recommend spending a bit to update the beds and pillows as well as some of the kitchen pots and so on. For the very reasonable price charged though, I thought there was good value. As long as you don't expect too much, this is a good place to stay - lots of road noise, but you can't do much about that.
                    [name] => 
                    [email] => dhallier@shaw.ca
                    [location] => 
                    [response] => 
                    [rating] => 4
                    [review_date] => 2016-04-08
                    [status] => 1
                    [checkin_date] => 2016-03-22
                    [nights_stayed] => 8
                    [sfrm] => 5
                    [clean] => 4
                    [rto] => 1
                    [pc] => 3
                    [loc] => 5
                    [meta] => Array
                        (
                        )

                )

            [10] => stdClass Object
                (
                    [id] => 29356
                    [external_id] => 533278f2-afc2-4fbe-8400-499db97c030c
                    [prop_id] => 70
                    [review_id] => 0
                    [source] => Escapia
                    [title] => Everything is great except
                    [review] => one night, a cockroach climbed on my hand when I was sleeping and scared me out of my bed. 
                    [name] => Shushu X.
                    [email] => shushuxie@gmail.com
                    [location] => 
                    [response] => 
                    [rating] => 4
                    [review_date] => 2015-12-29
                    [status] => 1
                    [checkin_date] => 2015-12-06
                    [nights_stayed] => 7
                    [sfrm] => 4
                    [clean] => 3
                    [rto] => 
                    [pc] => 4
                    [loc] => 4
                    [meta] => Array
                        (
                        )

                )

        )

    [rateaddons] => Array
        (
        )

    [unit_meta] => Array
        (
            [0] => stdClass Object
                (
                    [id] => 486841
                    [unit_id] => 70
                    [key] => Custom1
                    [value] => TC8717T81
                )

            [1] => stdClass Object
                (
                    [id] => 486842
                    [unit_id] => 70
                    [key] => Custom2
                    [value] => TC8717TDE3081
                )

            [2] => stdClass Object
                (
                    [id] => 486843
                    [unit_id] => 70
                    [key] => DisplayRate
                    [value] => Starting from $88 per night
                )

            [3] => stdClass Object
                (
                    [id] => 486844
                    [unit_id] => 70
                    [key] => Location
                    [value] => Kapaa
                )

            [4] => stdClass Object
                (
                    [id] => 486845
                    [unit_id] => 70
                    [key] => LocationField
                    [value] => Garden Island Properties, LLC
                )

            [5] => stdClass Object
                (
                    [id] => 486846
                    [unit_id] => 70
                    [key] => Property Type
                    [value] => Condo
                )

            [6] => stdClass Object
                (
                    [id] => 486847
                    [unit_id] => 70
                    [key] => View
                    [value] => Garden View
                )

            [7] => stdClass Object
                (
                    [id] => 486848
                    [unit_id] => 70
                    [key] => MinLOS
                    [value] => 4
                )

            [8] => stdClass Object
                (
                    [id] => 486849
                    [unit_id] => 70
                    [key] => StayContext
                    [value] => Checkin
                )

            [9] => stdClass Object
                (
                    [id] => 486850
                    [unit_id] => 70
                    [key] => StayDays
                    [value] => a:7:{i:0;s:3:"Mon";i:1;s:3:"Tue";i:2;s:4:"Weds";i:3;s:4:"Thur";i:4;s:3:"Fri";i:5;s:3:"Sat";i:6;s:3:"Sun";}
                )

            [10] => stdClass Object
                (
                    [id] => 488748
                    [unit_id] => 70
                    [key] => Agreement
                    [value] => GUEST AGREEMENT 
RELATES TO ALL PROPERTIES. PLEASE READ THIS CONTRACT CAREFULLY. 
BY CLICKING ON THE ACCEPT BUTTON YOU (either an individual or a single entity) AGREE THAT THIS AGREEMENT IS ENFORCEABLE LIKE ANY WRITTEN CONTRACT SIGNED BY YOU. 
 
SECURITY 
                )

        )

    [minnights] => Array
        (
            [0] => stdClass Object
                (
                    [id] => 409235
                    [start_date] => 2017-04-01
                    [end_date] => 2017-12-14
                    [prop_id] => 70
                    [nights] => 4
                    [rate_type] => Daily
                )

            [1] => stdClass Object
                (
                    [id] => 409236
                    [start_date] => 2017-04-01
                    [end_date] => 2017-12-14
                    [prop_id] => 70
                    [nights] => 7
                    [rate_type] => Weekly
                )

            [2] => stdClass Object
                (
                    [id] => 409237
                    [start_date] => 2017-04-01
                    [end_date] => 2017-12-14
                    [prop_id] => 70
                    [nights] => 30
                    [rate_type] => Monthly
                )

            [3] => stdClass Object
                (
                    [id] => 409238
                    [start_date] => 2017-12-15
                    [end_date] => 2018-01-05
                    [prop_id] => 70
                    [nights] => 7
                    [rate_type] => Weekly
                )

        )

    [manager] => stdClass Object
        (
            [id] => 1
            [ManagerID] => 1
            [Name] => Escapia
            [Vendor] => Escapia
            [Contract] => 
            [random] => 0
            [pms] => 
            [last_update] => 0000-00-00 00:00:00
        )

    [flipkey] => 
    [additonal] => stdClass Object
        (
            [Custom1] => TC8717T81
            [Custom2] => TC8717TDE3081
            [DisplayRate] => Starting from $88 per night
            [Location] => Kapaa
            [LocationField] => Garden Island Properties, LLC
            [Property Type] => Condo
            [View] => Garden View
            [MinLOS] => 4
            [StayContext] => Checkin
            [StayDays] => Array
                (
                    [0] => Mon
                    [1] => Tue
                    [2] => Weds
                    [3] => Thur
                    [4] => Fri
                    [5] => Sat
                    [6] => Sun
                )

            [Agreement] => GUEST AGREEMENT 
RELATES TO ALL PROPERTIES. PLEASE READ THIS CONTRACT CAREFULLY. 
BY CLICKING ON THE ACCEPT BUTTON YOU (either an individual or a single entity) AGREE THAT THIS AGREEMENT IS ENFORCEABLE LIKE ANY WRITTEN CONTRACT SIGNED BY YOU. 
 
SECURITY 
        )

    [checkinout] => Array
        (
        )

    [special] => Array
        (
        )

    [hasSpecial] => 
)
                    
Holiday Rates apply between 12/15 - 1/5