sunset kahili #507, penthouse, ocean-view, new upgrades, sunset views!
1 Bedroom(s) | 1 Bathroom(s) | Sleeps 3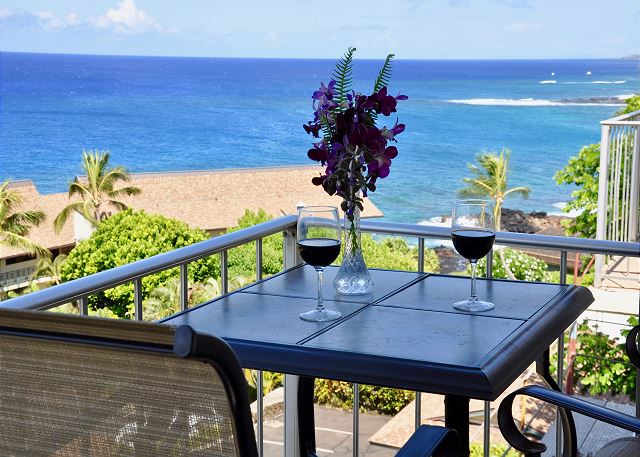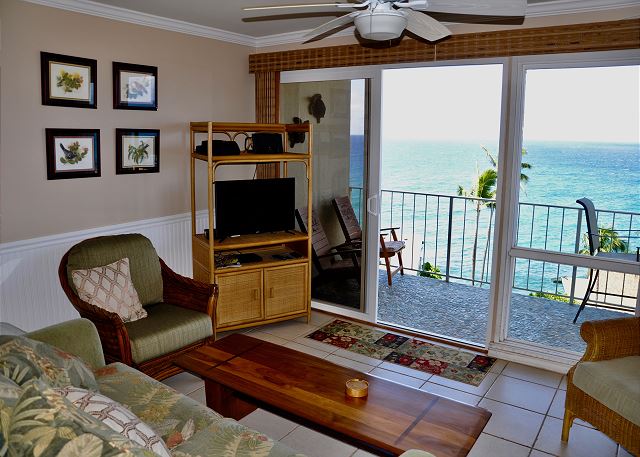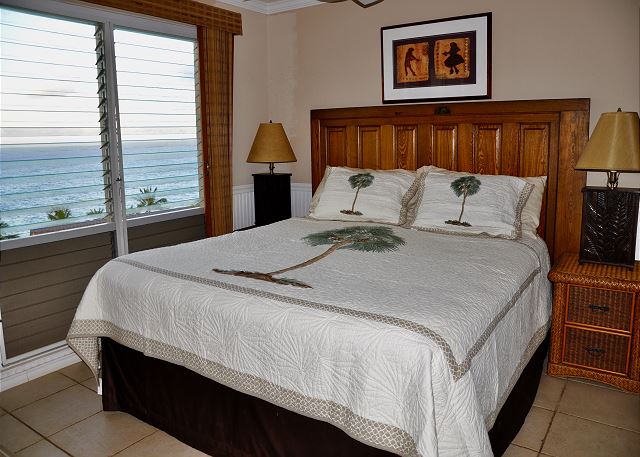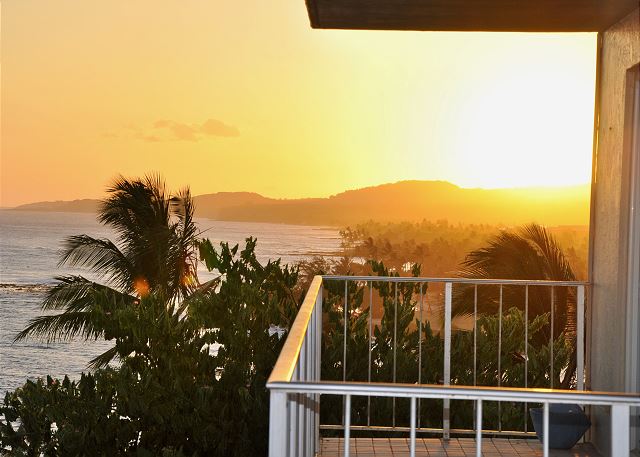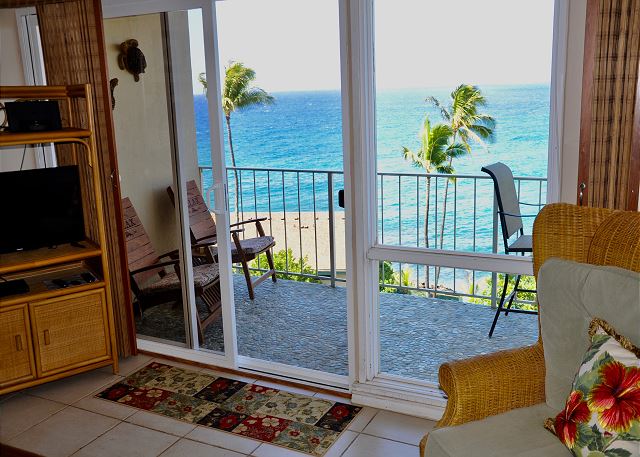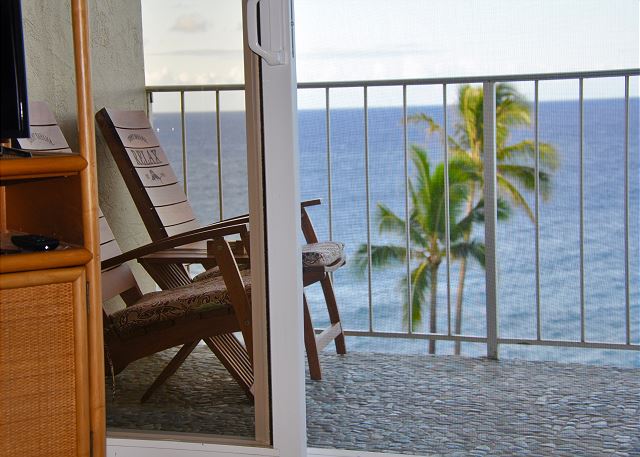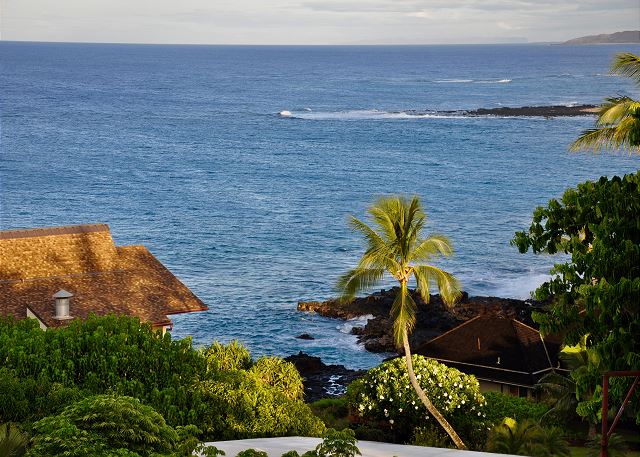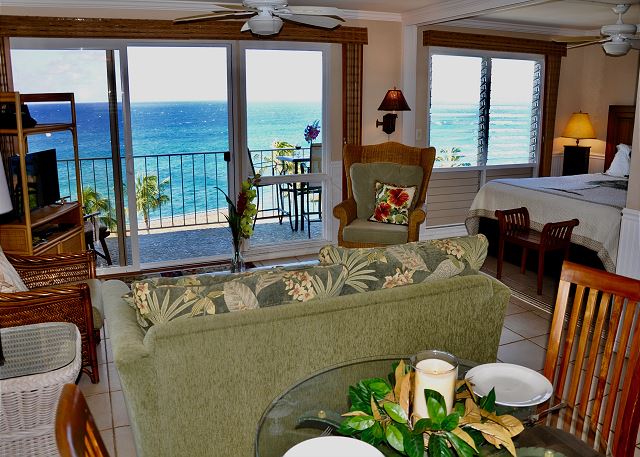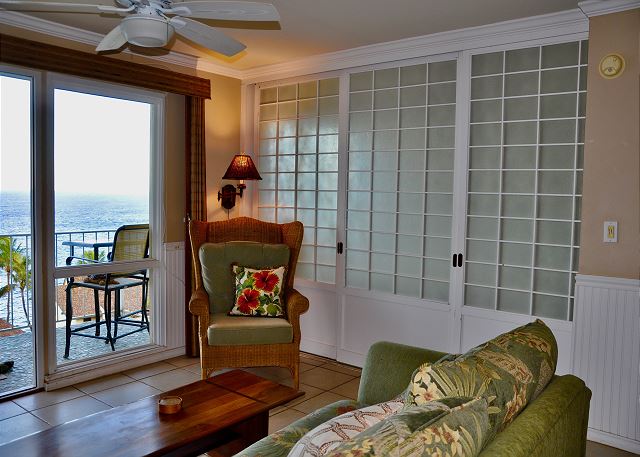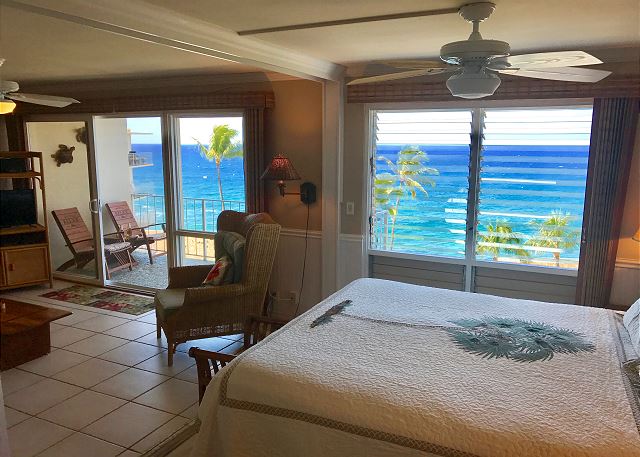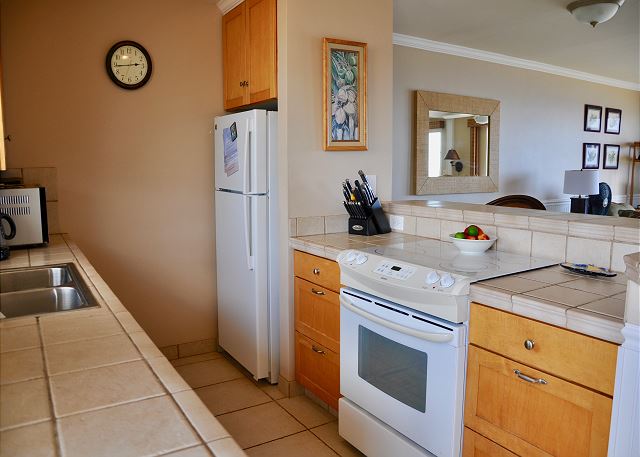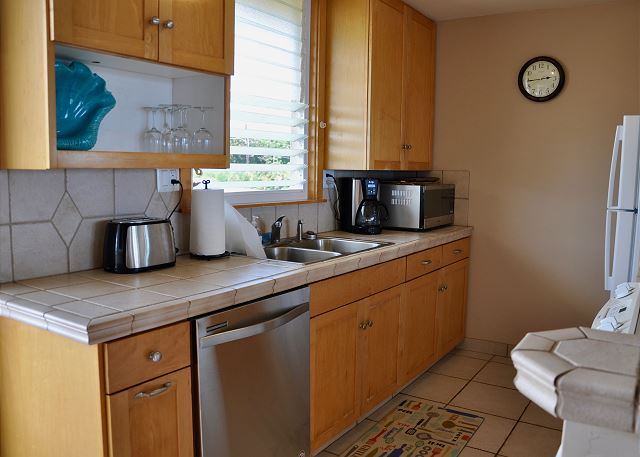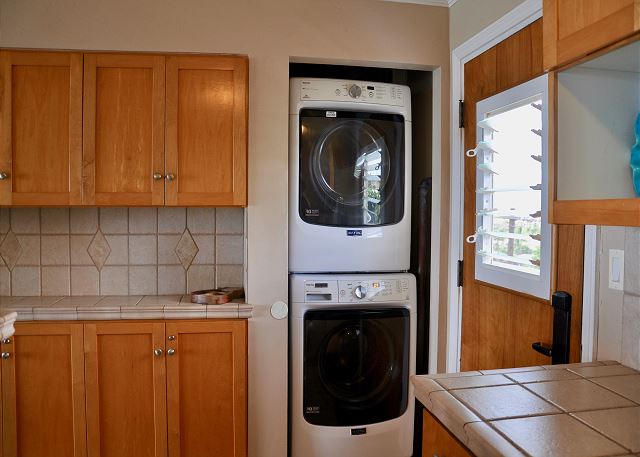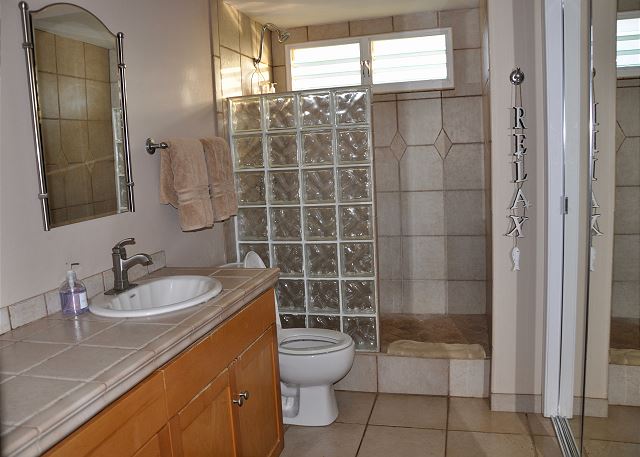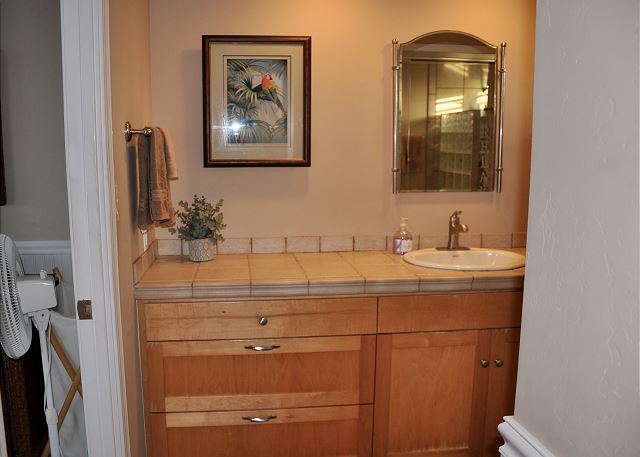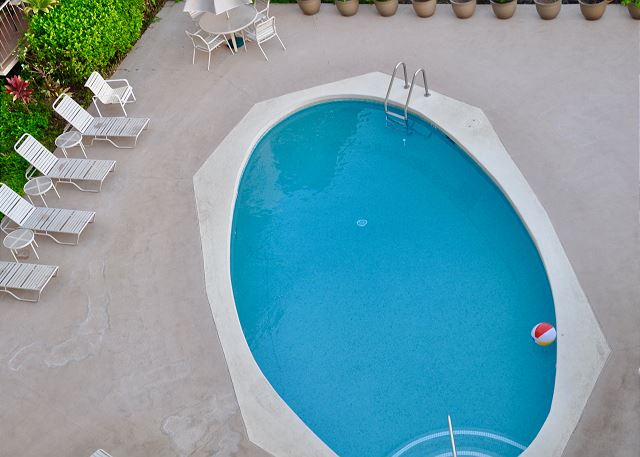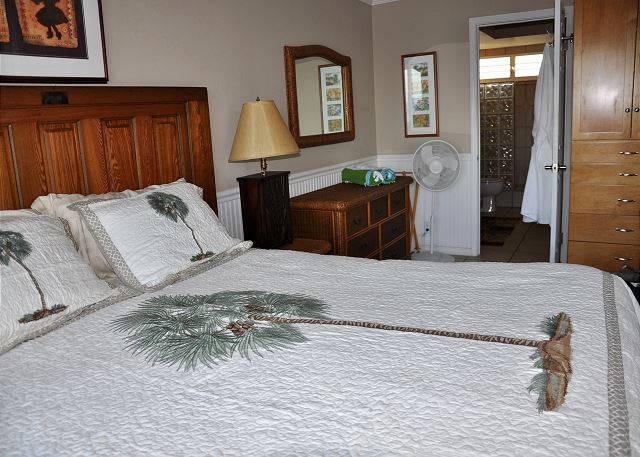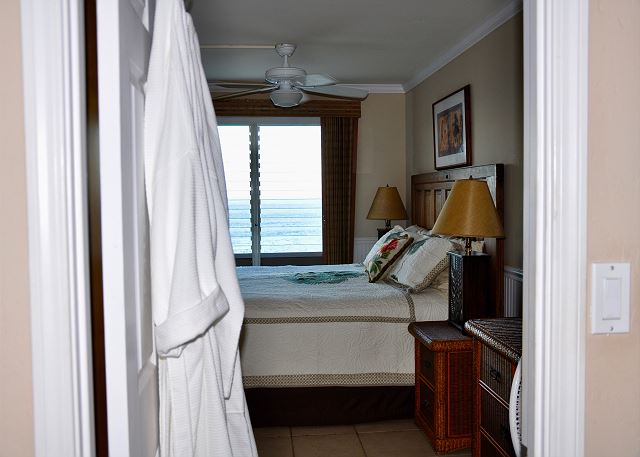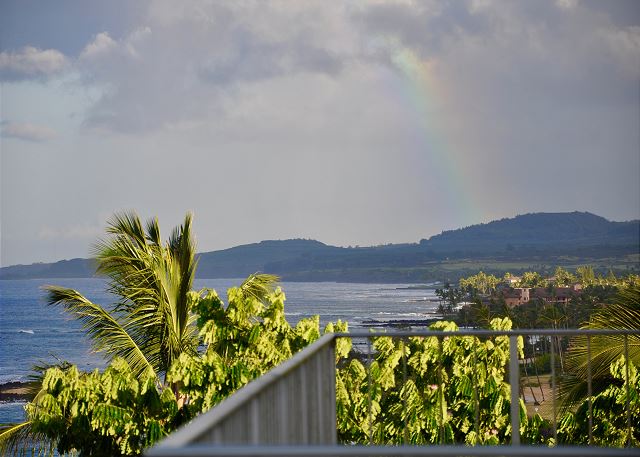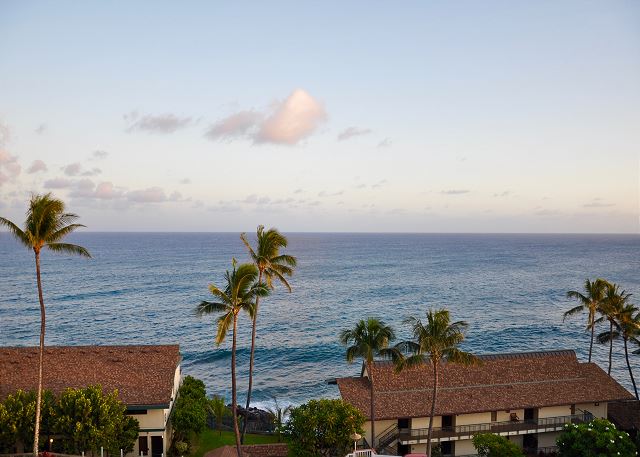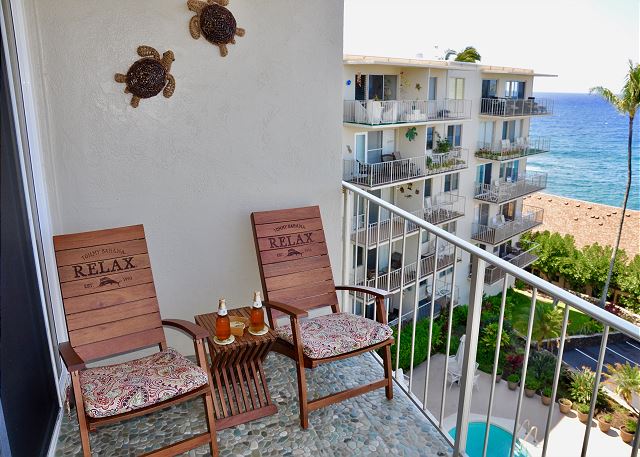 Sunset Kahili #507, Penthouse Kauai Vacation Rental located in Sunny Poipu, Kauai.

1 Bedroom, 1 Bath, ocean view, top, 5th floor unit with elevator.

Enjoy beautiful, expansive ocean views, sunrise and sunets from the lanai and master bedroom.

Upgrades include New full size Washer / Dryer in the unit, dishwasher and King size bed.

Sofa sleeper for additional guest in the living area.

New Bali pebble stone lanai floor, tile floors throughout, wainscoting and comfortable furnishings.

Swimming Pool, Complimentary Parking for 1 car, Complimentary Wifi.

Approximately 800 square feet, sleeps up to 3.

Hear the soothing sounds of the ocean and spot whales breaching in the winter season!

This spacious, top floor unit offers great views, nice trade wind breezes and a relaxing space to enjoy a wonderful Kauai vacation.

Sunset Kahili is perched up higher than any other resort in the area giving you expansive views of the Pacific Ocean and south shore of Kauai.

Located on the ocean side of Pee Road and conveniently located less than a half mile walk or drive to infamous Poipu Beach where you can enjoy great swimming, surfing and snorkeling.

Holiday Rates apply 12/15 - 1/5 with a 7 night minimum night stay.

TAT ID#: TA-019-734-3232-01
Amenities

King
Shower
Sleep sofa /futon
Toilet
Museums
Playground
Reefs
Restaurants
Waterfalls
Dining
Satellite / Cable
Television
Clothes Dryer
Elevator
Hair Dryer
Internet
Iron & Board
Linens Provided
Living Room
Parking
Towels Provided
Washing Machine
Coffee Maker
Dishes & Utensils
Dishwasher
Kitchen
Microwave
Oven
Refrigerator
Stove
Toaster
Beachcombing
Bird watching
Horseback riding
Luaus
Photography
Scenic drives
Sight seeing
Walking
Whale watching
ATM/bank
Groceries
Near The Ocean
Ocean View
Resort
Water View
Deck / Patio
Lanai / Gazebo
Outdoor Grill
Private Pool
Bedroom
Full
Shower
Cycling
Deepsea fishing
Fishing
Golf
Hiking
Hunting
Mountain biking
Roller blading
Sailing
Scuba diving or snorkeling
Snorkeling
Surfing
Swimming
Tennis
Water skiing
Wind-surfing
Children welcome
Non smoking only
Pets not allowed
Book Your Stay!
Select your arrival and departure dates below to reserve this unit.


October 2017

| S | M | T | W | T | F | S |
| --- | --- | --- | --- | --- | --- | --- |
| 01 | 02 | 03 | 04 | 05 | 06 | 07 |
| 08 | 09 | 10 | 11 | 12 | 13 | 14 |
| 15 | 16 | 17 | 18 | 19 | 20 | 21 |
| 22 | 23 | 24 | 25 | 26 | 27 | 28 |
| 29 | 30 | 31 | | | | |
November 2017

| S | M | T | W | T | F | S |
| --- | --- | --- | --- | --- | --- | --- |
| | | | 01 | 02 | 03 | 04 |
| 05 | 06 | 07 | 08 | 09 | 10 | 11 |
| 12 | 13 | 14 | 15 | 16 | 17 | 18 |
| 19 | 20 | 21 | 22 | 23 | 24 | 25 |
| 26 | 27 | 28 | 29 | 30 | | |
December 2017

| S | M | T | W | T | F | S |
| --- | --- | --- | --- | --- | --- | --- |
| | | | | | 01 | 02 |
| 03 | 04 | 05 | 06 | 07 | 08 | 09 |
| 10 | 11 | 12 | 13 | 14 | 15 | 16 |
| 17 | 18 | 19 | 20 | 21 | 22 | 23 |
| 24 | 25 | 26 | 27 | 28 | 29 | 30 |
| 31 | | | | | | |
January 2018

| S | M | T | W | T | F | S |
| --- | --- | --- | --- | --- | --- | --- |
| | 01 | 02 | 03 | 04 | 05 | 06 |
| 07 | 08 | 09 | 10 | 11 | 12 | 13 |
| 14 | 15 | 16 | 17 | 18 | 19 | 20 |
| 21 | 22 | 23 | 24 | 25 | 26 | 27 |
| 28 | 29 | 30 | 31 | | | |
February 2018

| S | M | T | W | T | F | S |
| --- | --- | --- | --- | --- | --- | --- |
| | | | | 01 | 02 | 03 |
| 04 | 05 | 06 | 07 | 08 | 09 | 10 |
| 11 | 12 | 13 | 14 | 15 | 16 | 17 |
| 18 | 19 | 20 | 21 | 22 | 23 | 24 |
| 25 | 26 | 27 | 28 | | | |
March 2018

| S | M | T | W | T | F | S |
| --- | --- | --- | --- | --- | --- | --- |
| | | | | 01 | 02 | 03 |
| 04 | 05 | 06 | 07 | 08 | 09 | 10 |
| 11 | 12 | 13 | 14 | 15 | 16 | 17 |
| 18 | 19 | 20 | 21 | 22 | 23 | 24 |
| 25 | 26 | 27 | 28 | 29 | 30 | 31 |
April 2018

| S | M | T | W | T | F | S |
| --- | --- | --- | --- | --- | --- | --- |
| 01 | 02 | 03 | 04 | 05 | 06 | 07 |
| 08 | 09 | 10 | 11 | 12 | 13 | 14 |
| 15 | 16 | 17 | 18 | 19 | 20 | 21 |
| 22 | 23 | 24 | 25 | 26 | 27 | 28 |
| 29 | 30 | | | | | |
May 2018

| S | M | T | W | T | F | S |
| --- | --- | --- | --- | --- | --- | --- |
| | | 01 | 02 | 03 | 04 | 05 |
| 06 | 07 | 08 | 09 | 10 | 11 | 12 |
| 13 | 14 | 15 | 16 | 17 | 18 | 19 |
| 20 | 21 | 22 | 23 | 24 | 25 | 26 |
| 27 | 28 | 29 | 30 | 31 | | |
June 2018

| S | M | T | W | T | F | S |
| --- | --- | --- | --- | --- | --- | --- |
| | | | | | 01 | 02 |
| 03 | 04 | 05 | 06 | 07 | 08 | 09 |
| 10 | 11 | 12 | 13 | 14 | 15 | 16 |
| 17 | 18 | 19 | 20 | 21 | 22 | 23 |
| 24 | 25 | 26 | 27 | 28 | 29 | 30 |
July 2018

| S | M | T | W | T | F | S |
| --- | --- | --- | --- | --- | --- | --- |
| 01 | 02 | 03 | 04 | 05 | 06 | 07 |
| 08 | 09 | 10 | 11 | 12 | 13 | 14 |
| 15 | 16 | 17 | 18 | 19 | 20 | 21 |
| 22 | 23 | 24 | 25 | 26 | 27 | 28 |
| 29 | 30 | 31 | | | | |
August 2018

| S | M | T | W | T | F | S |
| --- | --- | --- | --- | --- | --- | --- |
| | | | 01 | 02 | 03 | 04 |
| 05 | 06 | 07 | 08 | 09 | 10 | 11 |
| 12 | 13 | 14 | 15 | 16 | 17 | 18 |
| 19 | 20 | 21 | 22 | 23 | 24 | 25 |
| 26 | 27 | 28 | 29 | 30 | 31 | |
September 2018

| S | M | T | W | T | F | S |
| --- | --- | --- | --- | --- | --- | --- |
| | | | | | | 01 |
| 02 | 03 | 04 | 05 | 06 | 07 | 08 |
| 09 | 10 | 11 | 12 | 13 | 14 | 15 |
| 16 | 17 | 18 | 19 | 20 | 21 | 22 |
| 23 | 24 | 25 | 26 | 27 | 28 | 29 |
| 30 | | | | | | |
October 2018

| S | M | T | W | T | F | S |
| --- | --- | --- | --- | --- | --- | --- |
| | 01 | 02 | 03 | 04 | 05 | 06 |
| 07 | 08 | 09 | 10 | 11 | 12 | 13 |
| 14 | 15 | 16 | 17 | 18 | 19 | 20 |
| 21 | 22 | 23 | 24 | 25 | 26 | 27 |
| 28 | 29 | 30 | 31 | | | |
November 2018

| S | M | T | W | T | F | S |
| --- | --- | --- | --- | --- | --- | --- |
| | | | | 01 | 02 | 03 |
| 04 | 05 | 06 | 07 | 08 | 09 | 10 |
| 11 | 12 | 13 | 14 | 15 | 16 | 17 |
| 18 | 19 | 20 | 21 | 22 | 23 | 24 |
| 25 | 26 | 27 | 28 | 29 | 30 | |
December 2018

| S | M | T | W | T | F | S |
| --- | --- | --- | --- | --- | --- | --- |
| | | | | | | 01 |
| 02 | 03 | 04 | 05 | 06 | 07 | 08 |
| 09 | 10 | 11 | 12 | 13 | 14 | 15 |
| 16 | 17 | 18 | 19 | 20 | 21 | 22 |
| 23 | 24 | 25 | 26 | 27 | 28 | 29 |
| 30 | 31 | | | | | |
January 2019

| S | M | T | W | T | F | S |
| --- | --- | --- | --- | --- | --- | --- |
| | | 01 | 02 | 03 | 04 | 05 |
| 06 | 07 | 08 | 09 | 10 | 11 | 12 |
| 13 | 14 | 15 | 16 | 17 | 18 | 19 |
| 20 | 21 | 22 | 23 | 24 | 25 | 26 |
| 27 | 28 | 29 | 30 | 31 | | |
Available
Unavailable
Check-In Only
Check-Out Only
Seasonal Rates
Starting from $160 per night

                    stdClass Object
(
    [id] => 77
    [ManagerID] => 1
    [ComplexID] => 0
    [Name] => Sunset Kahili #507, Penthouse, Ocean-View, New Upgrades, Sunset Views!
    [PropertyCode] => 2064-135200
    [Address1] => 1763 Pe'e Road
    [Address2] => 
    [City] => Koloa
    [State] => HI
    [Country] => US
    [PostalCode] => 
    [Province] => 
    [Bedrooms] => 1
    [Bathrooms] => 1
    [Type] => Condominium
    [Area] => 
    [Location] => Garden Island Properties, LLC
    [View] => Ocean View
    [Video] => 
    [lat] => 21.871014
    [long] => -159.447636
    [map_id] => 0
    [Complex] => 59
    [Description] => Sunset Kahili #507, Penthouse Kauai Vacation Rental located in Sunny Poipu, Kauai.

1 Bedroom, 1 Bath, ocean view, top, 5th floor unit with elevator.

Enjoy beautiful, expansive ocean views, sunrise and sunets from the lanai and master bedroom. 

Upgrades include New full size Washer / Dryer in the unit, dishwasher and King size bed. 

Sofa sleeper for additional guest in the living area.

New Bali pebble stone lanai floor, tile floors throughout, wainscoting and comfortable furnishings. 

Swimming Pool, Complimentary Parking for 1 car, Complimentary Wifi.

Approximately 800 square feet, sleeps up to 3.

Hear the soothing sounds of the ocean and spot whales breaching in the winter season!

This spacious, top floor unit offers great views, nice trade wind breezes and a relaxing space to enjoy a wonderful Kauai vacation.  

Sunset Kahili is perched up higher than any other resort in the area giving you expansive views of the Pacific Ocean and south shore of Kauai.  

Located on the ocean side of Pee Road and conveniently located less than a half mile walk or drive to infamous Poipu Beach where you can enjoy great swimming, surfing and snorkeling.  

Holiday Rates apply 12/15 - 1/5 with a 7 night minimum night stay.

TAT ID#: TA-019-734-3232-01
    [ShortDescription] => Sunset Kahili #507. 1 Bedroom, 1 Bath Ocean View Vacation Condo on Kauai's sunny South Shore. Enjoy views of the pristine Poipu coastline and colorful sunsets. Near Poipu Beach, one of the worlds best beaches by Travel Channel.
    [Sleeps] => 3
    [MaxAdult] => 0
    [Status] => Active
    [page_slug] => Sunset_Kahili_507_Penthouse_Ocean-View_New_Upgrades_Sunset_Views-2064-135200-1
    [SEOTitle] => Sunset Kahili #507,
    [SEODescription] => Sunset Kahili #507, Penthouse, Ocean-View, New Upgrades, Sunset Views!
    [Featured] => 0
    [created] => 0000-00-00 00:00:00
    [updated] => 2017-10-18 19:35:30
    [internalcode] => SUN 507
    [photos] => Array
        (
            [0] => stdClass Object
                (
                    [id] => 1420227
                    [unit_id] => 77
                    [url] => https://pictures.escapia.com/GAISPR/9872970539.jpg
                    [thumb_url] => https://pictures.escapia.com/GAISPR/9872970539.jpg
                     => 
                    [sort] => 0
                )

            [1] => stdClass Object
                (
                    [id] => 1420228
                    [unit_id] => 77
                    [url] => https://pictures.escapia.com/GAISPR/3465960520.jpg
                    [thumb_url] => https://pictures.escapia.com/GAISPR/3465960520.jpg
                     => 
                    [sort] => 1
                )

            [2] => stdClass Object
                (
                    [id] => 1420229
                    [unit_id] => 77
                    [url] => https://pictures.escapia.com/GAISPR/2312360286.jpg
                    [thumb_url] => https://pictures.escapia.com/GAISPR/2312360286.jpg
                     => 
                    [sort] => 2
                )

            [3] => stdClass Object
                (
                    [id] => 1420231
                    [unit_id] => 77
                    [url] => https://pictures.escapia.com/GAISPR/6178110497.jpg
                    [thumb_url] => https://pictures.escapia.com/GAISPR/6178110497.jpg
                     => 
                    [sort] => 3
                )

            [4] => stdClass Object
                (
                    [id] => 1420233
                    [unit_id] => 77
                    [url] => https://pictures.escapia.com/GAISPR/8916650288.jpg
                    [thumb_url] => https://pictures.escapia.com/GAISPR/8916650288.jpg
                     => 
                    [sort] => 4
                )

            [5] => stdClass Object
                (
                    [id] => 1420235
                    [unit_id] => 77
                    [url] => https://pictures.escapia.com/GAISPR/4328120925.jpg
                    [thumb_url] => https://pictures.escapia.com/GAISPR/4328120925.jpg
                     => 
                    [sort] => 5
                )

            [6] => stdClass Object
                (
                    [id] => 1420237
                    [unit_id] => 77
                    [url] => https://pictures.escapia.com/GAISPR/2843480071.jpg
                    [thumb_url] => https://pictures.escapia.com/GAISPR/2843480071.jpg
                     => 
                    [sort] => 6
                )

            [7] => stdClass Object
                (
                    [id] => 1420239
                    [unit_id] => 77
                    [url] => https://pictures.escapia.com/GAISPR/9562260420.jpg
                    [thumb_url] => https://pictures.escapia.com/GAISPR/9562260420.jpg
                     => 
                    [sort] => 7
                )

            [8] => stdClass Object
                (
                    [id] => 1420241
                    [unit_id] => 77
                    [url] => https://pictures.escapia.com/GAISPR/6784890451.jpg
                    [thumb_url] => https://pictures.escapia.com/GAISPR/6784890451.jpg
                     => 
                    [sort] => 8
                )

            [9] => stdClass Object
                (
                    [id] => 1420242
                    [unit_id] => 77
                    [url] => https://pictures.escapia.com/GAISPR/3487300438.jpg
                    [thumb_url] => https://pictures.escapia.com/GAISPR/3487300438.jpg
                     => 
                    [sort] => 9
                )

            [10] => stdClass Object
                (
                    [id] => 1420244
                    [unit_id] => 77
                    [url] => https://pictures.escapia.com/GAISPR/3091060450.jpg
                    [thumb_url] => https://pictures.escapia.com/GAISPR/3091060450.jpg
                     => 
                    [sort] => 10
                )

            [11] => stdClass Object
                (
                    [id] => 1420247
                    [unit_id] => 77
                    [url] => https://pictures.escapia.com/GAISPR/3053110905.jpg
                    [thumb_url] => https://pictures.escapia.com/GAISPR/3053110905.jpg
                     => 
                    [sort] => 11
                )

            [12] => stdClass Object
                (
                    [id] => 1420249
                    [unit_id] => 77
                    [url] => https://pictures.escapia.com/GAISPR/7088880378.jpg
                    [thumb_url] => https://pictures.escapia.com/GAISPR/7088880378.jpg
                     => 
                    [sort] => 12
                )

            [13] => stdClass Object
                (
                    [id] => 1420251
                    [unit_id] => 77
                    [url] => https://pictures.escapia.com/GAISPR/8543210986.jpg
                    [thumb_url] => https://pictures.escapia.com/GAISPR/8543210986.jpg
                     => 
                    [sort] => 13
                )

            [14] => stdClass Object
                (
                    [id] => 1420252
                    [unit_id] => 77
                    [url] => https://pictures.escapia.com/GAISPR/7745810068.jpg
                    [thumb_url] => https://pictures.escapia.com/GAISPR/7745810068.jpg
                     => 
                    [sort] => 14
                )

            [15] => stdClass Object
                (
                    [id] => 1420254
                    [unit_id] => 77
                    [url] => https://pictures.escapia.com/GAISPR/1779120429.jpg
                    [thumb_url] => https://pictures.escapia.com/GAISPR/1779120429.jpg
                     => 
                    [sort] => 15
                )

            [16] => stdClass Object
                (
                    [id] => 1420257
                    [unit_id] => 77
                    [url] => https://pictures.escapia.com/GAISPR/7609140291.jpg
                    [thumb_url] => https://pictures.escapia.com/GAISPR/7609140291.jpg
                     => 
                    [sort] => 16
                )

            [17] => stdClass Object
                (
                    [id] => 1420259
                    [unit_id] => 77
                    [url] => https://pictures.escapia.com/GAISPR/1452640955.jpg
                    [thumb_url] => https://pictures.escapia.com/GAISPR/1452640955.jpg
                     => 
                    [sort] => 17
                )

            [18] => stdClass Object
                (
                    [id] => 1420261
                    [unit_id] => 77
                    [url] => https://pictures.escapia.com/GAISPR/9358850541.jpg
                    [thumb_url] => https://pictures.escapia.com/GAISPR/9358850541.jpg
                     => 
                    [sort] => 18
                )

            [19] => stdClass Object
                (
                    [id] => 1420262
                    [unit_id] => 77
                    [url] => https://pictures.escapia.com/GAISPR/4624140032.jpg
                    [thumb_url] => https://pictures.escapia.com/GAISPR/4624140032.jpg
                     => 
                    [sort] => 19
                )

            [20] => stdClass Object
                (
                    [id] => 1420265
                    [unit_id] => 77
                    [url] => https://pictures.escapia.com/GAISPR/3466810970.jpg
                    [thumb_url] => https://pictures.escapia.com/GAISPR/3466810970.jpg
                     => 
                    [sort] => 20
                )

            [21] => stdClass Object
                (
                    [id] => 1420267
                    [unit_id] => 77
                    [url] => https://pictures.escapia.com/GAISPR/2618550421.jpg
                    [thumb_url] => https://pictures.escapia.com/GAISPR/2618550421.jpg
                     => 
                    [sort] => 21
                )

        )

    [rates] => Array
        (
            [0] => stdClass Object
                (
                    [id] => 419908
                    [start_date] => 2017-04-01
                    [end_date] => 2017-12-14
                    [amount] => 160
                    [chargebasis] => Daily
                    [unit_id] => 77
                )

            [1] => stdClass Object
                (
                    [id] => 419909
                    [start_date] => 2017-04-01
                    [end_date] => 2017-12-14
                    [amount] => 1120
                    [chargebasis] => Weekly
                    [unit_id] => 77
                )

            [2] => stdClass Object
                (
                    [id] => 419910
                    [start_date] => 2017-04-01
                    [end_date] => 2017-12-14
                    [amount] => 4800
                    [chargebasis] => Monthly
                    [unit_id] => 77
                )

            [3] => stdClass Object
                (
                    [id] => 419911
                    [start_date] => 2017-12-15
                    [end_date] => 2018-01-05
                    [amount] => 220
                    [chargebasis] => Daily
                    [unit_id] => 77
                )

            [4] => stdClass Object
                (
                    [id] => 419912
                    [start_date] => 2017-12-15
                    [end_date] => 2018-01-05
                    [amount] => 1540
                    [chargebasis] => Weekly
                    [unit_id] => 77
                )

        )

    [attributes] => Array
        (
            [0] => stdClass Object
                (
                    [id] => 2051704
                    [name] => king
                    [value] => 
                    [group] => AMENITY
                    [unit_id] => 77
                )

            [1] => stdClass Object
                (
                    [id] => 2051705
                    [name] => shower
                    [value] => 
                    [group] => AMENITY
                    [unit_id] => 77
                )

            [2] => stdClass Object
                (
                    [id] => 2051706
                    [name] => sleep sofa /futon
                    [value] => 
                    [group] => AMENITY
                    [unit_id] => 77
                )

            [3] => stdClass Object
                (
                    [id] => 2051707
                    [name] => toilet
                    [value] => 
                    [group] => AMENITY
                    [unit_id] => 77
                )

            [4] => stdClass Object
                (
                    [id] => 2051708
                    [name] => museums
                    [value] => 
                    [group] => ATTRACTIONS
                    [unit_id] => 77
                )

            [5] => stdClass Object
                (
                    [id] => 2051709
                    [name] => playground
                    [value] => 
                    [group] => ATTRACTIONS
                    [unit_id] => 77
                )

            [6] => stdClass Object
                (
                    [id] => 2051710
                    [name] => reefs
                    [value] => 
                    [group] => ATTRACTIONS
                    [unit_id] => 77
                )

            [7] => stdClass Object
                (
                    [id] => 2051711
                    [name] => restaurants
                    [value] => 
                    [group] => ATTRACTIONS
                    [unit_id] => 77
                )

            [8] => stdClass Object
                (
                    [id] => 2051712
                    [name] => waterfalls
                    [value] => 
                    [group] => ATTRACTIONS
                    [unit_id] => 77
                )

            [9] => stdClass Object
                (
                    [id] => 2051714
                    [name] => Dining
                    [value] => 
                    [group] => DINING_CHECKBOX
                    [unit_id] => 77
                )

            [10] => stdClass Object
                (
                    [id] => 2051716
                    [name] => Satellite / Cable
                    [value] => 
                    [group] => ENTERTAINMENT
                    [unit_id] => 77
                )

            [11] => stdClass Object
                (
                    [id] => 2051718
                    [name] => Television
                    [value] => 
                    [group] => ENTERTAINMENT
                    [unit_id] => 77
                )

            [12] => stdClass Object
                (
                    [id] => 2051720
                    [name] => Clothes Dryer
                    [value] => 
                    [group] => GENERAL
                    [unit_id] => 77
                )

            [13] => stdClass Object
                (
                    [id] => 2051722
                    [name] => Elevator
                    [value] => 
                    [group] => GENERAL
                    [unit_id] => 77
                )

            [14] => stdClass Object
                (
                    [id] => 2051724
                    [name] => Hair Dryer
                    [value] => 
                    [group] => GENERAL
                    [unit_id] => 77
                )

            [15] => stdClass Object
                (
                    [id] => 2051726
                    [name] => Internet
                    [value] => 
                    [group] => GENERAL
                    [unit_id] => 77
                )

            [16] => stdClass Object
                (
                    [id] => 2051728
                    [name] => Iron & Board
                    [value] => 
                    [group] => GENERAL
                    [unit_id] => 77
                )

            [17] => stdClass Object
                (
                    [id] => 2051730
                    [name] => Linens Provided
                    [value] => 
                    [group] => GENERAL
                    [unit_id] => 77
                )

            [18] => stdClass Object
                (
                    [id] => 2051732
                    [name] => Living Room
                    [value] => 
                    [group] => GENERAL
                    [unit_id] => 77
                )

            [19] => stdClass Object
                (
                    [id] => 2051734
                    [name] => Parking
                    [value] => 
                    [group] => GENERAL
                    [unit_id] => 77
                )

            [20] => stdClass Object
                (
                    [id] => 2051736
                    [name] => Towels Provided
                    [value] => 
                    [group] => GENERAL
                    [unit_id] => 77
                )

            [21] => stdClass Object
                (
                    [id] => 2051738
                    [name] => Washing Machine
                    [value] => 
                    [group] => GENERAL
                    [unit_id] => 77
                )

            [22] => stdClass Object
                (
                    [id] => 2051740
                    [name] => Coffee Maker
                    [value] => 
                    [group] => KITCHEN
                    [unit_id] => 77
                )

            [23] => stdClass Object
                (
                    [id] => 2051742
                    [name] => Dishes & Utensils
                    [value] => 
                    [group] => KITCHEN
                    [unit_id] => 77
                )

            [24] => stdClass Object
                (
                    [id] => 2051744
                    [name] => Dishwasher
                    [value] => 
                    [group] => KITCHEN
                    [unit_id] => 77
                )

            [25] => stdClass Object
                (
                    [id] => 2051746
                    [name] => Kitchen
                    [value] => 
                    [group] => KITCHEN
                    [unit_id] => 77
                )

            [26] => stdClass Object
                (
                    [id] => 2051748
                    [name] => Microwave
                    [value] => 
                    [group] => KITCHEN
                    [unit_id] => 77
                )

            [27] => stdClass Object
                (
                    [id] => 2051750
                    [name] => Oven
                    [value] => 
                    [group] => KITCHEN
                    [unit_id] => 77
                )

            [28] => stdClass Object
                (
                    [id] => 2051752
                    [name] => Refrigerator
                    [value] => 
                    [group] => KITCHEN
                    [unit_id] => 77
                )

            [29] => stdClass Object
                (
                    [id] => 2051754
                    [name] => Stove
                    [value] => 
                    [group] => KITCHEN
                    [unit_id] => 77
                )

            [30] => stdClass Object
                (
                    [id] => 2051756
                    [name] => Toaster
                    [value] => 
                    [group] => KITCHEN
                    [unit_id] => 77
                )

            [31] => stdClass Object
                (
                    [id] => 2051758
                    [name] => beachcombing
                    [value] => 
                    [group] => LEISURE_ACTIVITIES
                    [unit_id] => 77
                )

            [32] => stdClass Object
                (
                    [id] => 2051760
                    [name] => bird watching
                    [value] => 
                    [group] => LEISURE_ACTIVITIES
                    [unit_id] => 77
                )

            [33] => stdClass Object
                (
                    [id] => 2051762
                    [name] => horseback riding
                    [value] => 
                    [group] => LEISURE_ACTIVITIES
                    [unit_id] => 77
                )

            [34] => stdClass Object
                (
                    [id] => 2051764
                    [name] => luaus
                    [value] => 
                    [group] => LEISURE_ACTIVITIES
                    [unit_id] => 77
                )

            [35] => stdClass Object
                (
                    [id] => 2051766
                    [name] => photography
                    [value] => 
                    [group] => LEISURE_ACTIVITIES
                    [unit_id] => 77
                )

            [36] => stdClass Object
                (
                    [id] => 2051768
                    [name] => scenic drives
                    [value] => 
                    [group] => LEISURE_ACTIVITIES
                    [unit_id] => 77
                )

            [37] => stdClass Object
                (
                    [id] => 2051770
                    [name] => sight seeing
                    [value] => 
                    [group] => LEISURE_ACTIVITIES
                    [unit_id] => 77
                )

            [38] => stdClass Object
                (
                    [id] => 2051772
                    [name] => walking
                    [value] => 
                    [group] => LEISURE_ACTIVITIES
                    [unit_id] => 77
                )

            [39] => stdClass Object
                (
                    [id] => 2051774
                    [name] => whale watching
                    [value] => 
                    [group] => LEISURE_ACTIVITIES
                    [unit_id] => 77
                )

            [40] => stdClass Object
                (
                    [id] => 2051776
                    [name] => ATM/bank
                    [value] => 
                    [group] => LOCAL_SERVICES_AND_BUSINESSES
                    [unit_id] => 77
                )

            [41] => stdClass Object
                (
                    [id] => 2051778
                    [name] => groceries
                    [value] => 
                    [group] => LOCAL_SERVICES_AND_BUSINESSES
                    [unit_id] => 77
                )

            [42] => stdClass Object
                (
                    [id] => 2051780
                    [name] => Near The Ocean
                    [value] => 
                    [group] => LOCATION_TYPE
                    [unit_id] => 77
                )

            [43] => stdClass Object
                (
                    [id] => 2051782
                    [name] => Ocean View
                    [value] => 
                    [group] => LOCATION_TYPE
                    [unit_id] => 77
                )

            [44] => stdClass Object
                (
                    [id] => 2051784
                    [name] => Resort
                    [value] => 
                    [group] => LOCATION_TYPE
                    [unit_id] => 77
                )

            [45] => stdClass Object
                (
                    [id] => 2051786
                    [name] => Water View
                    [value] => 
                    [group] => LOCATION_TYPE
                    [unit_id] => 77
                )

            [46] => stdClass Object
                (
                    [id] => 2051788
                    [name] => Deck / Patio
                    [value] => 
                    [group] => OUTSIDE
                    [unit_id] => 77
                )

            [47] => stdClass Object
                (
                    [id] => 2051790
                    [name] => Lanai / Gazebo
                    [value] => 
                    [group] => OUTSIDE
                    [unit_id] => 77
                )

            [48] => stdClass Object
                (
                    [id] => 2051792
                    [name] => Outdoor Grill
                    [value] => 
                    [group] => OUTSIDE
                    [unit_id] => 77
                )

            [49] => stdClass Object
                (
                    [id] => 2051794
                    [name] => Private Pool
                    [value] => 
                    [group] => POOL_SPA
                    [unit_id] => 77
                )

            [50] => stdClass Object
                (
                    [id] => 2051796
                    [name] => bedroom
                    [value] => 
                    [group] => ROOM_SUBTYPE
                    [unit_id] => 77
                )

            [51] => stdClass Object
                (
                    [id] => 2051798
                    [name] => full
                    [value] => 
                    [group] => ROOM_SUBTYPE
                    [unit_id] => 77
                )

            [52] => stdClass Object
                (
                    [id] => 2051800
                    [name] => shower
                    [value] => 
                    [group] => ROOM_SUBTYPE
                    [unit_id] => 77
                )

            [53] => stdClass Object
                (
                    [id] => 2051802
                    [name] => cycling
                    [value] => 
                    [group] => SPORTS_AND_ADVENTURE_ACTIVITIES
                    [unit_id] => 77
                )

            [54] => stdClass Object
                (
                    [id] => 2051804
                    [name] => deepsea fishing
                    [value] => 
                    [group] => SPORTS_AND_ADVENTURE_ACTIVITIES
                    [unit_id] => 77
                )

            [55] => stdClass Object
                (
                    [id] => 2051806
                    [name] => fishing
                    [value] => 
                    [group] => SPORTS_AND_ADVENTURE_ACTIVITIES
                    [unit_id] => 77
                )

            [56] => stdClass Object
                (
                    [id] => 2051808
                    [name] => golf
                    [value] => 
                    [group] => SPORTS_AND_ADVENTURE_ACTIVITIES
                    [unit_id] => 77
                )

            [57] => stdClass Object
                (
                    [id] => 2051810
                    [name] => hiking
                    [value] => 
                    [group] => SPORTS_AND_ADVENTURE_ACTIVITIES
                    [unit_id] => 77
                )

            [58] => stdClass Object
                (
                    [id] => 2051812
                    [name] => hunting
                    [value] => 
                    [group] => SPORTS_AND_ADVENTURE_ACTIVITIES
                    [unit_id] => 77
                )

            [59] => stdClass Object
                (
                    [id] => 2051814
                    [name] => mountain biking
                    [value] => 
                    [group] => SPORTS_AND_ADVENTURE_ACTIVITIES
                    [unit_id] => 77
                )

            [60] => stdClass Object
                (
                    [id] => 2051816
                    [name] => roller blading
                    [value] => 
                    [group] => SPORTS_AND_ADVENTURE_ACTIVITIES
                    [unit_id] => 77
                )

            [61] => stdClass Object
                (
                    [id] => 2051818
                    [name] => sailing
                    [value] => 
                    [group] => SPORTS_AND_ADVENTURE_ACTIVITIES
                    [unit_id] => 77
                )

            [62] => stdClass Object
                (
                    [id] => 2051820
                    [name] => scuba diving or snorkeling
                    [value] => 
                    [group] => SPORTS_AND_ADVENTURE_ACTIVITIES
                    [unit_id] => 77
                )

            [63] => stdClass Object
                (
                    [id] => 2051822
                    [name] => snorkeling
                    [value] => 
                    [group] => SPORTS_AND_ADVENTURE_ACTIVITIES
                    [unit_id] => 77
                )

            [64] => stdClass Object
                (
                    [id] => 2051824
                    [name] => surfing
                    [value] => 
                    [group] => SPORTS_AND_ADVENTURE_ACTIVITIES
                    [unit_id] => 77
                )

            [65] => stdClass Object
                (
                    [id] => 2051826
                    [name] => swimming
                    [value] => 
                    [group] => SPORTS_AND_ADVENTURE_ACTIVITIES
                    [unit_id] => 77
                )

            [66] => stdClass Object
                (
                    [id] => 2051828
                    [name] => tennis
                    [value] => 
                    [group] => SPORTS_AND_ADVENTURE_ACTIVITIES
                    [unit_id] => 77
                )

            [67] => stdClass Object
                (
                    [id] => 2051830
                    [name] => water skiing
                    [value] => 
                    [group] => SPORTS_AND_ADVENTURE_ACTIVITIES
                    [unit_id] => 77
                )

            [68] => stdClass Object
                (
                    [id] => 2051832
                    [name] => wind-surfing
                    [value] => 
                    [group] => SPORTS_AND_ADVENTURE_ACTIVITIES
                    [unit_id] => 77
                )

            [69] => stdClass Object
                (
                    [id] => 2051834
                    [name] => children welcome
                    [value] => 
                    [group] => SUITABILITY
                    [unit_id] => 77
                )

            [70] => stdClass Object
                (
                    [id] => 2051836
                    [name] => non smoking only
                    [value] => 
                    [group] => SUITABILITY
                    [unit_id] => 77
                )

            [71] => stdClass Object
                (
                    [id] => 2051838
                    [name] => pets not allowed
                    [value] => 
                    [group] => SUITABILITY
                    [unit_id] => 77
                )

        )

    [avail] => Array
        (
            [0] => stdClass Object
                (
                    [id] => 7793944
                    [start_date] => 2017-10-18
                    [end_date] => 2017-10-26
                    [unit_id] => 77
                )

            [1] => stdClass Object
                (
                    [id] => 7793945
                    [start_date] => 2017-10-27
                    [end_date] => 2017-11-05
                    [unit_id] => 77
                )

            [2] => stdClass Object
                (
                    [id] => 7793946
                    [start_date] => 2017-11-06
                    [end_date] => 2017-11-20
                    [unit_id] => 77
                )

            [3] => stdClass Object
                (
                    [id] => 7793947
                    [start_date] => 2017-11-23
                    [end_date] => 2017-11-27
                    [unit_id] => 77
                )

            [4] => stdClass Object
                (
                    [id] => 7793948
                    [start_date] => 2017-11-28
                    [end_date] => 2017-12-06
                    [unit_id] => 77
                )

            [5] => stdClass Object
                (
                    [id] => 7793949
                    [start_date] => 2017-12-07
                    [end_date] => 2018-01-01
                    [unit_id] => 77
                )

            [6] => stdClass Object
                (
                    [id] => 7793950
                    [start_date] => 2018-01-03
                    [end_date] => 2018-01-12
                    [unit_id] => 77
                )

            [7] => stdClass Object
                (
                    [id] => 7793951
                    [start_date] => 2018-01-13
                    [end_date] => 2018-02-12
                    [unit_id] => 77
                )

            [8] => stdClass Object
                (
                    [id] => 7793952
                    [start_date] => 2018-02-16
                    [end_date] => 2018-02-28
                    [unit_id] => 77
                )

            [9] => stdClass Object
                (
                    [id] => 7793953
                    [start_date] => 2018-03-01
                    [end_date] => 2018-04-01
                    [unit_id] => 77
                )

            [10] => stdClass Object
                (
                    [id] => 7793954
                    [start_date] => 2018-04-05
                    [end_date] => 2018-04-19
                    [unit_id] => 77
                )

            [11] => stdClass Object
                (
                    [id] => 7793955
                    [start_date] => 2018-05-07
                    [end_date] => 2018-05-11
                    [unit_id] => 77
                )

            [12] => stdClass Object
                (
                    [id] => 7793956
                    [start_date] => 2018-07-02
                    [end_date] => 2018-07-16
                    [unit_id] => 77
                )

            [13] => stdClass Object
                (
                    [id] => 7793957
                    [start_date] => 2018-07-30
                    [end_date] => 2018-08-03
                    [unit_id] => 77
                )

            [14] => stdClass Object
                (
                    [id] => 7793958
                    [start_date] => 2018-09-11
                    [end_date] => 2018-09-28
                    [unit_id] => 77
                )

            [15] => stdClass Object
                (
                    [id] => 7793959
                    [start_date] => 2019-01-12
                    [end_date] => 2019-01-19
                    [unit_id] => 77
                )

            [16] => stdClass Object
                (
                    [id] => 7793960
                    [start_date] => 2019-03-01
                    [end_date] => 2019-03-31
                    [unit_id] => 77
                )

        )

    [reviews] => Array
        (
        )

    [rateaddons] => Array
        (
        )

    [unit_meta] => Array
        (
            [0] => stdClass Object
                (
                    [id] => 488537
                    [unit_id] => 77
                    [key] => Custom2
                    [value] => Aloha507
                )

            [1] => stdClass Object
                (
                    [id] => 488538
                    [unit_id] => 77
                    [key] => DisplayRate
                    [value] => Starting from $160 per night
                )

            [2] => stdClass Object
                (
                    [id] => 488539
                    [unit_id] => 77
                    [key] => Location
                    [value] => Poipu
                )

            [3] => stdClass Object
                (
                    [id] => 488540
                    [unit_id] => 77
                    [key] => LocationField
                    [value] => Garden Island Properties, LLC
                )

            [4] => stdClass Object
                (
                    [id] => 488541
                    [unit_id] => 77
                    [key] => Property Type
                    [value] => Condo
                )

            [5] => stdClass Object
                (
                    [id] => 488542
                    [unit_id] => 77
                    [key] => View
                    [value] => Ocean View
                )

            [6] => stdClass Object
                (
                    [id] => 488543
                    [unit_id] => 77
                    [key] => MinLOS
                    [value] => 4
                )

            [7] => stdClass Object
                (
                    [id] => 488544
                    [unit_id] => 77
                    [key] => StayContext
                    [value] => Checkin
                )

            [8] => stdClass Object
                (
                    [id] => 488545
                    [unit_id] => 77
                    [key] => StayDays
                    [value] => a:7:{i:0;s:3:"Mon";i:1;s:3:"Tue";i:2;s:4:"Weds";i:3;s:4:"Thur";i:4;s:3:"Fri";i:5;s:3:"Sat";i:6;s:3:"Sun";}
                )

            [9] => stdClass Object
                (
                    [id] => 491562
                    [unit_id] => 77
                    [key] => Agreement
                    [value] => GUEST AGREEMENT 
RELATES TO ALL PROPERTIES. PLEASE READ THIS CONTRACT CAREFULLY. 
BY CLICKING ON THE ACCEPT BUTTON YOU (either an individual or a single entity) AGREE THAT THIS AGREEMENT IS ENFORCEABLE LIKE ANY WRITTEN CONTRACT SIGNED BY YOU. 

SECURITY D
                )

        )

    [minnights] => Array
        (
            [0] => stdClass Object
                (
                    [id] => 427443
                    [start_date] => 2017-04-01
                    [end_date] => 2017-12-14
                    [prop_id] => 77
                    [nights] => 3
                    [rate_type] => Daily
                )

            [1] => stdClass Object
                (
                    [id] => 427444
                    [start_date] => 2017-04-01
                    [end_date] => 2017-12-14
                    [prop_id] => 77
                    [nights] => 7
                    [rate_type] => Weekly
                )

            [2] => stdClass Object
                (
                    [id] => 427445
                    [start_date] => 2017-04-01
                    [end_date] => 2017-12-14
                    [prop_id] => 77
                    [nights] => 30
                    [rate_type] => Monthly
                )

            [3] => stdClass Object
                (
                    [id] => 427446
                    [start_date] => 2017-04-01
                    [end_date] => 2017-12-14
                    [prop_id] => 77
                    [nights] => 3
                    [rate_type] => Midweek
                )

            [4] => stdClass Object
                (
                    [id] => 427447
                    [start_date] => 2017-12-15
                    [end_date] => 2018-01-05
                    [prop_id] => 77
                    [nights] => 4
                    [rate_type] => Daily
                )

            [5] => stdClass Object
                (
                    [id] => 427448
                    [start_date] => 2017-12-15
                    [end_date] => 2018-01-05
                    [prop_id] => 77
                    [nights] => 7
                    [rate_type] => Weekly
                )

        )

    [manager] => stdClass Object
        (
            [id] => 1
            [ManagerID] => 1
            [Name] => Escapia
            [Vendor] => Escapia
            [Contract] => 
            [random] => 0
            [pms] => 
            [last_update] => 0000-00-00 00:00:00
        )

    [flipkey] => 
    [additonal] => stdClass Object
        (
            [Custom2] => Aloha507
            [DisplayRate] => Starting from $160 per night
            [Location] => Poipu
            [LocationField] => Garden Island Properties, LLC
            [Property Type] => Condo
            [View] => Ocean View
            [MinLOS] => 4
            [StayContext] => Checkin
            [StayDays] => Array
                (
                    [0] => Mon
                    [1] => Tue
                    [2] => Weds
                    [3] => Thur
                    [4] => Fri
                    [5] => Sat
                    [6] => Sun
                )

            [Agreement] => GUEST AGREEMENT 
RELATES TO ALL PROPERTIES. PLEASE READ THIS CONTRACT CAREFULLY. 
BY CLICKING ON THE ACCEPT BUTTON YOU (either an individual or a single entity) AGREE THAT THIS AGREEMENT IS ENFORCEABLE LIKE ANY WRITTEN CONTRACT SIGNED BY YOU. 

SECURITY D
        )

    [checkinout] => Array
        (
        )

    [special] => Array
        (
        )

    [hasSpecial] => 
)
                    
Holiday Rates apply between 12/15 - 1/5