Protect your Dream Vacation with Red Sky Travel Insurance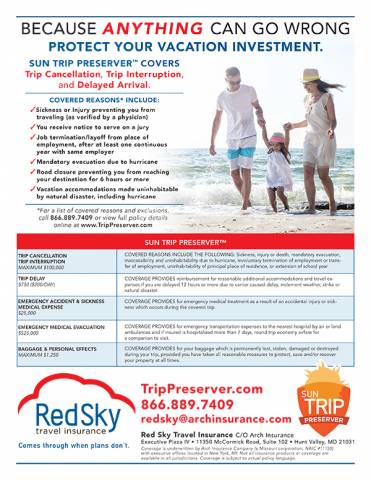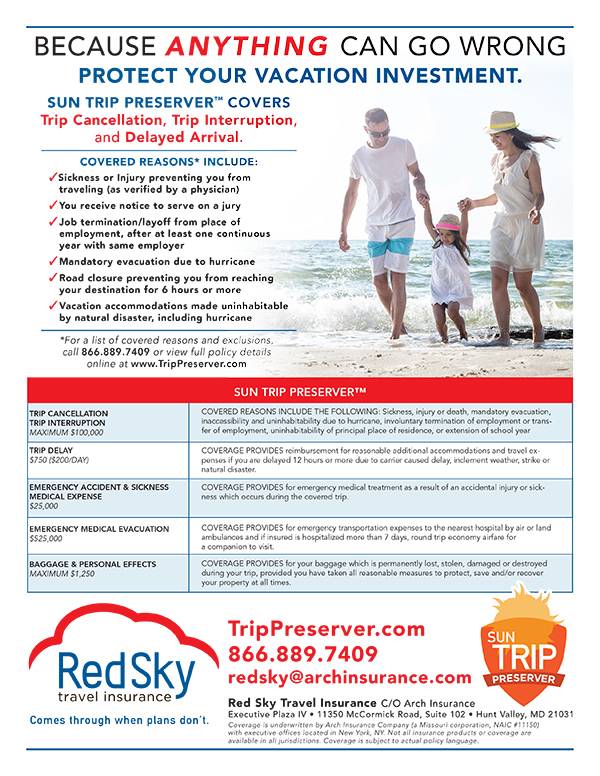 Garden Island Properties highly recommends travel insurance for your Hawaiian Vacation.  Safeguard your vacation with Red Sky's Sun Trip Preserver Trip Cancellation/Interruption Insurance. Travel with peace of mind knowing that you are covered should anything unexpected come up.

POLICY HIGHLIGHTS

Sun Trip Preserver offers the broadest limits:
Up to $100,000 reimbursement for rental costs
$200 per day ($750 maximum) for expenses related to trip delay such as hotel accommodations
Up to $25,000 emergency medical expense coverage
$525,000 emergency medical evacuation
$1,000 baggage delay coverage
$1,250 baggage and personal effects lost stolen, damaged or destroyed during your trip
Sun Trip Preserver covers trip cancellation or interruption due to:
Sickness, injury or death of you, a family member, traveling companion or service animal
Job termination/layoff from place of employment or transfer of employment
Uninhabitability of the destination vacation home caused by a natural disaster
Uninhabitability of your primary residence or your traveling companion's primary residence caused by natural disaster
Sun Trip Preserver also provides:
Worldwide emergency assistance service
Emergency roadside assistance service
 Please CLICK HERE for full policy details.  

To file a claim please CLICK HERE.